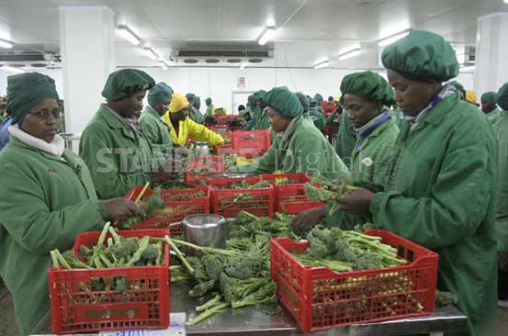 The value of fresh horticultural exports rose by 19.6 per cent to Sh77.8 billion in the first nine months of the year on account of cheaper fuel costs. Data on leading economic indicators up to September, tracked by Kenya National Bureau of Statistics (KNBS), showed the quantity and value of cut flowers, fruits and vegetables exported were on the rise. Some 96,789 metric tonnes of cut flowers worth Sh53.88 billion were exported during the period under review. This translates to 18.45 per cent year-on-year growth in the value exported. Over a similar period last year, horticultural exports, which accounted for 69.2 per cent of export produce, yielded Sh45.5 billion, having recorded 5,891 metric tonnes less in comparison to the previous year.
SEE ALSO: Oil drops on sharp uptick in coronavirus cases globally
Last year, the value of exports for all the three commodities was Sh65 billion. Kenya Flower Council (KFC) tips full-year earnings to surpass last year's due to improved prices in various markets. According to the council, Kenya's sales to destinations such as Japan, Russia and Dubai now make up 60 per cent of exports. Five years ago, the council says, sales to such markets only accounted for just 20 per cent of total flower exports. KFC says the country, being an importer of petroleum products, has benefited from reduced global oil prices. The lobby says this has reduced transport costs, therefore, encouraging direct flower exports. The possibility of direct flights from Kenya to the US and Jomo Kenya International Airport set for the final Category One Status audit is further expected to boost horticultural exports. During the period under review up to September, the value of tea and coffee exports rose by 7.5 per cent and 6.4 per cent year-on-year respectively.