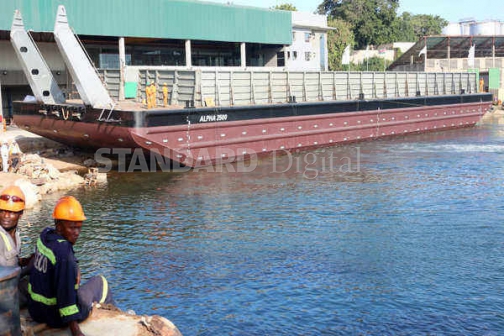 A ship maker has unveiled Kenya's first locally built barge, a flat bottomed sea vessel. The vessel will be deployed for transportation of heavy machinery and marine cargo along the East African coast.
Southern Engineering Company (Seco) said the barge has the capacity of 2,500 dead weight tonnage equivalent to 150 truckloads. An official from the firm said the vessel will be deployed for use in construction of Lamu Port and other offshore projects along the West of Indian Ocean and inland water bodies like Lake Turkana.
Currently, marine transport firms are positioning themselves for major projects such as the Lamu Port which is underway.
Seco's Director in charge of Administration John Msafari said the vessel was built by 80 Kenyan skilled manpower and inspected by qualified inspectors from outside the country. He said the vessel built in a record six months using marine grade steel cost Sh180 million.
Mr Msafari said the vessel can also benefit local seafarers who have on several occasions complained of lack of ships for training.
Read More
"This vessel is the first to be designed and built in Kenya under internationally recognised classification standards. It meets the Indian Register of Shipping or IRCLASS," said Seco Technical Manager Jayesh Mehta.
Mr Mehta said the vessel has the capacity to carry various aggregated project cargo, heavy vehicles, trucks and cranes and can access areas that are inaccessible to normal ships. Msafari said construction of the vessel marks a major milestone in Kenya and Mombasa's quest to attain its long held aspiration to be shipbuilding and marine service hub.
In October last year, the firm unveiled Albert Nile 1, one of the four passage ferries it built for Uganda which currently operates at Lake Albert.
Yesterday, Mr Msafari announced that Seco has also been commissioned by the Rwandan Energy Development Corporation Limited EDCL to build a 14m research vessel. "Seco has been awarded the tender to construct a research vessel to Energy Development Corporation Limited of Rwanda. The vessel will be deployed to support research activities currently being conducted under the Lake Kivu Monitoring Program," said Msafari.
The vessel has a big ramp which can be used to roll-on roll-off of the heavy vehicles and cranes meaning it can offload and load with the help of cranes. Last October, the Government and Kenya Ferry Services (KFS) came under fierce criticism for awarding a Turkish firm the contract to supply two new ferries.
International exposure
This is after Uganda acquired its fourth ferry built by the Mombasa based firm. But the then KFS Managing Director, Hassan Musa, defended the move saying there was no malice intended.
"Seco qualified in the technical bid but could not succeed in the financial requirements," Mr Musa who oversaw the tendering process explained.
The barge was handed to its owner, Alpha Logistics that also announced that it will build four more such vessels to position itself in anticipated increased demand for marine transport services in Kenya.
"The barge is a tool for Marine and Port Constructions which now don't need to be mobilised from other parts of the world. We intend to continue to add tonnage to our fleet and through international exposure give opportunities to Kenyan companies like Seco to build more units," said Ms Rossella Lospennato, Alpha Logistics Manager for East Africa Special Projects.
She said Alpha has increased its fleet to over 20 including tugs, barges, multi-purpose cargo vessels and landing crafts. And recently, the firm sent its split barge, which was rebuilt by Seco to work at the port of Durban in South Africa.