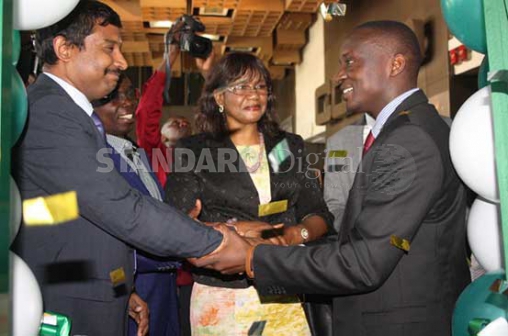 Cooperative Bank has launched a 24-hour service centre dedicated to handling banking needs of diaspora customers.
The one-stop shop, named Diaspora Banking Centre, is seeking to boost the amount of money Kenyans living abroad bring into the country.
Addressing journalists at Cooperative House where the centre is located, Director of Retail and Business Banking Division Maurice Matumo said the centre will ensure Kenyans living abroad access local banking services with minimum hassle.
"As one of the bank's handling large inflows of diaspora remittances, we were feeling the pressure to expand the capacity to handle surging volumes. The new diaspora centre therefore comes at a most opportune time," said Mr Matumo.
He noted that there had been increased demand from Kenyans living abroad for investment in real estate and stock market and therefore the centre will offer advice on the same.
Read More
Of the Sh163 billion ($1.6 billion) that Kenyans living abroad sent home last year, Sh45 billion was through Cooperative Bank. Matumo added that the opening of the centre would see the bank extend its services to Savings and Cooperative Societies (Saccos), which are operating from abroad.
The bank has established a relationship with Kenyan-owned Saccos in the US, the United Kingdom and Ireland.
In 2010, the bank started offering diaspora remittance service but with the opening of a dedicated centre, it hopes to grow its customer base by 20 per cent year on year.
"Currently, we serve about 20,000 customers and this contributes about eight per cent of the bank's revenue. We are eyeing a momentous growth as we enter new markets," noted Matumo. North America has been their leading market but it is now targeting to boost numbers from Europe, Asia as well as parts of Africa. The bank disclosed that it has partnered with UAE Exchange, a Middle East-based company that serves 32 countries globally. It controls about 6.8 per cent of the $20 billion (Sh2 trillion) transactions per year.
The firm's regional head for Africa business Unni Krishnan said the emerging trend that has seen many people move to Middle East for employment opportunities has boosted the demand for diaspora remittance services.