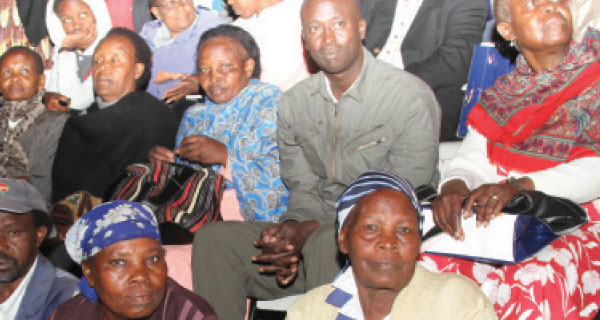 A section of Kenya Power shareholders at the AGM in Nairobi yesterday. Increased expansion eroded the power firm's profit, making it difficult for the board of directors to declare dividends this year. [PHOTO: KIBERA MBUGUA]
By James Anyanzwa
Kenya Power will pump $700 million (Sh60 billion) in to new sub-stations and lengthy distribution lines over the next five years.
The mega projects are lined up for completion between 2013 and 2017. The financiers include the World Bank, International Finance Corporation (IFC) and the Chinese Export-Import (EXIM) bank.
This comes as the power utility company gears to take advantage of the additional 5,000MW of power to be generated over the next 40 months.
Growth strategy
Read More
Acting Managing Director and Chief Executive Ben Chumo said investment in new substations and distributional lines form a critical component of the company's growth and expansion plans, adding the investments are aimed at providing reliable and affordable power to Kenyans.
Dr Chumo said new distribution lines would protect consumers from being switched off during maintenance of dilapidated distribution lines while new substations would provide reinforcement required to stabilise the company's network.
He said the new substations would also reduce distribution losses incurred from long distribution lines without appropriate substations in between.
"The additional distribution lines will provide additional feeders for a sitting substation and additional feeders for new substations," Chumo told The Standard on the sidelines of the Company's Annual General Meeting in Nairobi yesterday. "The combined feeders will give the company the necessary flexibility to maintain distribution lines when they fall due for maintenance without switching off customer."
The government is planning to generate an additional 5000MW of power to the national grid in the next 40 months. This will be through power mix such as geothermal, coal and liquefied natural gas which are relatively cheaper compared to heavy fuels and diesel. The fuel cost adjustment component in the monthly electricity bill has been a major cause for concern for power consumers accounting for as much as 40 per cent of what power consumers pay for electricity. Independent Power Producers have mostly been using diesel to generate electricity and with high fuel prices, electricity generated using these fossil fuels have been largely to blame for the high cost of power in Kenya.
"There is going to be a lot of power generated between now and the next 40 months. We need to be prepared to procure that power when it is produced," said Chumo. " We realised that reduction in cost of power is determined by the generation mix." The company however blamed a delay in the review of its proposed power tariff adjustment for its cash flow problems during the first six months of this year.
The company recorded a decline in profitability during the full-year ended June 30 citing high finance costs and a decline in net foreign exchange gains.
Its profit before tax plunged 24 per cent to Sh6.42 billion from Sh8.5 billion last year. Finance costs increased by 105 per cent to Sh2.49 billion from Sh1.21 billion while unrealised foreign gains from revaluation of loans and interest fell by Sh1.41 billion and Sh378 million respectively.
Heavy borrowing
Chumo said failure to review power tariffs in time forced the company to borrow and use its internal reserves to connect new customers to the national grid. Some of the money was also used to pay for additional acquisition of power and procure materials for operations.
This, he said, eroded the company's profits making it difficult for the board of directors to declare dividends to the shareholders. Expansion projects on a tight budget also ate into their profits. He said higher financing costs were triggered by additional medium and short-term loans taken to supplement internally generated funds to finance network expansion and system reinforcement.
" We were expecting the power tariffs to be reviewed in time but we never got the tariffs in good time. This is what led to our current situation," he said. "We normally request for review of tariffs with certain expectations."