Equity's earnings dip 24 per cent to Sh9 billion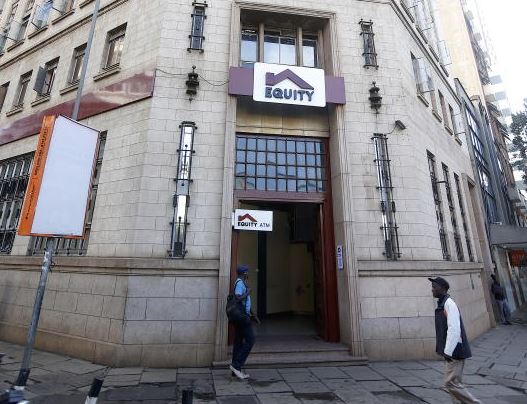 Equity Bank's profitability declined by 24 per cent with the lender posting a profit after tax of Sh9 billion in the first six months of 2020.
In the first half of last year, the bank posted a net profit of Sh12 billion, a performance that has been disrupted by Covid-19.
This forced the lender to hive some money from its bottomline as insurance against defaults by borrowers distressed by the pandemic.
Although the bank's non-performing loans (NPLs) declined marginally, the tier one lender said it took a more conservative approach and provisioned more for possible defaults.
"Despite NPLs (as a ratio of total loans) showing a minimal decline from 10.9 per cent to 10.7 per cent quarter on quarter basis and stabilising below the 13.1 per cent industry average, prudence dictated that we adopt a conservative humble approach in recognising the risk of uncertainty Covid-19 has imposed on the operating environment," said Equity Group Chief Executive James Mwangi.
Loan loss provision increased 15-fold from Sh500 million in the first half of last year to Sh7 billion, in line with industry trend that has seen lenders put aside billions of cash as insurance against loan defaults by borrowers distressed by the pandemic.
Shocks and disruptions
Mwangi attributed the increase to recognition of portfolio risk associated with the adverse disruption of Covid-19 health pandemic control, management and containment measures and resultant economic shocks and disruptions of supply chains caused by economic lockdowns.
The increased provisioning saw the lender's coverage of bad loans rise to 73 per cent from 64 per cent.
Moreover, the listed bank also moved to insulate itself against loss of mobile transactions fee with Central Bank striking a deal with financial providers to waive all fees on mobile transactions.
Instead of relying on mobile and merchant banking fees and commissions, the lender focused on diaspora remittances and increased revenues from Sh398 million to Sh601 million.
Forex income went up a fifth to Sh2.2 billion from Sh1.8 billion. Increased provisioning pushed up Equity's total costs to Sh26.7 billion in the period under review, from Sh18.6 billion last year.
Operating costs increased at a faster rate than revenues with the lender, which recently finalised the acquisition of a Congolese bank, getting less in non-funded income. Equity's loan book grew from Sh320.9 billion to Sh391.6 billion.