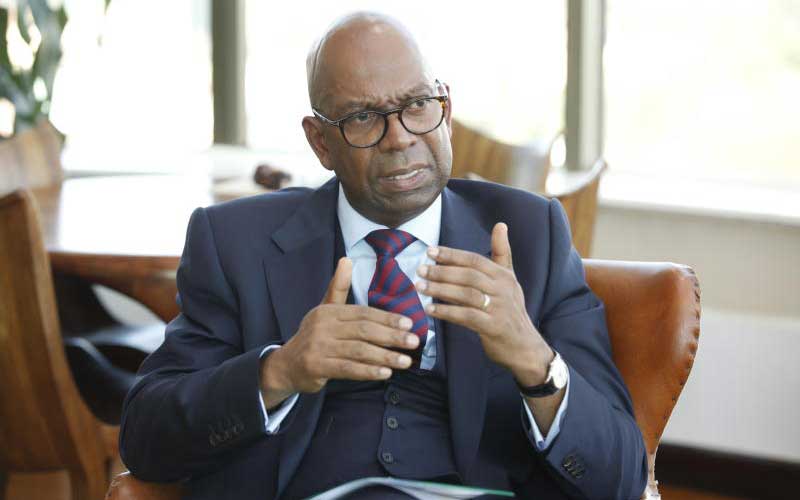 NAIROBI, KENYA: Safaricom Chief Executive Officer Bob Collymore is dead.
According to a statement from the company, the long-serving CEO died on Monday morning at his home.
Bob Collymore took a nine-month medical leave in late 2017 to undergo cancer treatment in England. He returned to Kenya in July last year.
In May this year, Safaricom Board granted him a 1-year extension in office and he said he would spend the time helping the company diversify revenue streams from e-commerce and Digifarm. He leaves behind a wife and four children.
Collymore took over the helm of Safaricom in 2010 from Michael Joseph who currently sits in the company's board as a non-executive director as well as the board chairman for Kenya Airways.
Read More
In 2017 shareholders voted to extend Mr. Collymore's contract by an additional two years after his tenure expired. His term was to expire in August 2020 and makes him the longest service CEO in the telco's brief history.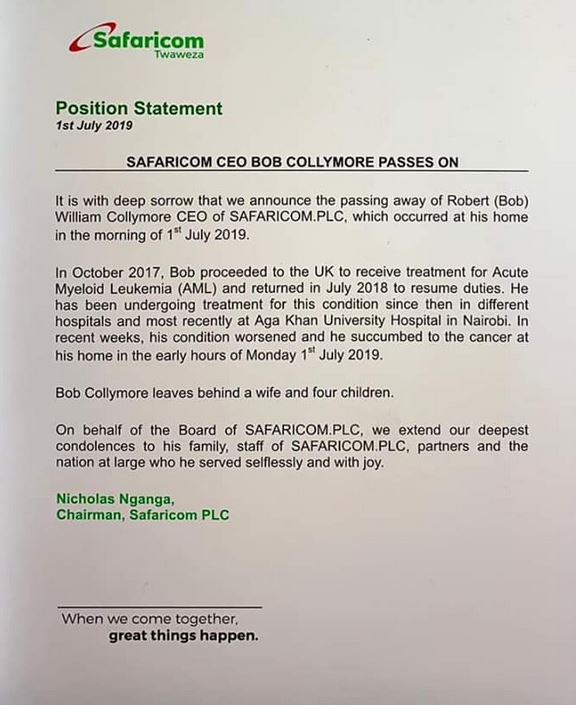 Several leaders including President Uhuru Kenyatta sent their messages of condolence to the family following the Monday death.
Uhuru said the country has lost a distinguished corporate leader whose contribution to Kenya's well being will be missed.
"It is with deep sadness that I have this morning received news of the death of Safaricom CEO Mr. Bob Collymore after years of battling cancer. As a country, we've lost a distinguished corporate leader whose contribution to our national wellbeing will be missed," said President Uhuru Kenyatta.
Baringo Senator Gideon Moi who is the chairman of the Senate Committee on Information and Communication Technology said he was saddened by the death of Collymore
He said Collymore, a corporate leader par excellence had a profound impact on the lives of Kenyans by the revolutionary and innovations in the telecommunications sector as he steered Safaricom.
"….And even as the company remained the most profitable, breaking new grounds in innovation that changed the lives of her clients, Bob remained simple and focused," he said.
"I wish to express my deepest sympathy and that of my family, to his family, friends, and employees of Safaricom during this moment of grief."
Appearing in a local television show after a 9-month medical leave in London, Bob narrated how his cancer story began with a misdiagnosis in 2017.
He said a doctor had misdiagnosed his leukemia for Vitamin D deficiency.
"I had been feeling unwell for some time. I noticed a strange thing…I noticed a pain in the bones of my shin, which is not something you experience unless you kick something hard," he told citizen TV host Jeff Koinange.
He would later begin shaking and notice flu-like symptoms, a condition his wife Wambui Kamiru thought was from Malaria.
"I went to a doctor who told me I was Vitamin D deficient and gave me supplements," he said.
Unsatisfied by the diagnosis, Collymore sought a second opinion from Nairobi Hospital's Dr. David Silverstein.
"He ran a series of about 30 different blood tests and it cost me $1,000 (Sh100,000)"
Dr. Silverstein still did not establish where the problem was. He, therefore, admitted Collymore in Nairobi Hospital.
This was the first time Collymore was being admitted to a hospital, he told the television man.
Collymore narrated how they did a bone marrow aspiration (a procedure where the bone marrow was removed from his body and tested). It was after this that he was told he could be having a problem with his blood.
In spite of Dr. Silverstein's recommendation that Collymore had to see a specialist in the United Kingdom urgently, he still wanted to continue with work.