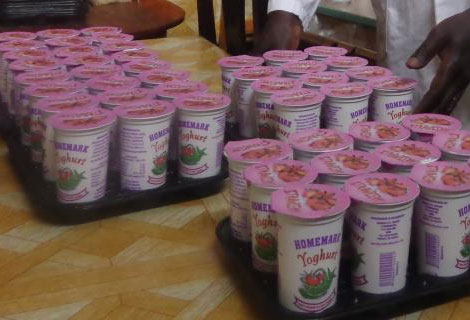 Yoghurt prepared at Edward Nyaibari's home in Suneka. [Photo: Winsley Masese/Standard]
In a region where local processed dairy products shy away from the retail outlets and shops' shelves, this is a business opportunity Edward Nyaibari seeks to tap into.
The proprietor of Homemark Dairy located at Suneka market, in the outskirts of Kisii town, says all factors swing towards his venture.
"Products such as packaged fresh milk and yoghurt are from Rift Valley, Nairobi or Central and this gives me a better opportunity to tap and fuel my growth," he says.
Fresh milk, he argues, is a necessity and yoghurt a luxury and he intends to balance in their supply to make his company a major brand and a household name in the region and country.
"I have all the certification required and given the high demand for dairy products, I am looking up to better tidings in the near future," he says.
On a daily basis, he collects about 300 litres from local farmers before making yoghurt, processed and packaged milk and sour milk (mala).
With Sh120,000 as his start-up capital in 2005, Nyaibari is betting on the growth of the town complimented by devolution. "My target is schools and colleges in the area where demand for dairy products such as yoghurt is on the increase," he says.
This is largely boosted by improved economic status and changing lifestyle of residents where demand and consumption of dairy products such as yoghurt. Besides, he seeks to promote dairy farming in the region, amid the shrinking of sizes of land size.
Nyaibari notes that there is a lot of fresh milk in the region and transporting the same remains the biggest challenge.
"My suppliers appreciate the value addition process by creating a market for the product which would otherwise go bad by providing them a steady market," he told Smart Harvest.
Misleading perception
Nyaibari admits that it is difficult to sell his products to the retail outlets due to what he terms strictures he cannot meet as a small, micro enterprise.
However, he says demand for processed and packaged milk is low in most places due to the perception that the vital nutrients have been removed.
"They believe processed milk has no cream but the perception is slowly changing," he says.
In future, he intends to automate the process at a cost of Sh1.8 million. He says a milk tester automation machine goes for Sh150,000.
His other goal is to have a machine to extract juice and have flavours of his own to improve the profitability and growth trajectory of the company instead of buying them from Nairobi.
With the support of his son, a cleaner, salesperson and motorcyclist to collect milk, he says the sky is the limit.
Greatest challenges
With much heat needed to kill germs, one of his greatest challenges in the process is power outages common in the region.
"In the event of a blackout, I use a generator which is expensive," he observes. Besides, the cost of electricity is so high that it eats into the business' bottom line.
Boiling milk takes about 4 hours where timing is critical in the process and any disruption in the fermentation process will be a huge setback. And while packaging companies in Nairobi give larger processors about 90 days to settle payments, he pays in cash.
"Perhaps, this is the arrangement intended to keep us off the market and promote monopoly," he says. Besides, established processors pay Sh4 for a cup when he pays Sh5 for the same thus making his products more expensive.
To market his products in schools, his denomination has proved a major setback. "In one of the schools I approached, I was turned away because of belonging to a different denomination," he regrets.