State starts repairs on rugged road
By Grace Wekesa
After holding numerous demonstrations over the deplorable state of Kima-Majengo Road, residents of Vihiga County now have a reason to smile.
The Government commissioned the rehabilitation of the road connecting Vihiga and Emuhaya constituencies. Roads minister Franklin Bett directed the contractor working on the 20-kilometre road to ensure work is completed within nine months.
Mr Bett said the public is anxiously waiting for completion of the road because they have suffered for a long time.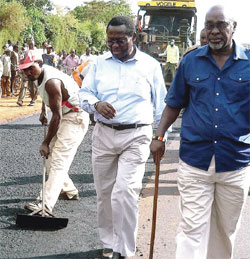 Roads Minister Franklin Bett (right) and Vihiga MP Yusuf Chanzu on Majengo-Luanda Road after commissioning its rehabilitation on Thursday. [PHOTO: BENJAMIN SAKWA/STANDARD]
"The public wants the road to be completed soon so that they can carry on with their businesses," added Bett. Yesterday, the minister reiterated that when the road is refurbished as planned, transport in Vihiga County will be easier and less costly.
However, he warned engineers against doing shoddy work saying they will not be spared if they are not up to the task. "They should not mismanage funds. We do not want to waste taxpayers' money. Those who will not be up to the task will face the law," he noted. He stated that the Kima-Majengo Road has been allocated Sh161 million for repair.
Bett, however, took issue with the latest ranking of ministries where his ministry was ranked the poorest performer.
He said President Kibaki and Prime Minister Raila Odinga commissioned all roads that had been earmarked for construction last year. He alleged the report was manipulated because Parliament recently voted his ministry as the best compared to the rest.
"If my ministry failed, then that means Kibaki and Raila did because they commissioned the roads that I have been overseeing," explained Bett.