Ulinzi, Zetech University impress in Kenya Basketball Federation playoffs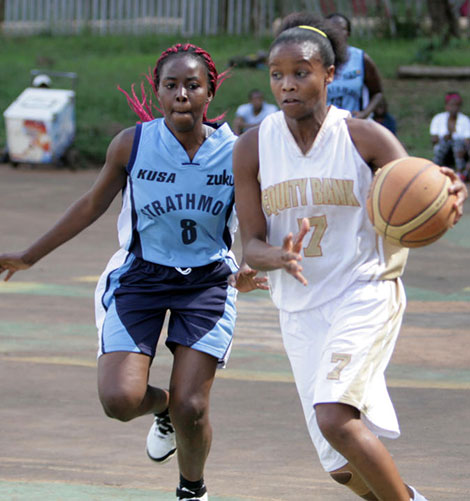 Equity Bank's Samba Mjomba tries to challenge Victoria Pacifica, left, of Strathmore University during their Nairobi Basketball Association, Division 2 league at Railways Club Grounds in Nairobi on Saturday, November 22nd, 2014. Photo/Jonah Onyango.
Ulinzi won the first round of the Kenya Basketball Federation (KBF) men's Premier League quarter-final play-offs against Lions at Nyayo Stadium on Saturday evening.
William Ochieng's and national team marksman Ancette Wafula were on point with 19 points apiece as Ulinzi beat Lions 73-54.
The contest was a see-saw affair with Ulinzi taking a slim 36-33 lead by half time before widening the gap in the last two quarters. Ulinzi won the quarters 19-15, 17-17, 21-11 and 16-10. Denis Opiyo managed 12 for the Lions.
Kenya Ports Authority (KPA) struggled to edge Blades 89-83 in another men's Premier League encounter.
Koshen Dirive, Martin Gitonga and Ariel Okal had 15 points a piece for the dockers while Emanuel Soja, Valentine Nyakinda and Michael Oketch scored 21, 19 and 15 points for the Blades.
KPA struggled in the opening quarter, which they lost 18-10 to the worthy opponents. They upped their game to 16-14 in the second before winning the third quarter 20-16. KPA won the last three quarters 15-13, 14-10 and 14-12.
Ulinzi women failed to emulate their male counterparts after they lost 73-43 to KPA. Yvonne Akinyi was on point for the winners with 12 points as Lynette Atieno managed 11. Bridgid Nanzala had 12 points for Ulinzi.
The United States International University (USIU) Flames beat Safe Spaces 47-34 during the encounter which saw Sarah Chan score 13 points for the students before Georgia Odhiambo added ten. Jane Ouko notched 10 points for the losers.
Umoja thrashed Upper Hill School 72-26 in the men's Division One encounter. Umoja had taken a 41-12 lead by half time through Michael Munene and Gilbert Obiero who scored 14 and 12 points respectively. Joseph Ouma scored ten points for Upper Hill.
Zetech University who topped the KBF Division One League standings, started off their quarter-final campaign on good footing by winning the first round of the three round playoff 62-51 against Trailblazers at the same venue.
Zetech led 30-20 by half time before struggling to widen the gap in the tough match for an eventual win.
Zetech were propelled by Raymond Wanjohi and Jeremy Yongo with ten points apiece. Ishmael Nyamache and Alex Oguso had 11 points a piece for the losers. Zetech won the quarters 15-12, 15-8, 16-16 and 16-15.