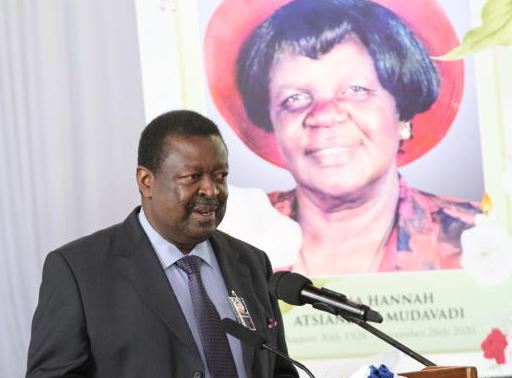 Musalia Mudavadi is Kenya's political goldmine that remains untapped. His gentle and pleasant style, as well as his personal ethics run against the grain. They are unique attributes on a national landscape where to be a good politician you need to be loud, antagonistic and foul.
When he declared himself the last standing man in the Opposition in 2018, some felt that he was not punching hard enough. They expected to hear noisy bombast and invectives. They wanted to see street protests for them to accept him as the face of the Opposition. But the former vice president told Kenyans that everyone has his or her own style. His is a controlled carriage. It is informed with patience, method and modesty. This style, he said, was the new face of the Opposition.
To understand Musalia's calm, even in the middle of a tempest, you need to appreciate his family background. You especially need to appreciate the value-based hidden hand of his late mother, Mama Hannah Atsianzale Mudavadi, who is being laid to rest today.
Mama Hannah passed on in Nairobi a few days ago, bringing to an end her 92-year-old journey on earth. She leaves behind a refined and self-effacing family. It was my privilege to interact with her and her family during the making of Musalia Mudavadi's biography titled Soaring Above the Storms of Passion. Theirs is an admirable wonder story. It is the tale of a household that has traversed wide vicissitudes through time and space.
Hannah's story began in Ebushiangala Village in Idakho in 1928. She was born in what is today Ikolomani Constituency of Kakamega County, among the Varende people who spangle several locales in the Abaluhya community. They are also known by different derivatives of the Varembe name, depending on where you are. In some places, they are the Abashibembe, while elsewhere, they are known as Abakivembe.
Read More
Happy but challenging
During the making of her only son's biography, she recalled a happy but challenging childhood under the watchful eye of her father, William Shivere Juma. William worked as a cook in a colonial home in Nairobi. Hannah and her siblings Ismael, Zedekiah and Isaiah, grew up under the keen eye of her grandfather. Her mother died when the children were in their salad years.
Hannah, nonetheless, had the privilege of attending primary and intermediate school in Ebushiangala and Musingu in Kakamega, at a time when few girls went to school. She later attended Kima School in today's Vihiga, but dropped out, owing to sundry challenges. It was soon after this that Hannah met her future friend and husband, Moses Substone Budamba Mudavadi. Together, they would bring up a family of seven children – Jean, Ebby, Serah, Margaret, Lydia, Gertrude and Wycliffe Musalia.
During the interview for her son's book, she recalled, "Musalia was a very patient boy. He, however, woke up one day (in their Mululu home), to discover that his siblings had gone away to Njoro, to join a boarding school. There had been no preparation at all and so he was not informed. Musalia threw up a tantrum. Why had he been left behind? Why was he not, also, going to school? It was not an easy job to cool down the boy."
Hannah also recalled her courtship and marriage to the late powerful cabinet minister and the domestic challenges that informed the early days.
She was introduced to her future husband by her cousins who had served with him in the army, during World War II. Michael Muhandik and Michael Makotsi were the matchmakers in what was essentially a headhunting mission for a good wife.
The three young men had recently returned to the country from Burma, where they had served. Moses kept teasing his friends, asking them to help him find a good girl to marry. They would tell him of their cousin, Hannah Atsianzale, whom they described as a beautiful learned girl, and one who would make a good wife.
In the full order of time, they brought Moses to Ebushiangala, where he encountered Hannah. The shy village girl was not so sure that she wanted to meddle with these military types, who arrived at her home in frightful official regalia. But she warmed up to the charm of the young Moses and, soon, wedding arrangements were in progress.
She would later recall how she was ferried away in an official public works lorry, all the way to Mbale in Vihiga, where the nuptial ties were done.
Later, the couple would stare at each other not knowing what to say to one another – the marriage having been contracted without the kind of prolonged courtship now common. As if that was not sufficiently challenging, her newlywed husband would shortly leave her in the village, to return to work in Nairobi. As she went about trying to settle down to her new life as a wife in the village in Vihiga, she was surprised when a few days after her husband's departure, a neighbour came to claim the only piece of furniture in her marital hut. He had come for her solitary bed, which he claimed to have lent to Moses.
She recalled: "It was a makeshift bed fashioned from the siala tree and stranded with sisal ropes. The mattress was made of a sisal bag, filled with dry straws. There was a crisis. So where would I sleep now? My mother-in-law cut dry banana leaves and spread them on the floor as my bed."
Food was another challenge in those early days. She often sent for food from her maiden home in Ebushiangala. The nature of communication in those days delayed remittances of funds and other kinds of support from Nairobi for family members in rural West Kenya.
"I often sent someone to my home to bring us some food. I recall how one day I got thoroughly drenched in the rain while coming back to Mululu from Ebushiangala."
Yet it was not a gloomy life.
"We were a very happy family with humble means," Hannah recalled. Their happiness multiplied when the children began arriving.
"Jean was born in 1948. Ebby came in 1952. Then there was Serah, Margaret and Wycliffe. Wycliffe was born in Kabarnet in 1960, after a 10-year gap."
Musalia has himself said: "I was the son who had come after a very long time of waiting. Culturally, not having sons in the family was always a source of grim anxiety among the Abaluhya people. Being a patrilineal people, the tribe always wanted to see many boys born into the family."
Environments such as the one Musalia was born in tend to spoil only sons. Yet this is quite the opposite. The two unmistakable attributes in the Mudavadi family are discipline and a rich platform of social values. This is a trait inherited from both parents. Their late family patriarch was a loving individual who was, however, known for his no-nonsense approach to situations. He could comport himself with patience, a trademark genial smile, steadfast willingness to help and a keen ear.
Yet Mudavadi Senior could also be very firm when showing his children the straight and narrow path that they must follow. And when he sensed a breach of his own rights and freedoms, he would firmly protect his space. Such was the situation when one day he broke the colour bar code in Baringo, in the colonial days. He approached the bar and sat at the counter in a "Whites Only" public house, causing a stir and a brawl that drew in the local Kalenjin people on his side.
Hannah recalled, however, how the senior Mudavadi's destiny with the Kalenjin people was sealed through his relationship with the person who would become Kenya's second vice president and his family. The young Daniel arap Moi family lived in a house adjacent to the Mudavadi family in Kabarnet. Moi was a teacher while the Mudavadi was his boss, the local education officer. Mudavadi, the education officer, was the person who paved the teacher's way to power.
In a demonstration of the values in this family, Moses turned down a request by his colonial superiors in Baringo that he should be nominated to represent the region in the White dominated Legislative Council. An opening had come up and a replacement was urgently required. Mudavadi Senior insisted that the region should be represented by a person from the Kalenjin community. That was how the youthful Moi was literally taken away from the classroom and cast into the mud of politics.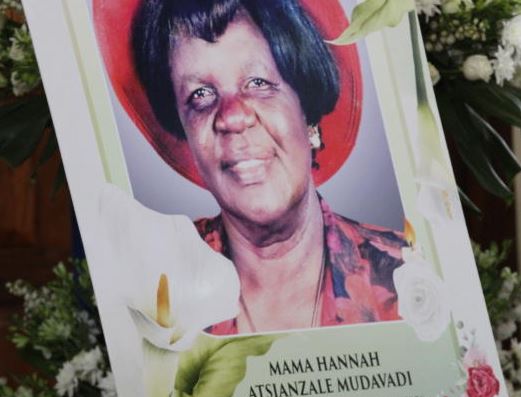 Public service
The elder Mudavadi would join him two decades later and serve him loyally in various cabinet portfolios. The baton would later pass on to his son Musalia upon Moses Mudavadi's demise in February 1989.
A common trait between father and son was their sense of justice. In the colonial era, the senior Mudavadi rejected a nomination to the Legislature because he felt someone else deserved the position. And in 2003, Musalia turned down a Kanu nomination to Parliament, after losing his Sabatia seat in the December 2002 elections.
Such things only happen among people who have a strong tradition of family values.
Those who have interacted closely with the Mudavadi family bear testimony to their ethical approach to life, their faith in the goodness of people and their own trustworthiness.
In all this, the demised Hannah Atsianzale has had a quiet behind-the-scenes hand, governed by her strong Christian values as a Quaker. The baton now passes on to a new generation, with a significant feminine role reserved for the affable Tessie Mudavadi.
May Mama Hannah's soul repose in eternal peace. Amen.
(Barrack Muluka was involved in the writing of Musalia Mudavadi's autobiography, Soaring Above the Storms of Passion)