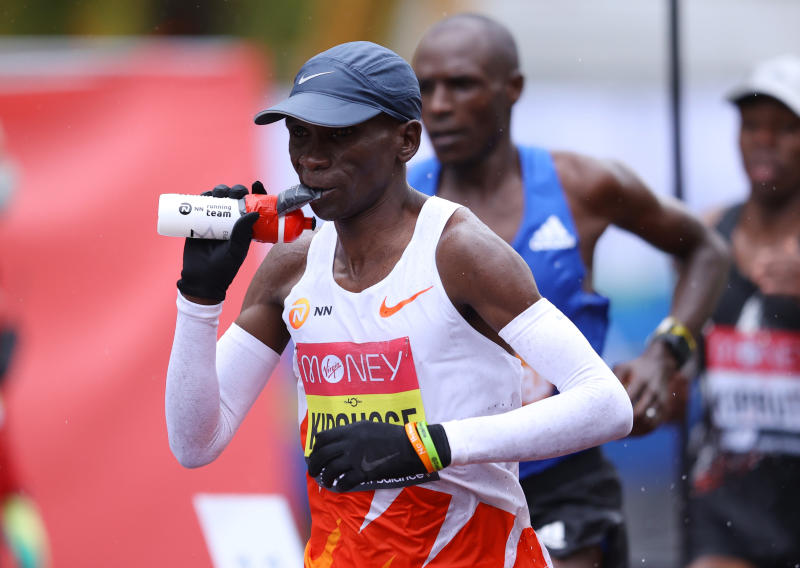 Two-time Olympic champion marathon holder Eliud Kipchoge will aim to win his marathon gold in Paris 2024.
Kipchoge became the third man to win back-to-back men's Olympic title after Ethiopia's Abebe Bikila (1960,1964) and Germany's Waldemar Cierpinski (1976,1980) when he stormed to victory in the streets of Sapporo in the 2020 edition held in Tokyo, Japan last year.
The Kenyan athletics star revealed on Wednesday 12 January that his long-term ambitions were to become the first man to win three Olympic gold medals in the marathon.
"I still have something boiling in my stomach that's why I am looking forward to it" Kipchoge said at a virtual media conference.
Regarded as the greatest marathoner of all time, Kipchoge confirmed that he wants to be the first man to win three Olympic gold medals in succession when he lines up in the 2024 edition.
Kipchoge, who has four Olympic medals overall, clinched gold in the 2016 edition held in Rio de Janeiro, Brazil and successfully defended the crown last year in Tokyo.
At Tokyo 2020 in 2021, the 37 year-old became just the third man to win gold medals in back –to-back Olympics marathons, cementing his legacy among the greatest in distance running.
He broke the world record initially held by compatriot Dennis Kimetto in September 2018 when he clocked 2:01:39 in 45th edition of the Berlin Marathon and has been on record saying that he has the mettle to lower the time further.
Kipchoge captured the attention of the world when he achieved his dream of covering the 26.2 miles in under two hours when he ran 1:59:40 in the Ineos 159 challenge held in Vienna, Austria in October 2019.
He boasts of winning the London Marathon four times among other major world marathons.?