New embassy: Envoy urges local traders to explore Indonesia market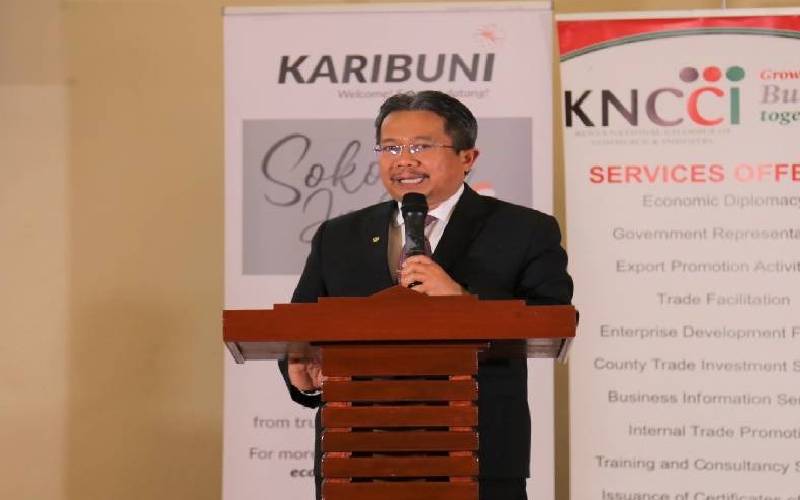 The Ambassador of Indonesia to Kenya has urged local traders to take advantage of the opening of the new embassy in Jarkata to seek business opportunities in Indonesia.
Speaking during the Kenya National Chambers of Commerce and Industry (KNCCI) event at Nairobi's Movenpick Hotel on Monday, Dr Mohamad Hery Saripudin said the new embassy will help traders to explore the Indonesian market.
"We encourage Kenyan businesses to use the momentum of the official opening of the new High Commission to come to Jakarta and seek opportunities with their Indonesian counterparts," he said
According to the diplomat, the opening of the new Kenyan High Commission in Jakarta is a new milestone in deepening the two nations ties
"Kenya will now have a clearer view of the opportunities and areas of cooperation in Indonesia through the embassy," said Saripudin.
He hailed a Memorandum of Understanding (MoU) signed between KNCCI and the Indonesian Chambers but said there is a need to concretize it.
The envoy said the embassy will assist Chambers of commerce from the two nations to implement the MoU and encouraged all parties to bridge businesses and build capacity.
Dr Saripudin said they encourage Indonesian companies to source their goods in Kenya to improve healthy trade between the two nations.
"It is not just about the export of goods from Indonesia to Kenya, but the Embassy is also encouraging Indonesian companies to source their goods from Kenya."
He said the embassy will convene a webinar early next month to push for the exportation of goods from Kenya to Indonesia.
"The Embassy, in cooperation with a consulting company called Bright Indonesia, will be convening a webinar to push forward exports from Kenya to Indonesia," he said.
The envoy encouraged KNCCI and its members interested in exporting to Indonesia to attend the webinar and discuss the potential goods they can export into the Indonesian market.
Several initiatives
He cited several initiatives the embassy has undertaken to improve bilateral trade between the two countries.
In September, the embassy convened a Hybrid Trade Showcase to connect businesses during the pandemic.
The event was attended by the Indonesian Minister for Tourism and Creative Economy Sandiaga Uno, Trade Principal Secretary Johnson Weru and many businesses from Kenya and Indonesia.
The embassy has also opened a new supermarket-style trade gallery at its Nairobi office, called Soko la Indonesia with over 2500 samples available at affordable prices.
The embassy also promoted a trade expo in the South East Asian region, the 36th Trade Expo Indonesia – Digital Edition where over 30 Kenyan companies participated and connected with their Indonesian counterparts.
The efforts have seen the total trade value between Kenya and Indonesia in 2021 rise to Sh54.8 billion from the Sh46.8 billion in 2020.