South Korean presidential contender denies rape allegations
ASIA
By AFP | March 19th 2018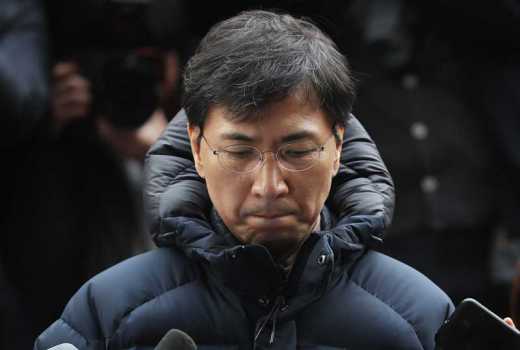 A former South Korean presidential contender accused of raping two women including his aide has denied the allegations against him, in the highest-profile case linked to the country's growing #MeToo campaign.
Ahn Hee-jung, who came second to current President Moon Jae-in in the contest for the ruling Democratic Party's presidential nomination last year, said the sex was "consensual", in comments to reporters before being questioned by prosecutors Monday.
Kim Ji-eun, who was Ahn's personal assistant before becoming an aide in civil affairs, said in a TV interview that he had raped her four times since she was hired last June.
The revelation sparked nationwide fury. Ahn resigned as governor of South Chungcheong province and announced his retirement from politics, asking for "forgiveness for my foolish action" in an apology posted on Facebook.
Kim asked prosecutors to investigate Ahn before another woman -- a worker at a policy think tank run by Ahn -- came forward to demand a probe over the 52-year-old for multiple rapes.
But Ahn on Monday denied the accusations by the two women, saying he had "consensual" sex with both.
"I think it was consensual relationship. But the accusers say it was not. I apologise," Ahn said while attending Seoul prosecutors' office.
"I am sorry to all the people who loved and supported me as well as my wife and my family."
It was an astonishing fall for Ahn, who enjoyed huge popularity among young, liberal voters thanks to his wholesome image and good looks.
He had been previously seen as a strong contender for the next presidential election in 2022 to succeed Moon -- who can only serve one term under South Korea's constitution.
Ahn threw his support behind the #MeToo campaign against abuse of women in a public speech made just hours before Kim appeared on live TV to talk about the sex abuse she allegedly suffered at his hands.
Victims of sex abuse in South Korea -- which remains deeply patriarchal despite economic and technological advances -- are reluctant to come forward due to fears of relentless public shaming.
But Seo Ji-Hyeon, a prosecutor, in January made the rare move of appearing on live TV to talk about sex abuse by her superior, and the career setbacks she suffered after reporting it.
Her interview opened a floodgate of similar revelations by women who accused figures including politicians, writers, college professors, actors, film directors and playwrights.
To fight drought, involve communities
According to the latest information from the Meteorological Department, rainfall will be poorly distributed in April, May and June, and this will have a serious impact on agriculture