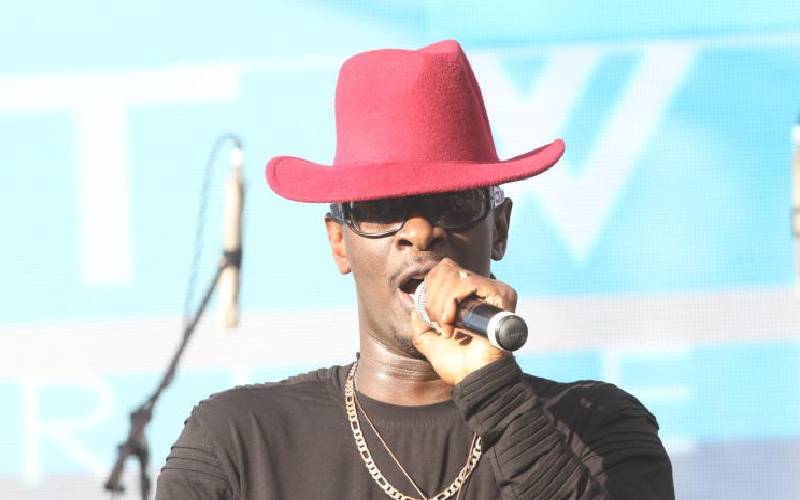 There can only be one Nameless, the man whose music continues to fill the local airwaves. He spoke to this writer about what keeps him engaged during this period of Coronavirus.
You are among the few Kenyan artistes who have been on the Showbiz for close to two decades, what drives you?
For me, I am driven by my passion to create and inspire. I want to tell the story of a unique Nairobian guy through music and entertainment and in my own unique style.
What has Nameless been up to lately?
Nameless is reflecting a lot lately especially during this Covid-19 time. I am examining my beliefs, my experiences, my strengths, my weaknesses, and my purpose. I am in that stage in life I guess.
Talking of the current times, kindly share your take on the country's response to COVID-19 Pandemic?
I find it difficult to really judge our response based on the partial information I know about the virus. However, I am also aware that not much is really known on the behaviour of this new virus so I am trusting my leaders have surrounded themselves with wisdom from every significant angle so that they can make well measured decisions in response to this virus and it's spreading. However, I must commend our very own CS Mutahi Kagwe Team for being recognised the world over as one of the top strategic leadership's that has navigated this pandemic; that says a lot about our response.
What is Nameless doing differently ever since the first case of COVID-19 was announced in Kenya
More time around my family has really helped us grow closer than ever before. We are getting to understand each other even more and more and I am changing my perspectives about marriage and parenting for the better.
We have also noticed that lately, you have been actively engaging your social media audience on the use of 'sheng' what informs your desire to update your sheng knowledge?
Well, I see you have been following my social media shenanigans. (Laughs) Yup I really like engaging with my fans on IG and Facebook, so as one of my goals this Quarantine is to update my sheng dictionary... (It's important for a pop artiste like me to have his ear on the ground, manze). So I like to get insights from my IG fam on the latest sheng and it's been really fun.
What are some of the new words that you have learnt lately and what do they mean?
Genji means top quality as well and Doshi..so if I say "Mbogi yangu ni Doshi" it means my gang or my clique or my pals are top quality and real friends ????.. I could go on and on.. haha
So, what is your take on the word Doshi and its use in Kenya
Well, for me it's just the ingenuity of sheng and how it has used an already famous phrase like Chuma ya Doshi that represented quality and twisting it to emphasize a statement of quality. I find it so interesting how sheng uses words or products that we are familiar with to emphasize something then combine English and Swahili. So, Ni Doshi must have come from the fact that Doshi, as you know, is to have good quality material.
What is your take on GengeTone as a Genre of Music?
I respect every music pop movement that comes every so often in the music industry. I am a beneficiary of the Ogopa movement. Genge tone just represents a popular voice of a youth demographic in Kenya. It has given its story using pop music tools like danceable beats and rememberable melodies. The videos can be X-rated sometimes, but I guess they have their target market.