Singer Ogada and author Ngugi are the unsung heroes of mother tongue
ARTS & CULTURE
By Sam Dennis | Mar 2nd 2019 | 4 min read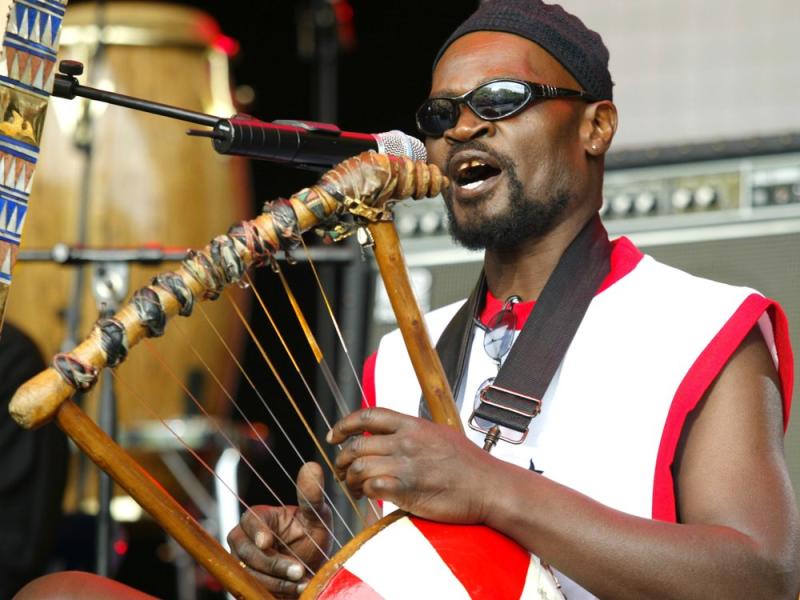 The dust has barely settled and vibrations from his strings have barely stopped.
Ayub Ogada, as he was popularly known, was a man who could enchant with his nyatiti strings.
Just by plucking them, he told the story of a community, and a continent, to the entire world. His music made it to award winning films even though he sang it in his mother tongue.
The music of Ayub Ogada reminds us of the transcendent power of our stories, and more so our oral stories. How these stories resonated with communities across the world still confounds us.
What remains of Ogada is the long held adage that a prophet is never welcome in his home town. It would be easy for a young person to speak passionately about the contemporary musicians around such as Kanye West but sadly fumble if asked about Ogada, yet Kanye West himself credits him in his musical album. This depicts the sad fact that we have almost forgotten our cultures. What is also true is that a generation is rising up that will somehow be out of touch with their heritage.
The orature of Ogada in Kothbiro reminds us of the value of responsibility and diligence among young people. He adopts the role of an elder in the song and asks the young men herding to bring livestock back home since a storm is gathering.
This spirit of narrating the humanistic values is also evident in his song En Mana Kuoyo (It's just sand). The song reminds us of the value of patience in all our undertakings, it is a narration that reminds the one who is always in a hurry that he will eat his sesame seed with sand.
At this time when we are haunted by the desires for immediate gratifications this song comes as a timely reminder on why we need to uphold patience as a virtue. The song is also a parable that echoes words of the great African American poet, Maya Angelou, that all great things require patience.
Though narrated in a language largely understood by a single community, the values within the song transcend the community itself. The values of diligence, responsibility, and patience are in every way universal. We cannot overemphasise the need for these virtues in this time and age. Virtues that cultivate a sense of always having the bigger picture in mind, diligently protecting the wealth that has been entrusted to us, and always having a sense of community in all we do.
Ogada, through his nyatiti, "sits under the tree in his homestead" and passes this unadulterated wisdom to younger people. The irony is the symbolic young people that Ogada is talking to are in a hurry, not heeding his warnings. What comes to haunt them is the parable of En Mana Kuoyo that as we are caught up in the rush to immediately gratify our needs we end up enjoying our gains, although contaminated with sand. Where is the point in rushing then?
No wonder the global community appreciated his age old talent and wisdom. Through his strings, Ogada spoke of values that have transcended age, cultures, and even boundaries.
Recently, renowned Kenyan author, Ngugi wa Thiong'o launched his book, Kenda Muiyuru, written in Gikuyu. While the story resonates more with the Gikuyu community, the epic of Gikuyu and Mumbi we discover has values that transcend the community. The epic narrates the origin of the daughters of Gikuyu and Mumbi and, by extension, the Agikuyu. The story emerges as a timely reminder that we should hold our histories dear. Though largely passed down generations orally, Ngugi engraves it into posterity with his pen. Generations that have been there and those that will come will have the privilege of knowing, through reading, about their ancestry as told in a language they hopefully will understand. Over the years, Ngugi has cemented his place in the literary landscape largely through narrating our histories in English, it is at this moment in time that he came home with his latest book on the origins of his community. What should interest us is not the fact that he has authored a new book but the fact that in his old age and wisdom he has discovered the need to narrate the origins of his community in a language he understands best.
Through the lives of Ngugi and Ogada, what we come to learn after all is that however much we may speak different languages and have different ancestries, we all are bound by a common string of values we cherish. Each society upholds and rewards patience, diligence, and honesty while at the same time shunning malice and laziness. Let us tell our stories.