Sharing books online kills creativity, it's outright theft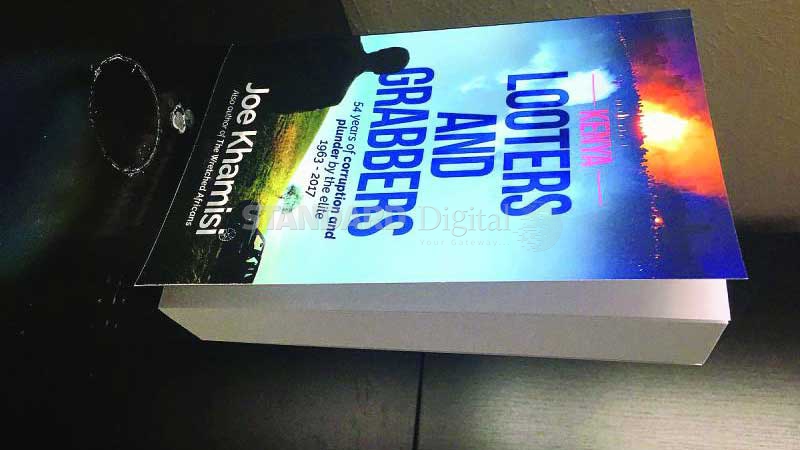 As a former Kenyan parliamentarian, Joe Khamisi saw most of his fellow legislators in gluttonous corruption action in the pig sty of dirty deals that we call the August House, but that is really a National Assembly of Swine and Vermin – but to paraphrase a Trump line – I am sure a few of them are honest people.
The former MP and now prolific writer (at the rate of a book every two years this decade) decided to document the acts of his fellow legislators in a book, Kenya: Looters and Grabbers: 54 Years of Corruption and Plunder by the Elite, 1963 – 2017, which was released less than two months ago.
Had Honourable Joe Khamisi waited just a few more months into this year (2018), he would have had the five billion shilling maize scandal at the National Cereals and Produce Board (NCPB) mostly in Eldoret, the nine billion corruption sequel to the National Youth Service scandal, the National Youth Fund scandal, billions missing at Kenya Pipeline Company (KPC) with Kenya Power overcharging consumers to add to his book.
But that is, pardon the pun, not the story.
Corrupt individuals
The story is that Khamisi's book, Looters and Grabbers, was itself looted, not off the shelf, but grabbed online, and shared widely on PDF, which means zero royalties to the author of the work.
Because bookshops are still afraid to stock books that name names of corrupt individuals, following the Shs 30 million defamation law suit that the late Nicholas Biwott won against the Book Point for stocking a book in which he was adversely mentioned, Khamisi discovered that his book was a live wire with local book sellers, who wouldn't touch, let alone sell it, with a ten-foot pole.
It was the same case when Michela's book It's Our Turn To Eat did not hit the Kenyan bookstores a few years ago, and literary entities like PEN Kenya under its president Khainga Okembwa ended up organising 'underground' book readings and sales at the Kenya National Theatre and in Kisumu.
Anyway, Khamisi opted to go the high tech route, and put his book on PDF on the 'secure' Amazon site … and that is when all hell broke loose, or in his case, broke in; with his book becoming an instant best non-seller because although it was being read by tens of thousands of Kenyans, online, he wasn't getting a cent for his sweat because it was being shared among Kenyans, shamelessly, for free.
Online piracy
To make matters worse, they had the spine to gloat about their despicable act.
Here is a snippet of some intellectual theft conversations on social media.
Fuata Nyuki Ukule Asali (ya bure): Since this book is unaffordable at three thousand bob, the author should thank us for spreading his ideas for free on the Internet. After all, he wrote this book so that he can share this knowledge with us (Kenyans).
Fender Bender: Share the PDF if you can.
Ole Joe: Just received my free copy.
Of course there is a precedent of this kind of online piracy of a popular book in the form of Miguna Miguna's Peeling Back The Mask, which was shared on PDF tens of thousands of times, including by media personalities and politicians.
In the case of Joe Khamisi's Looters and Grabbers, there has been some pushback though.
Author Kinyanjui Kombani, who has previously battled against his books being photo-copied even by students at his alumnus Kenyatta University, was among the writers who made a lot of noise about people sharing Khamisi's book.
Educational texts
So much so that one creative Joe Rodriguez wrote on a writers' Whatsapp group: 'Joe, you should see what's happening online over your book. People are putting their foot down demanding that anyone with the PDF version of your book pay up; and those who already have a copy are sharing your number online so that should someone ask for the book, they pay you first.'
Indeed, one Twitter user shortly asked Joe Khamisi for his number so he could transfer him money for the book.
One Siloma confirmed with a mobile money transfer message that they had sent Sh 3000 to Joe's number. "I am an author myself and know only too well the need for reciprocation," Siloma wrote.
But acknowledging that Sh 3000 may be too high for a PDF version of the book, Khamisi said: 'I will go low on that given the circumstances. A token of Shs 500 per PDF would be reasonable for a 752-page book. He thanked Kinyanjui (Kombani) and several others who had come out "to defend our copyright, and to help me recoup some of that sweat."
Any serious writer will confirm that a lot of sweat – pre-dawn muse mornings, lots of research, the mental toil, physical moil, burning the midnight oil – go into the writing of a book.
Pauline Kea, the author of a current Swahili set book (Kigogo, Storymoja) says: "You write until your hands hurt, your back pains, and your head wants to burst. Then you find your (counterfeited) bookbeing sold on the streets by pirates, and you are not getting a shilling. It breaks your heart."
Oxford University Press Publishers General Manager John Mwazemba confirms that while online piracy (sharing) hurts the writer, offline counterfeit books cost publishers 'millions in losses, every year.'
It is the classic case of greedy reapers going to harvest what they have not sown, at the expense of publishers and their writers.
And yet there exist legitimate mobile apps like Digital World Reader, which may be the model for the future when it comes to online literary and educational texts.
Muthoni Muhonyo of World Reader in Kenya says they acquire work for an average of a $150 (Shs 15 000) payment upfront. Then depending on how popular it becomes online, with the writers updated monthly on mail links as to how many folks are reading their work/s, more payments may follow.
Tony Mochama is the author of the KICD-approved Modern Poetry for Secondary Schools.
To fight drought, involve communities
According to the latest information from the Meteorological Department, rainfall will be poorly distributed in April, May and June, and this will have a serious impact on agriculture