Mukuru youth group wins Street Dance Competition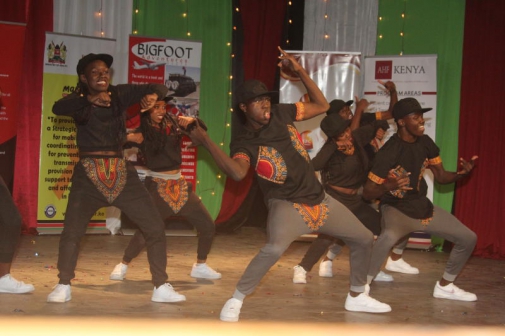 A group of dancers from Mukuru slums Saturday won the Street Dance Competition and took home a cash prize of Sh100,000.
The winning dance crew, christened 'Mukuru Youths' also bagged a trophy while the second prize of Sh85,000 went to 'Siblings' from Mathare and 'Kibera Youths' pocketed Sh35,000 after emerging third in a programme themed 'Street Dance with a Difference'.
The competition is part of Aids Healthcare Foundation's (AHF) seeking to address the high spate of new HIV infections among young people through dance and open forum discussions that focus on prevention, stigma reduction, High and Intensive Care (HIC) and treatment, among other related issues. The competition has been running in Mathare, Kibera and Mukuru slums since June.
The grand finale was held at Sarakasi Dome in Ngara. It was organised by AHF in collaboration with National Aids Control Council (NACC), Nairobi City County among other partners.
AHF Kenya Programme Development and Advocacy Manager Faith Ndungu observed the need on focusing on the youth in informal settlements on issues related to HIV.
"Our decision to engage young people living in informal settlements in Nairobi was influenced by the fact that about 70 per cent of city inhabitants live in these settlements and lots of the young people are either unemployed or work in informal sectors," Ndungu said.
She pointed out the importance of merging familiar phenomenon in slums such as the streets dances, into interactive sessions if any positive outcomes were expected out of youth engagement and participation in HIV prevention and anti-stigma campaigns.
"In 2015, the youth accounted for about 51 per cent of all new HIV infections in Kenya, with 35,776 getting infected each year. HIV testing coverage for this population is also very low, sitting at 49.8 per cent for ages 15-19; a dire situation that highlights the urgent need for more dynamic approaches to reach and engage youths," said Mary Nyago, AHF Kenya Prevention Programme Manager.