Pomp and laughter as winners of Kenya's drama festival are feted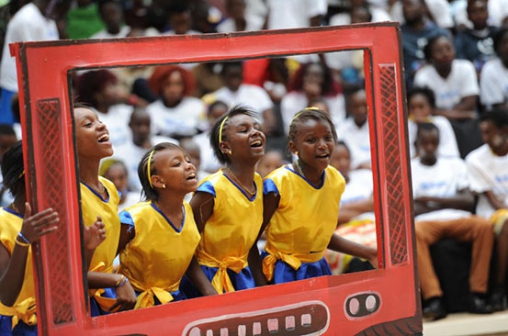 NYERI: President Uhuru Kenyatta was yesterday treated to crème de la crème of Kenyan drama and theatre at Sagana State Lodge in Nyeri.
State House hosted winners of the just-concluded 2016 edition of the Kenya Schools, Colleges and Universities Drama Festival.
During the colourful event, Paminas Omondi of Nyabondo Boys High School brought down the roof with his comedy titled 'teacher'.
In a light and comical manner, he showcased tribulations of a teacher in Kenya from poor salaries to the endless strikes that do not yield much.Alex Njeru of Marvel Star Academy moved the audience with his solo performance on his parents' love affair with the TV.
"When I make mistakes, I get punished but the TV is never punished and it never gets to do homework. I want to be a TV so that I can get the love it receives from my parents," he says in his poem challenging parents to pay more attention to their children.
RIB-CRACKING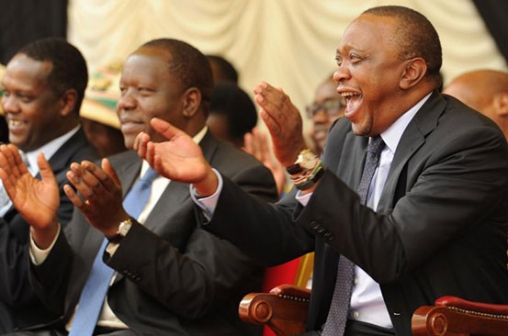 Kings of theatre Kakamega High School brought the message home with their winning play 'The Cross' by Oliver Minishi.
The play depicted a corrupt parent who steals exams for his daughter so that she can score an A despite being a below average student.
"Why is it that in this country the only successful people are those who have a PhD in corruption," asks the school Head Teachers who has refused to play ball to the blackmail from the lawyer parents.
The series of performances were so riveting they left the President and other State guests in stitches.
"My greatest wish and desire is to have by next year a regional festival and I will speak to President Museveni about it," said President Uhuru to the delegation that had come from Uganda to see a possible future working relationship.
The President added: "... When we saw the disabled perform it reminded me of when climbed Mt Kenya the other day and Thika School for the Blind students performed.Responding to St Mary's Lwak's creative cultural dance, the President said the dream to have a robust art industry in Kenya is real.
"St Mary's Lwak Girls have shown us that we can nurture talent and I want to agree with them, we will put more money into the talent Academy so that talent can earn a living for them," said Kenyatta.
The girls performed Sax-Vio-Guitar a dance produced by Sr Anastasia Amollo.
The President asked the chairman and the minister to make sure that the children are not exploited by other industry players.
"If talent is just about performances with no money, it will not attract many people," he said.
Education Cabinet Secretary Fred Matiang'i said talent in performing arts has a rightful place in the curriculum. He added that Scholarships will be given to students who excel at the festival to join the newly established Film School.
National festival chairman Chokera Kahura lauded the students for their brilliant performances.
"The fete has grown in leaps and bound and Ugandans and Tanzanians want to be part of it for a regional fete," he said.
Other educational institutions that performed are Kerugoya Shepherd, Booker Academy, Moi Girls Marsabit, Thogoto Teachers' Training College among others.
Support Ruto in 2022, Uhuru tells Mt Kenya
President Uhuru Kenyatta has asked voters in his Mt Kenya bastion to support his deputy in the 2022 presidential election, even as he stepped up his campaign for re-election during his tour of Central Kenya.