President Uhuru Kenyatta intervenes as it emerges films on Westgate and Louis Leakey are still in Kenya's hand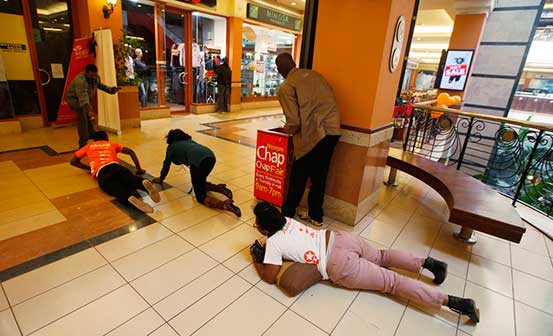 NAIROBI: President Uhuru Kenyatta's office has intervened to save Kenya from losing out lucrative Hollywood film location deals to South Africa after it emerged that the country had almost lost two lucrative film deals to South Africa.
The President dispatched his officer in charge of State Branding and Events Ted Kwaka popularly known as Big Ted to a powerful meeting chaired by Sports, Arts and The Culture CS Dr. Hassan Wario bringing stakeholders with an urgent objective to win back two films yet to be shot in South Africa.
After missing out on a film The Journey is the Destination on young journalist Dan Eldon who was stoned to death in Somalia at the height of clan insurgence in the war torn country, there were fears Kenya was again going to miss of flick around the Westgate mall Terror attack.
Dr Richard Leakey, the son of Louis Leakey brought a sigh of relief when he confirmed yesterday that the film on his father, Africa, will actually be shot in Kenya.
Also attending the meeting were the two Principal Secretaries Joe Okudo and Richard Ekai as well as Kenya Film Commission CEO Lizzie Chongoti.
The meeting also attended by filmmakers Charlie Simpson of Film studios, Jenny Pont of Pontact Productions, Martin Munyua of Dreamcatcher Productions and Wambui Kairo of One Boy Productions resolved to invite one of the Hollywood Producer Richard Harding to come and meet the CS and share the frustrations that made him think South Africa as an alternative location to Kenya.
"It has emerged that none of the two films neither on Westgate nor on Richard Leakey had been granted to South Africa yet as had been reported in some Kenyan press and we will be bidding as a government to have the Westgate flick shot here in Kenya," said Ted adding that Kenya will be offering real places, real people and real accents to the film.
Mr Harding is the President of the Sixth Sense Productions that was behind Kimani Maruge's film First Grader that depicted a nation so thirsty for education after Kenya declared universal education in 2003 and says he burnt his fingers during the production.
"They (Sixth Sense) had to forfeit lucrative offers from South Africa just to have it shot here in Kenya," then said Chongoti of the choice to have The First Grader shot in Kenya starring Oliver Litondo.
South Africa offers a 20 percent funding for such foreign made films and shot in the country among other incentives, making it almost irresistible for international filmmakers.
It was also agreed that the government must immediately set up mechanisms to engage more with Foreign Film Project producers as well as local services companies so that such Kenyan projects such as Dr. Richard Leakey's "Africa" Film does not get of the country again.
Players advised the government to have film and Arts attaché's in regions that often have film related inquires including Los Angeles-U.S.A, United Kingdom, Germany, China, India among others.
The meeting recommended that the government should get a Film Fund up and running as soon as possible noting that there are film funds with the Youth Enterprise and Development Fund (YEDF) and that these funds should be brought back to the relevant ministry or government agency so that the sector can make use of the funds.
Players identified other places that funds can be gotten from including Universal Service Fund which is held at Communication Authority (CA) and also from the Kenya Tourism Board among other government agencies including Brand Kenya and the Catering Levy.
According to minutes of the meeting seen by the Standard, it was especially noted that Film drives Tourism and not the other way round hence why government needs to put funds in the film sector
"It was also noted that with more films being produced then the Kenya Oscars Selection Committee shall have more films to submit to the Academy Awards," read the minutes.
Recently there was a an outcry over the lack of diversity in this year's Oscars and part of the reason was that very few if any Black stories were being made into film.
Blanket ban on use of drones came into sharp focus when players asked government to have flexible regulations since music videos, wedding shows have images that ought to be taken by drones.
Over a week ago The Standard ran a story Kenya loses to South Africa as film destination in which players urged the government to put in measures to stop the downfall of lucrative Hollywood Businesses to South Africa.
"You cannot blame the producers of Journey for the decision given that the government of Kenya failed to offer a competitive package for the crew," said Bob Nyanja the producer at Cinematic Solutions and director of the critically acclaimed film Rugged Priest on the life of Mill Hill Missionary Fr. Kaiser.
"I still hope we shall get the support here," Don Eldon's mother, Kathy Eldon was quoted before a decision was made to move multimillion shilling project southwards to South Africa.
Ted stated that films shot in Kenya have won a total of 12 Oscars in the past more than the rest of Africa combined and that the government was committed to some proactive intervention to make sure Kenya does not lose it gain.
He said a meeting of stakeholders will be held next week with far reaching resolutions that will inform policy on filmmaking in Kenya