Sweet return of time tested record player and the vinyl disc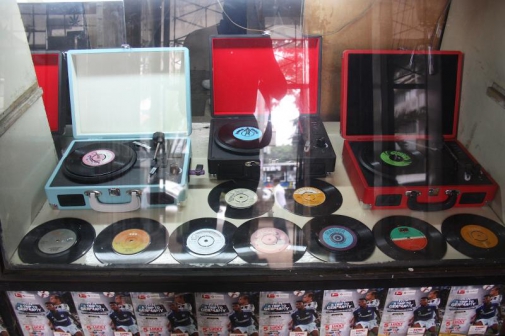 Where were you in the early 1980s? If you were a young adult in the village, you must have attended the village 'tea party,' then haunted by young adults, where the record player, and its child, the vinyl, was king. A spacious enclosure fenced with tall matting was the centre of drama at night. Inside it, young men's arms strangled women's waists like the hungry pythons that Lawino refers to in Okot p'Bitek's famous poem.
"The record player was a true status symbol", says Solomon Abayo, a music enthusiast who grew up in the 70s, and now the principal of Kameji Secondary School, in Rongo. "People literally sold cows to own one. Many acquired wives courtesy of the record player."
The ground floor of Elimu Co-operative House along Tom Mboya Street houses a timeless family business, Melodica Music Stores, which recently began selling record players and vinyl discs in January last year. The sales are strong.
"It makes me wonder," says Abdul Karim. "Most of my regular buyers are the youth in their twenties."
In the spacious music store that he and his mother have been running for 47 years now, Mr Karim attends to a group of young men on a normal Saturday. Behind them, in a smaller room, is Karim's mother, bespectacled, and busy at the computer. Behind her, hanging on the wall, is the photograph of her late husband, P L Daudia, posing with Mzee Jomo Kenyatta at a meeting of the Music Copyright Society of Kenya (MCSK).
The group listens keenly as Karim praises the equipment: "It has an in-built rechargeable battery. It plays all speeds – 33rpm, 45rpm, and 78rpm. It also boasts an RC output. It is very portable. You carry it away like your ordinary briefcase. Its stylus is extremely durable."
And then they buy at Sh12,000. Conversely, a vinyl record costs Sh250.
"We began importing the record players from China because," he explains, "there is a generation of Kenyans who kept their vinyl discs when Polygram stopped pressing in the mid-1980s. But today they have no record players."
Karim would watch his late father walk and sell music in Eldoret before independence. And then they shifted to Nairobi. Melodica began as 'Bonanza' on Luthuli Avenue in 1968, and Karim says that the music production business shifted to Co-operative House on Tom Mboya Street, Nairobi, in 1971. Mr Daudia died in 1981. Karim and his mother maintained the business till the early 1990s, when they turned to music distribution.
Clearest sound
"I discovered that music is an intimate bond between children and their parents," Karim reveals. "My youthful customers tell me that they are taking to their parents. And for maximum effect, I always advise you don't tell your parent you will buy for them – surprise them."
Veteran benga musician Joseph Kamaru recalls the vinyl record with nostalgia. "It was the clearest sound you could ever have," he says. "The recording companies had a secret amplifier which wiped all noise."
Pioneer singer David Amunga remembers that the first musician to record on the vinyl in East Africa was a Zanzibari songstress. "That was the early 1940s. Here in Nairobi, the vinyl was being pressed by Jambo Records and Decca Records. Polygram later bought Decca, which was British-owned. The record player had a safe and simple technology. Anybody with minimum intelligence could operate it."
"My father bought a Philips record player sometime in the 1980s", recalls Zico Gichana, Banasungusia's lead singer. "He spent the day wiping it with a cloth. We listened to Monyoncho and Awino Lawi. The biggest joy for me was seeing the disc go round and round, singing."
The Director of the MCSK, Tom Kodiyo says he danced to the record player as a boy in 1965, in his village near Kendu Bay. "It was an extremely rare technology", he says. "If I had it here, the next man with it was ten or so kilometres away. The record player was the 'heart of seduction' – if you had it, you had the girl also."
Mr Kodiyo says that the vinyl record compelled musicians to play original music. It also forced music lovers to buy original music since piracy was almost impossible.
"The singer benefited the most," he affirms.
A musicologist at Kenyatta University, Dr Muhoro Mwangi reasons that the presence of only one broadcaster, the Voice of Kenya (VOK) popularised the record player. "Owning a record player made you an instant star in the village. People viewed you with awe because you were literally helping the VOK to broadcast music."
Dr Joyce Nyairo says music has come a long way. She observes that the first music storage format was the phonographic cylinder (1890s), followed by shellac (1920s), the vinyl (early 1940s), the cassette (1970s), the compact disc (late 1990s), and the current digital file format.
"The vinyl record had serious limitations in terms of carrying capacity," she explains. "The old 45rpm (revolutions per minute) could only hold one 2mins 30secs song and the LP (Long Play) 33rpm could hold a maximum of 10 such songs on one side."
Nyairo thinks that the reason the vinyl is slowly returning is because music connoisseurs swear that vinyl carries a raw sound, depth and nostalgia, and music collectors like to hear old scratches and background echoes which were wiped out by Dolby systems.
America's digitaltrends.com reported in April last year that "Vinyl album sales between January and March of this year [2015] were 53 per cent higher than the first three months of 2014, according to a recent Nielsen report."
UK's officialcharts.com also revealed: "2014 witnessed vinyl LP sales reaching a 20-year high in the UK at 1.29 million, following seven years of unbroken growth...new Official Charts Company data for the first quarter of 2015 reveals that this trend is continuing at pace, with vinyl album purchasing up yet again a staggering 69 per cent versus the same period in 2014, and vinyl singles also up 23 per cent." Quoted in billboard.com, The Nielsen Company survey gives US vinyl sales in recent years as follows: 2, 800 in 2010; 3,800 in 2011; 4,600 in 2012; 6,100 in 2013; and 9,200 in 2014.
Wikipedia estimates that the sale of vinyl LPs has increased 49–50 percent from the previous year as of 2015.
Best records
Karim says that he sells two or three record players every week. He has so far sold slightly over 100 pieces. Wikipedia explains that vinyl LPs are popular because they "allow great latitude for physical manipulation of the music by the DJ."
That is what Karim, together with the Face book group, 'We Love Vinyl', does every last Sunday of the month at Soiree Gardens Restaurant off Ngong Road.
Not only are members given time to spin their best records, they also engage in vinyl-hunting.
"But when you buy at Melodica and deliver to your parents", Mr Karim warns, "we suggest you hurry away the moment the disc starts spinning. If you stay a second longer, you risk hearing exactly how he met her on the dance floor many years ago".
Celine Dion's husband honored in elaborate Montreal funeral
Canadian political leaders and entertainers joined award-winning singer Celine Dion on Friday in honoring the life of her husband, René Angélil, the man who plucked her out of childhood obscurity and propelled her to international fame.