Meet the new king of gospel music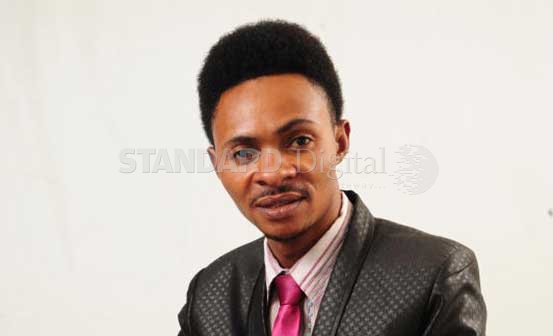 Talented Kenyan-based Congolese gospel artiste Philip Lukangyela Mulenda, popularly known as Kigusile, has a mission. His passion for gospel music goes beyond a mere hobby or a means to make ends meet. He has gone through hell but managed to come out smelling like a rose flower.
His is not for self-glorification but he sings with the aim of praising and giving glory to God.
"Where would I be without His hand?" he poses, adding that anything that does not honuor and give glory to God is sin. There is no neutral path, its either you are serving the living God or Satan.
Born to Lukube Mulenda and Machozi Msabah, Kigusile, who describes his upbringing and childhood experiences as "full of shenanigans", is the golden-voiced vocalist behind Bila Kujali. The song has been nominated for the upcoming Xtreem Awards in the Teeniez Afro Jazz/Song and Artist of the Year 2015 categories.
The song encourages people never to look back but to cast their burdens onto the Lord. "I am humbled. Nothing goes wrong if you are covered in salvation. I would like to urge all my fans out there to vote for me," he says.
It is hard to believe that the classy, confident and social figure seated before us had a difficult time growing up. It is almost unimaginable to link the talented singer to a life of juju (black magic) that almost led to his death.
At the age of eight, Kigusile served as a part of the Methodist Church Choir in Katalukulu , Baraka, DRC, for a few years before he was quickly swept into the dark world as a top secular musician and a world of witchcraft.
That was before he moved to Kenya in 2003 in search of greener pastures after an offer from a Good Samaritan. He was to practice witchcraft for close to two decades. "I got into black magic way back as a teenager resulting from peer pressure from fellow musicians and friends who made me believe that serving the devil was the beginning of many good things," he says.
This was irrespective of the fact that his father is a renowned pastor. But like most stubborn young men out to get the best out of life, Kigusile chose to ignore his father and within no time was absorbed in juju. "The fact that I was able to communicate fluently in Kiswahili – a language well understood by the 'spirits' - was a plus on my part," says Kigusile, who acted as a mediator between the spirits and human clients in need of help.
One day, everything changed. An event scheduled for the cemetery turned tragic after lightning struck the group.
"Although at the time I could not explain what happened, today I can only attribute it to the power of the Holy Ghost, considering I hailed from a God -fearing family."
Garnered
Despite the horrific experience, the young Kigusile was determined to follow the yearnings of his heart by pursuing secular music and making it big.
This saw him join the Nouvelle Alliance and Pegam Musica bands back home as a singer. He garnered many fans besides establishing a name for himself.
From when he arrived in Kenya, he worked with various locally based Congolese bands among them Senza Musica, Mangelepa, Kibush Sound and Acrimogene Stars until 2009, when he decided to form his own band Success Classique (pronounced Sikse Classique).
During that time he released his debut nine-track audio and video album titled Ajira, done in pure Swahili with a tinge of Kibembe (a Congolese tribal language). It was produced by Kasongo wa Kanema of Future Kids Studio in Hurlingham and mastered by Ogopa Deejays.
Paradoxically, many who saw him at the time would admire his career success and think he had it all, having climbed up the career ladder so quickly while still young, but this was far from the truth. He consistently suffered silently.
"Yes I was going places. I was getting all the credit I deserved from men. Many would see me as a pace setter.
But deep in my heart was an emptiness that caused lack of personal peace, happiness and abundant health which were to me treasures beyond what any human being, money or even career success could ever give. I thereby considered all my achievements as total vanity," says Kigusile who also featured in Lulendo Matumona's album, popularly known as Pure Encore.
But after falling ill in October 2012 (as a result of a fractured knee), which saw him bedridden for many months, the singer got saved in 2013. He hit the ground running, unleashing many gospel hits.
His hit singles Bila Kujali and Tukuka, produced by DJ Igwe Kadede in 2014, have been well received. On top of this, Kigusile, who has been a guest on KTN's popular Tukuza gospel show, has just released his debut gospel seven-track album titled Nibadilishe (Change Me) featuring Congo-based Australian gospel artiste Papi Mukasa.
Local music
Produced by Alain Mayindo of 3J Studio, of Kasarani and DJ Igwe, its quality videos are shot in Australia and Kenya. Done in various styles including praise and worship, zouk, hip hop, rhumba, coupe de carle and seben, Kigusile has confidence that it will improve his image greatly in the local music industry and beyond.
"I thank God for giving me a second chance, considering the difficulties I have been through. I know what it feels like to stray from God's will, and the consequences involved," he says, adding that his songs focus on praising and living his life for God.
"I know that this music is unique and different from the rest, hence its ability to appeal to both local and international audiences," says the musician.
For him, the release is just the beginning of the long road to what he expects to be a successful journey to making it big in the music industry the world over.
Some of the songs wordings are poetic, and are written in Kiswahili and English with a tinge of Kibembe, the songs therefore appeal to different generations.
Kigusile attended EP Katalukulu Primary School and the Institut De La Fraternite Secondary School in DRC.
A husband and a father he says it is heartbreaking to note how local gospel music has been commercialised and reduced to stage presentation, something which he does not support.