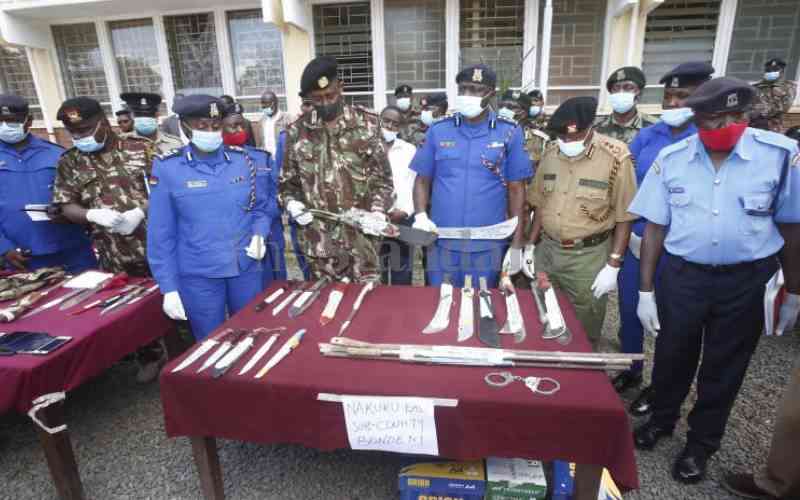 Six suspects in the killing of three women in Mawanga, Bahati, in Nakuru County last month and another one in December last year, will appear in court today to face murder charges.
The suspects were arrested last week following an operation ordered by Interior Cabinet Secretary Fred Matiang'i.
Nakuru County Criminal Investigations Officer Anthony Sunguti said the suspects are being held in various police stations in Bahati where they are being interrogated.
"We have interrogated the suspects. We have all reasons to believe they are behind the murder of at least four women within Bahati between December 2021 and June," said Sunguti. One of the suspects, Evans Michori Kebwaro, 24, was arrested in Masimba, Kisii County, on June 30, where he had reportedly taken refuge.
Kebwaro was allegedly in possession of a mobile phone belonging to a victim found murdered on December 2. "This makes him a suspect in four murder cases that we have been investigating. The recovery of the mobile phone was critical in our investigations," said Sunguti.
After the arrest, Kebwaro named his suspected seven accomplices, five of whom were arrested with what the police termed incriminating evidence in their rented house in Kivumbini Estate, Nakuru East.
The five who are expected to be arraigned in court alongside Kebwaro on Monday are Julius Omondi Otieno, 27, Josphat Simiyu, 24, Dennis Mmbolo, 25, Isaac Nganga, 18, and Ficky Makhoha Wanjala, 25.
They will face murder charges among other related charges in the killing of Grace Wanjiru,21, on June 15, Susan Wambui, 36, on June 21 and Diana Tasha, 25, killed on June 24. They are also facing charges over the death of Beatrice Akinyi, 21, who was killed on December 2, 2021.
Newly deployed Nakuru West sub-county police commander Edwin Ogwari said eight other suspects linked to a criminal group known as "Confirm" gang will also be arraigned in court today.
"We have an ongoing operation in Nakuru West to rid the area of criminal gangs. We arrested eight suspected members of a gang on Saturday night whom we believe are part of the criminal network," said Ogwari.
Ogwari said the eight were found in possession of assorted electronic goods suspected to have been stolen from Kaptembwo. The police also recovered several crude weapons.
"We shall continue with the operation until we flush out the last member of the gangs. In the last two weeks, we have arrested and charged over 200 suspects linked to the criminal gangs in Nakuru West," said Ogwari.
A similar operation is ongoing in Nakuru North led by sub-county police boss Samson Andanje.
"The police are in full control of security in the area," said Andanje.