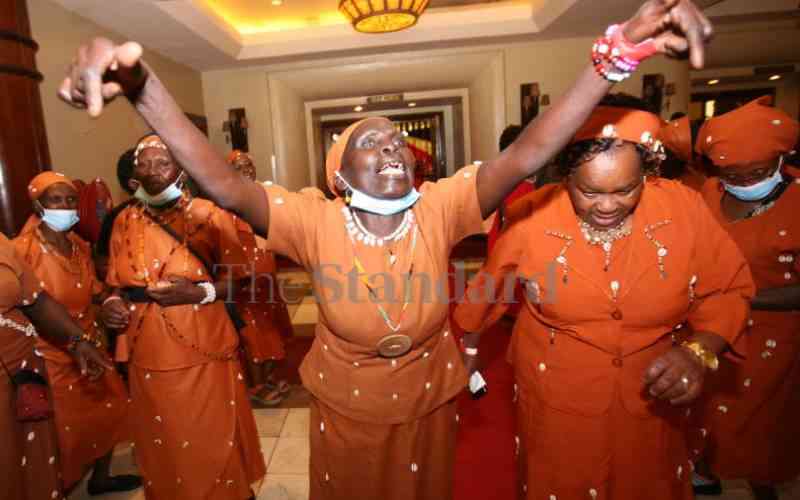 For Cecilia Kamau, a member of the controversial Nyakinyua farm in Trans Nzoia County, getting a title deed is a dream come true.
After President Uhuru Kenyatta kicked off distribution of title deeds last week, Mrs Kamau has finally been able to get a good night's sleep.
For over 40 years since the former President Jomo Kenyatta donated 2,050 acres of land to the traditional dancers, the members have not been able to secure title deeds due to feuds.
According to the members, Jomo had asked them to identify a piece of land they wanted, which they did in 1977.
However, Mzee Kenyatta died in 1978 before his government could process legal documents for the group.
It has been a long wait for Mrs Kamau and hundreds others for the crucial ownership document.
The ownership feuds have seen two groups dragging each other in court.
In 2019, the government stepped in and saved the farm from being auctioned over Sh19 million compensation claims.
Last year, the government through the then Rift Valley Regional Commissioner George Natembeya settled a compensation claim that the court directed the families to pay a group of members of the farm who had won a suit against it.
The farm has been lighted with celebrations since President Uhuru mentioned the Nyakinyua farm among the farms in the country that have benefited from the national titling programme.
The distribution of the title deeds to the members follows last week's survey work.
Yesterday, Mrs Kamau told The Saturday Standard, expressed her excitement that has rocked the farm since last week.
"It is a dream come true. We have waited for four decades. We thank President Uhuru for bringing our suffering to an end," she said.
Members of the farm explained how unscrupulous dealers have been triggering feuds among them and extorting money from them with a promise of helping them secure ownership documents.
The families lauded area MP Joshua Kuttuny and Natembeya for aiding them to get title deeds.
Some of the original beneficiaries have since died.
"It is unfortunate that most original owners of the farm had died after many years of struggling to secure title deeds. But we are celebrating with the departed colleagues," said Grace Ndegwa.
Trans Nzoia County Commissioner Sammy Ojwang noted that for many years, the farm has been dogged with fighting with some individuals taking advantage to fuel court cases pocketing millions of shillings from the members.
"Some crooks exploited families on this farm and even sold public utilities such as cattle dip and a dam to unsuspecting Kenyans. We will pursue and prosecute them," said Ojwang.
Nyakinyua is among several farms to benefit from the programme in the region. Others include Mengo, Chepchoina and Tunene.
Lack of titles has been a major hindrance to development in the area, families says.
"We were unable to do any meaningful development because we lacked ownership documents that would give us the security to effectively develop," said Kariuki.
The families linked high poverty levels in the area to lack of deeds, which they said, could have helped them secure loans to initiate development projects.
They are now excited that the title deeds would support them to go for credit facilities and use the money to put up better houses and even start income-generating activities.
"We are happy that when we get the deeds, we can approach financial institutions for loans and use the money to develop our farms," said James Nguguna.
Nguguna argued that educating their children has been a challenge because there was no meaningful development in the area.
"Some of us had challenges raising fees to educate our children. It is a new dawn for us to have such an important ownership document," said John Mwangi.
For Jane Maina the distribution of the deed will end the trouble of land speculation in the area.
"There is a time an auctioneer threatened to evict us from the farm over the Sh19 million.
"It has been years of pain. We are now confident and joyful that what we own is our rightful land," said Mrs Maina.