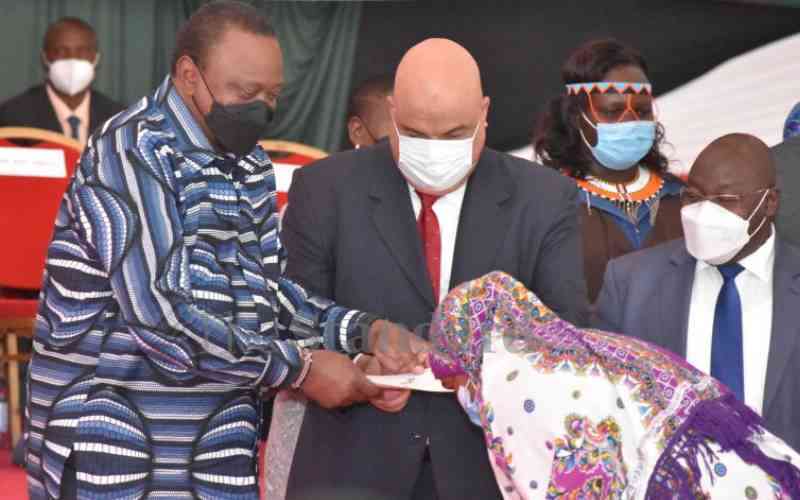 President Uhuru Kenyatta on Tuesday launched a programme aimed at issuing over a million title deeds in different parts of the country.
President Kenyatta said the National Titling Programme was one of the major pillars of the Jubilee administration's promises and that he desires to restore the dignity of most Kenyan families who have struggled to get titles for their land.
"Dignity comes with ownership. We pledged in February 2013 when we launched the Jubilee manifesto and for far too long, Kenyans have been talking about the land question but what we needed was the land answer," he said.
He said that as of 2013, sixty-seven per cent of the Kenyan land had not been adjudicated and had no titles and those who lived on community land suffered as they could not put the land into commercial use.
But nine years into his leadership, most of the questions on land have been answered by the introduction of the National Titling Programme, which enables easier and faster processing and issuance of title deeds.
Uhuru urged Kenyans to put their land into good use to improve their economic status.
He also urged Kenyans to vote in leaders who have progressive ideas of ending the land question and not those who will reverse the gains that have been made.
"I feel honoured to have been the first president to issue a title deed to the first woman to own land in Marsabit County," Uhuru said.
Farida Karoney, the Lands Cabinet Secretary said her docket has managed to digitalise the land registry.
She also said that decentralisation of the land registry is in progress.
The National Titling Centre was also introduced, a rapid titling initiative and land clinics.
Such programmes are said to have made it possible for the issuance of title deeds in areas such as Samburu, Marsabit and Isiolo.
Communal land
Uhuru praised the National Titling Centre saying it has healed wounds and led to solving of land disputes.
"I am proud that we have secured our natural resources and heritage sites like the Mau Forest, Nairobi National Park and Masai Mara Game Reserve by issuing title deeds," Uhuru said.
From 2013 to date, more than six million title deeds have been issued compared to a similar number in the 50 years since Independence and fifty years before Independence.
The government is also documenting land belonging to public institutions such as schools, hospitals, law courts and prisons to avoid encroachment and grabbing.
The National Land Information System, commonly referred to as Ardhi Sasa, was launched in April 2021.
It is an online platform that facilitates land-related transactions.
"It once took a minimum of six months to complete a single land transaction but now it takes less than 48 hours," Uhuru said.
"Similarly it used to take one to three months to conduct a land search but now the system gives you results in three to five minutes."
In 2016, the Community Land Act was signed and it has enabled communities to legally register and own communal land.
Before then, 3.5 million Kenyans living on community land did not own the land.