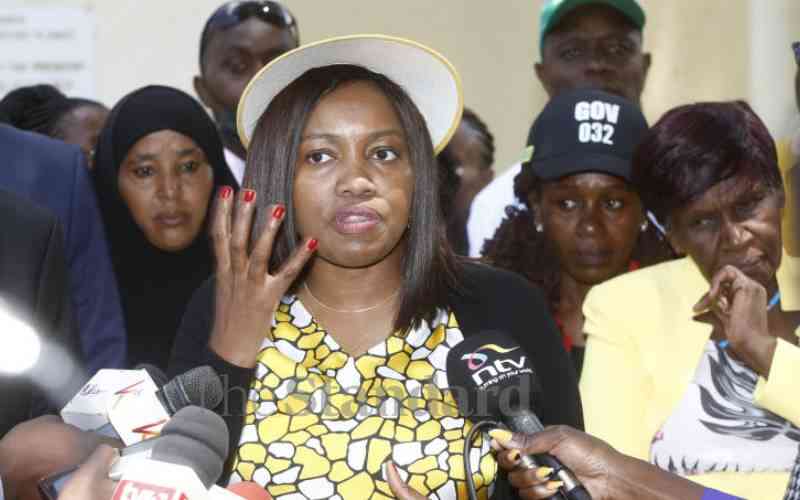 Nakuru Senator Susan Kihika has downplayed a petition challenging her suitability to contest the governorship over claims she failed to duly declare her citizenship as prescribed in law.
A voter, Joseph Kimani, on June 20 filed the petition before the Independent Electoral and Boundaries Commission (IEBC) seeking to bar her from vying for Nakuru governorship.
Mr Kimani argues that Kihika has not duly declared her citizenship as prescribed in law despite vying for an elective seat which requires the declaration.
"Susan Wakarura Kihika has been Speaker and Senator and is now seeking to be governor of Nakuru in contravention of the Constitution and other provisions of the law," Kimani says.
Kihika, who is among five others cleared for the seat in the August 2022 General Election, is said to be holding dual citizenship for Kenya and United States where she previously worked and lived.
"The said person is a citizen of the US which she acquired by renouncing her Kenyan citizenship in 2003," the petition reads in part.
Section 180 (2) provides that for one to be eligible for election as a governor, the person must be eligible for election as a Member of County Assembly (MCA). "A person is disqualified from being elected an MCA if the person has not been a citizen of Kenya for at least the 10 years immediately preceding the date of election," Section 25 (2) states in part. Senator Kihika had been living in the US until 2012 when she returned to the country seeking election as Bahati MP, a seat which she did not win.
She was subsequently elected as the inaugural Speaker for the Nakuru County Assembly, a position she held until 2017 when she was elected as Nakuru's second senator.
Although Kihika, being a Kenyan by birth has a right to reapply for Kenyan citizenship, it's alleged she failed to disclose such details as required in addition to breaching the 10 years period.
Section 8 sub-sections 3 and 4 of the Immigration Act makes it an offence for a duo citizen who fails to disclose their other citizenship within three months. "I, therefore, request that the said Susan Wakarura Kihika be barred from contesting the upcoming general election in the position of Governor Nakuru County," Kimani stated.
The senator's details on her current citizenship status have not been in the public domain.
Kihika has laughed off the petition citing her election as Speaker and Senator in 2013 and 2017 respectively which required her to be a registered voter which also requires her to be a citizen.
"So…as a Senator, I was a Kenyan but now that I'm going for governorship I'm not a Kenyan? It is alright. God is seeing you," Kihika responded to the petition in a tweet.
The Senator could not be reached by the time of going to press even as her supporters termed the petition a plot by her political competitors to lock her out of the race.