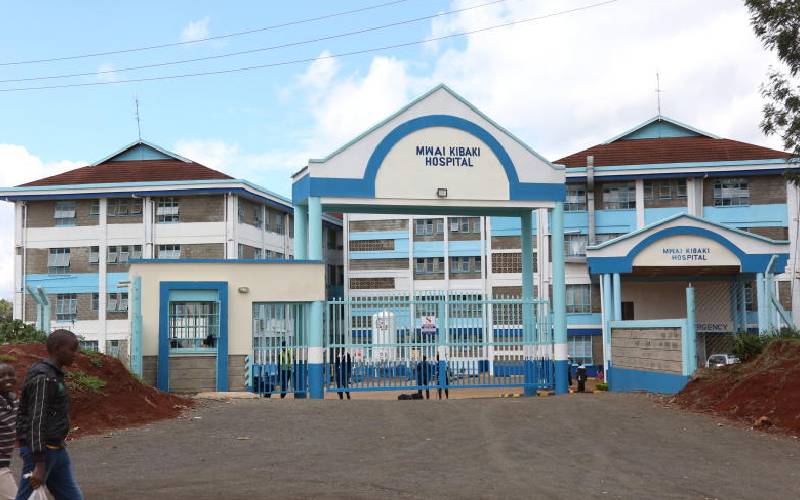 Nyeri leaders yesterday differed over the management of Mwai Kibaki Hospital, a subsidiary of the Kenyatta National Hospital (KNH).
Nyeri Governor Mutahi Kahiga and Othaya MP Gichuki Mugambi clashed during the funeral service of the late Karima ward representative Reuben Wahome, after expressing divergent views on the running of the recently renamed facility.
The storm was triggered by Chinga ward MCA Kiruga Thuku who complained that services at the facility were very costly and locals were finding it difficult to afford the services.
"The hospital is not helping the locals as the late president would have preferred. He did not intend it to be a KNH Annex but an independent level six like Mama Lucy Kibaki Hospital and Moi Teaching and Referral Hospital in Eldoret," said Thuku.
He claimed patients complain of poor service because the hospital receives its funding through KNH.
The MP had indicated the institution was still under the management of KNH so it can tap on the expertise of the national facility until it matures and gets to a level where it can run on its own and get its own board.
"It is starved of funding because when KNH in Nairobi receives (funding) from the exchequer, it is expected to share the same with Othaya.
"We want it to be independent with money being channelled directly. We also want it to have its own board comprising of local people who are aware of the challenges facing the community," said the MCA.
He claimed National Health Insurance Fund (NHIF) card holders are denied services and drugs while those who pay cash get better treatment.
Peter Muiruri, a senior director at the hospital yesterday told The Standard he was not in a position to respond to political statements.
"If you need a good story about us give us a visit. I will be able to give you an overview of all that which was said or what you have heard," Muiruri added.
Thuku had claimed procurement of items including foodstuffs is done in Nairobi when the same can be sourced locally to benefit farmers.
Mugambi, however, accused the MCA saying he was introducing politics into the matter, claiming there is no hospital that charges cheaply.
However, in a rejoinder, an agitated Kahiga told Mugambi his administration had only requested a teaching referral hospital with its own board of management and not a KNH subsidiary.
The county boss blamed the former Cabinet Secretary for Health, Sicily Kariuki, for the management challenges facing the facility.