Mutahi Kahiga: Teacher who found himself in the hot seat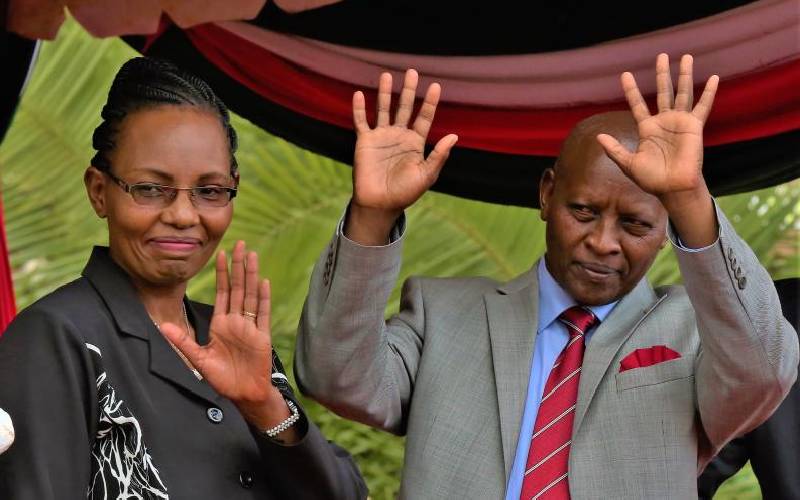 If he were not governor, Edward Mutahi Kahiga would be a preacher. He has the deep baritone, and the charisma, of one. In Nyeri, they call him Mwalimu. He was a primary school teacher for 32 years.
In front of a fire whose tongues kiss the mantelpiece with a fury that dispels the biting cold, the Nyeri governor talks about his burning love for sport.
If everything had gone according to plan, Kahiga would be a deputy governor, but then life rarely follows a script.
At 61, he is the fourth governor of the county; two, the first and third, have died.
In November 2017, as the country struggled to process the death of newly elected Nyeri Governor Wahome Gakuru in a road accident, the spotlight turned to the man who would succeed him, his deputy Kahiga.
That Gakuru was the second Nyeri governor to die in office in the same year made this an even more closely followed succession. Earlier that year in February, Nyeri's first governor Nderitu Gachagua died in a hospital in London. He was succeeded by Samuel Wamathai.
Kahiga was not entirely new to politics, having been active in the Kenya National Union of Teachers. And it was this that pushed him into county leadership.
"We were always denied audience by county leaders, and we decided that as teachers, we wanted to have a teacher as deputy governor to impact on governance in the county," he says.
The teachers' choice for the position, Mutahi was a shoo in for the position.
"I sat down with every candidate. Wahome Gakuru (the third Nyeri County governor) and I were lucky enough to have grown up in the same area. Our fathers worked together. We easily agreed on our target of service to Nyeri County and paired up," he says.
Gakuru, he says, believed in growth and development, transparency and accountability, principles he says are his forte.
He narrates the horrific events of the morning Governor Gakuru died in a freak accident on his way to Nairobi for a media interview.
Having agreed with the then-governor that he (Gakuru) would head to Nairobi the evening before the interview so he would have enough rest and avoid a morning rush, Mutahi was shocked when reports came that his boss had been involved in an accident in Kabati near Thika.
And while the rules of succession are clear, not everyone was comfortable with him taking over as governor.
There was a push for a by-election from some politicians even as Kahiga took the reins of power, devastated and without any experience on how to run a government.
Thinking there would be a by-election, he had promised himself not to run. However, the constitution stipulated that the office was his after his boss' unfortunate death.
"I cannot blame people. I was very empathetic with them; they had literally sunk from a high. They were expectant of Gakuru and now here I was, a mwalimu, and they had never seen mwalimu as the leader they would want to have," he says.
However, the uncertainty passed and he was able to consolidate support.
Kahiga plays his cards well. He also plays darts and scrabble, maybe even better, and has always been into sport.
"I have a background in sport. I was a primary school teacher and since my start in Kisii College in 1978, to Baringo, where I was for six years from 1980 to 1986, to when I came back to Nyeri, I was always a sportsman," he says.
He played darts, hockey and table tennis in 1975 for the Kenya Police College, where his father was a waiter in the mess.
"I was also into athletics and was a goalkeeper for the college football team," he says.
Born in Gitathi-ini village to a shop attendant, Kahiga had eight siblings, two brothers and six sisters. He was the firstborn.
He was 20 when he first slept in his own bed.
"This humble background taught us a lot. My father worked in the police college mess where they had good food but we only ate what we could afford, and we lived just next to the mess. He made us learn to survive on the little we could afford," he says.
He got saved in 1993 and became a pastor.
"I, however, decided to take a backseat in 2011 when I was elected in the Kenya National Union of Teachers. I would not want to be shouting for a strike one day and then appearing on the pulpit the following day," he says.
Mutahi, who is married to Carol Wamaitha, is a father of four; two girls and two boys.
As a primary school teacher, he was a football and athletics coach.
An AFC Leopards and Chelsea fan, the father avidly watches football now that he can no longer pull on the gloves. His daughters support Chelsea but his sons fancy Liverpool.
His first stab at elections was in 1995 when he vied for a position as a Supervisory Committee member of the Nyeri Teachers Sacco. He was elected. He later went for a management post and lost, but was three years later elected a Management Committee member of the newly formed Nyeri Teachers Plaza Cooperative Society in 1998. In 2000, he was elected chairman of the cooperative society.
He was later elected a delegate of the Cooperative Bank through the cooperative movement. In 2004, he vied for the position of the executive secretary of Knut and lost. He lost again in 2006. A third shot at the position yielded success in 2011. In 2016, he was re-elected unopposed.
None of these, however, match the magnitude of his current office. Little known to the public outside education and sports circles before this, the new position was a different ball game altogether.
As a governor, his life took a turn and his days all but changed. "You see, now I have so many people calling and wanting to visit that it is hard to tell who wants to see me for just a chat and who only needs me for business. It is hard now to know who is a genuine friend and who is not.
Besides, his schedules are now planned, and his freedom is curtailed. He still, however, finds time to walk into the supermarket and push his trolley like he used to do, albeit fewer times.
He takes the random casual stroll in town to listen to people and read the mood.
Kahiga, who loves to listen to country and gospel music and who is playing Don Williams in the distant background as we speak, says he wakes up at 4am and reads the Bible, which he reads cover to cover every year, and then goes to the gym.
His work ethic, he says, is inspired by his 80-year-old mother and memories of his father, who died at 72.
The man who used to love brown chapatti and beef stew but now prefers ugali, fish and greens founded Karundas Secondary and Maragima secondary schools.
He liaises with various organisations to offer scholarships to tens of students, some of whom he personally sponsors.
He is pursuing a PhD in Education Management and Leadership and is in the Third Semester at the Kenya Methodist University. He did his master's in the same university, after having finished his bachelors at the University of Nairobi, following an early diploma in cooperative management.
The governor, who contracted Covid-19 in November 2020, pleads with people to get vaccinated.
To elected leaders, he warns on the abdication of duty with an eye to benefiting selves, saying that the gratification is so short-lived it should be bypassed by every leader.
"Do not focus on the next General Election, focus on the next generation," he says. It seems Mutahi is a sly wordsmith as well. Who said a man cannot be many things at once? ?
Harold loses in own game
Harold, the high priest who walks with a bounce in his step and who does not dine with other sinners except me, is now available for everyone.