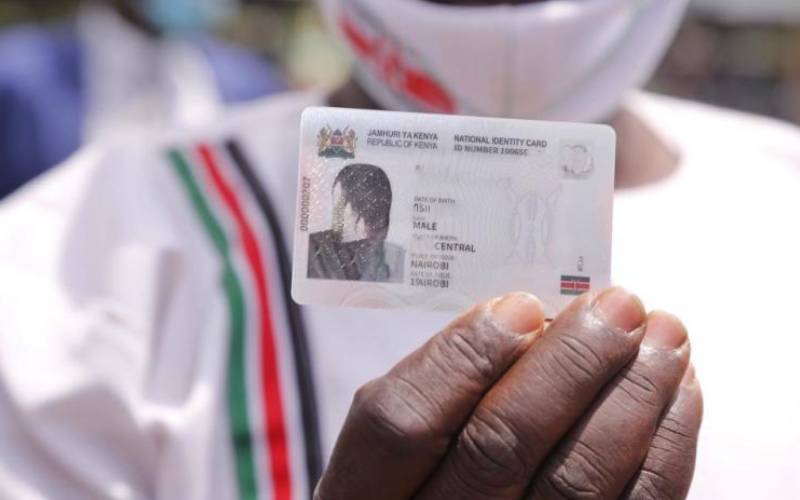 In recent days, the National Assembly has been hosting public petitions around the Huduma Bill No.57 of 2021 that seeks to provide a primary law on civil registration and legal identity.
It proposes to overhaul the civil registration and identity management ecosystem, promote efficient delivery of public services and a provide the legal framework for the Huduma Namba. The establishment of the office of the Data Commissioner addresses the legal jitters about the security and privacy of the captured Huduma Namba data.
The Government has also allayed fears that the new system will do away with the Immigration Department. Rather, Immigration officers will continue to discharge the same responsibilities, but under a different management structure.
In 2019 people were registered into Huduma Namba in the first phase. The envisaged roll out has however run into headwinds due to the absence of a comprehensive regulatory legal framework. This is what the Huduma Bill seeks to cure and build public confidence on privacy and security concerns on collected personal data.
It expressly for provides for measures on inclusivity which addresses fears of alienation and discrimination by minority communities who have opposed the new system by claiming that it will potentially disenfranchise them from acquiring citizenship.
The National Assembly has undertaken public engagements by inviting petitions and several open forums to discuss the sticky issues. Should the Bill that is at an advanced stage of legislation pass, Kenyans will get a single identity document.
This will obviate the need for multiple identity documents. Currently, citizens need separate documentation for National ID, driving license, NHIF, NSSF, passport and voters' card among others. Huduma card will essentially collapse all these into a master ID document. This will effectively do away with tedious and separate registration processes for obtaining government and public-funded services.
The Bill also stipulates contraventions and attracts penalties that provides adequate safeguards from infringement on personal data. An unauthorized access and unauthorized interference with the process will attract punitive fines and penalties also anchored in the Computer Misuse and Cybercrimes Act &Data Protection Act 2019.
The Court of Appeal in its ruling on 4th March 2022 noted that the project had complied to the provisions of Data Protection Act in respect to Data Protection impact assessment and as such the project needs to continue its roll out across the country to capture those who did not register in the first phase and issue cards to those who had registered
Should the Bill become law, registration will be done on a rolling basis. This will ensure that no one will be left behind in the process. This should put to rest fears that the system architecture is designed to lock out certain cadres of society. On the contrary, eligible citizens who missed out on the first phase of registration for whatever reason have no reason to fear.
If well implemented, Huduma Namba benefits arguably outweigh its downside. An efficient master card that suffices to identify a citizen across the board is, after all, a global ideal. The US social security number is a good example. European Union countries, which are a trailblazer in digitisation of public services, also implemented a similar identification system. Ghana is also a good Africa example while South Africa, Morocco, Rwanda are also developing the same.
-The writer is a political analyst from Lumiere World Organisation