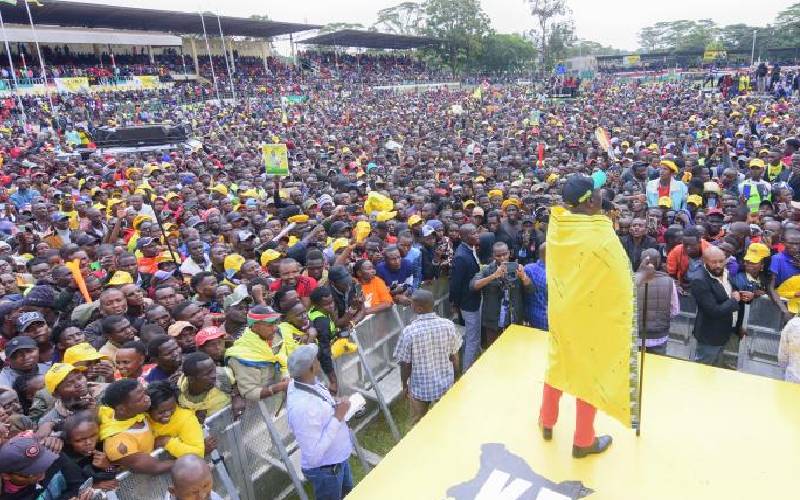 What a dilemma! They are no longer masters of their own destiny. They are trapped in a loveless coalition and can't join the affiliation they desire either.
National Assembly Speaker Justin Muturi and governors Alfred Mutua and Amason Kingi have a common desire: To be part of Kenya Kwanza Alliance.
Although they support the Deputy President William-Ruto led coalition, the Political Parties Disputes Tribunal has thwarted their attempts to join Kenya Kwanza. And they find themselves lacking legal standing to be in the coalition, complicating whatever they stand to gain by joining Kenya Kwanza.
When they announced that they would join Ruto's coalition, Mutua and Kingi said the coalition they had left was shrouded in mystery.
The two separately claimed they did not know what they would be getting in the Azimio la Umoja One Kenya coalition they were abandoning. And so they moved to Kenya Kwanza where they secured a "share of a Ruto government" if they met certain conditions.
Mutua's deal included a cabinet slot if his Maendeleo Chap Chap party delivered 35 per cent of the Ukambani vote in the August 9 elections. Kingi's Pamoja African Alliance was tasked with 50 per cent of Kilifi's votes to qualify for the Senate speaker slot and other appointments.
But the Political Parties Dispute Tribunal recently stopped them in their tracks, ruling that they could not leave Azimio six months before the elections. That, in effect, invalidates their respective agreements with Kenya Kwanza.
"Maendeleo Chap Chap has a right of association and we are firmly in Kenya Kwanza. We have also gone to the High Court for a judicial review and we are confident the courts will uphold the Constitution," Mutua said yesterday.
Despite that, Mutua and Kingi still campaign for DP's presidential bid. Owing to the tribunal's ruling and the fact that the Political Parties Act bars persons from belonging to two coalitions, Mutua and Kingi do not have a formal agreement legitimising their stay in Kenya Kwanza. That, therefore, means they lack a legal claim to demand their promised jobs even if they delivered the percentages they signed up to meet in the agreement.
In a phone interview with the Sunday Standard, Kingi's lawyer Steve Kithi said the deal would still hold.
"The promises were issued to the party and not the governor as an individual," Kithi said, adding that the tribunal's ruling did not stop Kingi from associating with Kenya Kwanza in his individual capacity.
Muturi's case is no different. The tribunal quashed the Democratic Party's move into Kenya Kwanza and also ruled that Muturi was not validly elected as the party leader. In such circumstances, any deals that the speaker landed courtesy of DP would eventually lack legitimacy. The National Assembly speaker said that he had appealed the tribunal's decision.
"I don't know when we can have a ruling on the appeal. We are bound by the court diary," Muturi said yesterday. But even as he awaits the outcome of the appeal, a section of DP party members are determined to block the party's entry into Kenya Kwanza.
"During the National Delegates Conference, Muturi promised delegates he would go all the way to the ballot, but two weeks later he mutilated our constitution and went into a marriage without our consent. He has auctioned us for his own benefit. Let them quit or we will force them out of office,'' D.K. Munene, DP's director of elections said yesterday in Nairobi.
Wiper leader Kalonzo Musyoka is considering a path out of Azimio but the Political Parties Dispute Tribunal's recent ruling show he could suffer a fate similar to Mutua's and Kingi's. Raila has promised Kalonzo the chief minister's position if he wins the presidential election but the Wiper leader's allies have suggested that the promise may not have been captured in Azimio's coalition agreement, a situation staring Mutua, Kingi and Muturi in the eye.
"One of the reasons we said we would go to the ballot was that there was no structured discussion," Kathiani lawmaker Robert Mbui said after a recent meeting of Wiper members that resolved that Kalonzo abandons his presidential bid and consider mending fences with Azimio.
In an earlier interview, constitutional lawyer Bobby Mkangi argued that the aggrieved parties could still appeal thetribunal's decisions at the High Court.
"It would be difficult to stop Kalonzo from running for office and exercising his political rights because of the agreement," Mkangi said.
Gitile Naituli, a professor of management and leadership at the Multimedia University, concurs with Mkangi. "Rights granted by the Constitution cannot be limited by an agreement," Prof Naituli said yesterday.
He, however, said that in the absence of a formal deal, Mutua and Kingi would have no claim to the promises.