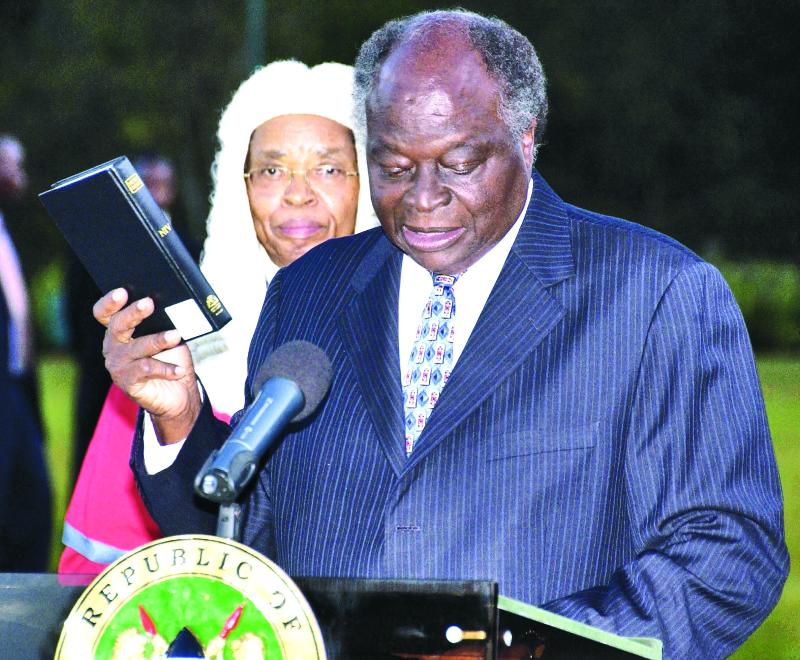 On the third day late President Mwai Kibaki lay in state, snippets of the afternoon drama that thrust him back to power in 2007 came out as his men opened up on the tense moments that ensued at the Kenyatta International Convention Centre (KICC) and the State House.
From an intransigent electoral official who dithered to speak to "the small boy" in the then Government Spokesman Alfred Mutua to how an invaluable tape carrying presidential results announcement was escorted to the Kenya Broadcast Corporation (KBC) by 15 GSU officers, yesterday was the day to let it out.
Dr Mutua opened the lid at a morning television show, telling how he conspired with a senior official at the state broadcaster to have then Electoral Commission of Kenya (ECK) chairman Samuel Kivuitu record an announcement declaring Kibaki the president-elect.
And former CEO of KICC Philip Kisia opened fresh insights into what exactly transpired at the nerve centre of Kenya's bloodiest election.
A former ECK official recalled how all Cabinet ministers, save for Martha Karua, had more or less given up and had scattered out of scene.
"I called Kisia and asked him to turn off the lights at KICC because I knew how live coverage worked. He didn't do it. Kivuitu went again to try read results but he was swamped. I called my then bodyguard, Nimrod Mbai, now an MP, and I told him to get Kivuitu because we have to get the results read," Dr Mutua told Citizen TV yesterday.
The Machakos governor said Mr Kisia organised a VIP room for Kivuitu, as Mutua's bodyguard walked up a KBC camera crew to access the venue. At the time, the Government Spokesman was holed up at the State House Comptroller's office, with former Head of Civil Service Francis Muthaura. Kibaki was in his office, playing with granddaughter as his daughter Judy watched over.
But Mr Kisia, speaking to The Standard, said he organised Kivuitu's room of his own accord. He says he got a call from the late Minister for Internal Security John Michuki who "came down heavy" on him.
"I explained I was doing things to the best of my ability. The lights went off somehow, and we got time to organise ourselves. After that lights came back," he said.
It was then that he received the call from Dr Mutua, seeking to talk to Kivuitu. The ECK chairman had told Mr Kisia that he didn't have confidence in the results that had come in the last hours of the count, and swore not to announce them.
"When Mutua's call came, Kivuitu told me there was no way he was going to speak to that small boy. On the other side, Michuki got impatient and grabbed Mutua's phone, calling out all who were present, including the President, and insisting that Kivuitu reads the results."
The final push
According to Mr Kisia, Kivuitu refused to budge. He, however, kept encouraging him to declare whatever results he needed to declare to save the day. When Dr Mutua took back the phone, Kivuitu reluctantly agreed to speak to him, but Mr Kisia says he does know what was said because they spoke in Kamba.
"Kivuitu then gave me back my phone, and angrily retorted; wapi hio meza yako? He was so fed up he couldn't even see the table I had spread before him to announce the results. It's then that he declared Kibaki the winner." Dr Mutua says as Kivuitu was concluding his announcement, the ODM brigade led by James Orengo, now Siaya senator, and William Ruto, now the Deputy President, stormed the venue. With his bodyguard, they got the reporter to hide the tape in his socks. A fake tape was inserted in the camera as ODM men entered.
"They took the fake tape and the camera while we organised for the real tape to be taken to the basement where GSU officers were waiting to escort it to KBC. I then walked to Kibaki's office and found him playing with granddaughter, explained what had happened, and played the tape on speaker phone, from KBC."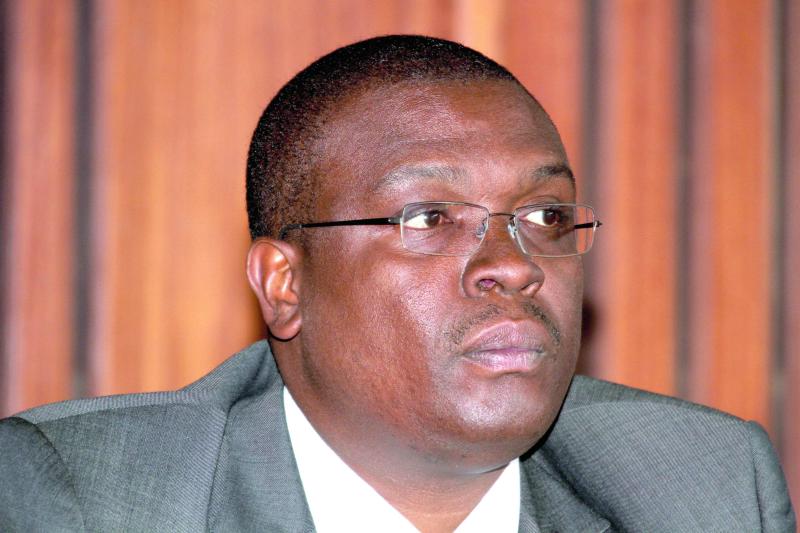 "He said 'No, I want to see it for myself.' For him it was about getting it officially done. We then arranged for the tape to be cleaned and the moment KBC played it, Kibaki woke up from the corner of his office, and gave me a deep hug," Dr Mutua said.
Then Michuki walked in, alongside Mr Muthaura, congratulating Kibaki for the win.
He said they had, on advise of then-Attorney General Amos Wako, organised for the Chief Justice Evans Gicheru to be around "just in case."
"We were worried his 5 years' mandate as Commander in Chief was expiring that night, otherwise he would have invited a coup on himself… We needed a sense of stability, especially with the armed forces. He had been declared already so we had to go on with the ceremony," he said.
Kisia said he organised for the winner certificate to be taken to the State House since "there was no PNU official in sight at the time the results were declared."
"It was my most difficult day in public service. I was torn between my loyalty to the president and his chief opponent who was a personal friend. I was caught between a rock and a hard stone. All in all, I count myself as one who covered the country in its nakedness, on that day."
According to the former ECK commissioner, Kibaki was actually waiting on them to declare the winner, whoever it was. Whichever way the count went, he was willing to take it in.
"When he insisted on seeing the announcement, it was in keeping with his character. He wanted stuff done the official way," he said.
Dr Mutua agreed, saying Kibaki wanted nothing to do with rigging the election. He said that is why when he was declared winner, he wanted nothing to do with power sharing.
Set-up statement
The ex-commissioner claimed on the day hell broke loose at the KICC before Kivuitu was whisked upstairs, ODM brigade attempted to divide the commission.
He said a statement was thrust to him, with live cameras rolling, and with his name on it. On reading it, he discovered it was a set-up to contradict his own chairman.
"The statement said something to the effect that whatever the chairman was announcing was not the correct figure. I stepped on it, and later tore it up at the basement. We did not accompany the chairman to the room where he made the announcement. It was too small. We were taken away for our own safety," he said.
He also claimed the nightlong verification exercise had unearthed embarrassing things, which placed the opposition in equally bad light.
"We were all worked up to believe a certain narrative. Many, including the commissioners, even Vice Chair Kihara Mutu, believed somehow Raila was winning. We all thought same way until all results came in and changed the tide."
Dr Mutua said it was former Tanzania President Jakaya Kikwete, not the late UN chief Kofi Annan, who softened Kibaki's heart on a coalition government.
"He convinced Kibaki to have the prime minister, if for nothing else, to absorb the shocks on his behalf. Kibaki took a lot of interest in him, and even asked questions. He respected colleagues."