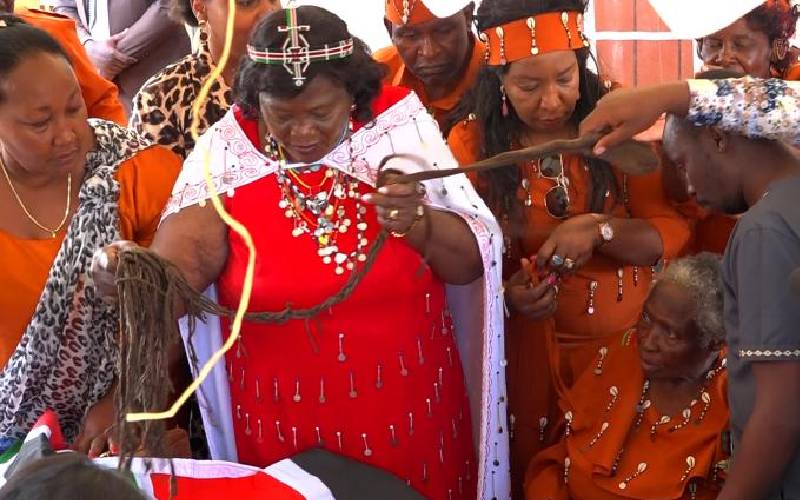 Mama Ngina Kenyatta, widow of Kenya's founding father Jomo Kenyatta, has over the years remained reclusive.
Unassuming but packing a massive political fist, she has always been matronly. Rarely does she publicly delve into politics. Perhaps that's why she is unrecognisable to many Kenyans who grew up when Jomo Kenyatta was long gone.
The daughter of one of the most tactical and thoughtful colonial-era senior chiefs in Mt Kenya–Muhoho wa Gatheca and his wife Anne Nyokabi Gatheca–Mama Ngina's humble education, to modern standards, did not prevent her from marrying the man who would be Kenya's first president.
She was his fourth wife, youngest wife in African parlance, and that set her to a path of political might and wealth.
Her oldest son Uhuru Kenyatta was always set to enter politics. Mama Ngina, 88, stands today, as she will always do going forward in the country's history, as the woman whose house gave the country two presidents; a husband and a son at two different terms.
On the other end is Field Marshal Muthoni Kirima, 92, a revered Mau Mau figure, daughter of peasants and the only woman who rose to prominence in the freedom struggle.
Her recent act of allowing her seven-decades-old dreadlocks to be shaved has caused debate. One of the Mau Mau veterans who rose to entrepreneurial heights and benefited immensely from the independence government, Muthoni has always been an outstanding defender of the Mau Mau veterans and their descendants.
She is said to have vowed to retain her dreadlocks as long as the veterans and their families were not resettled and their role in the independence struggle recognised by the government.
That was until a function was held at her home in Pembe Tatu Estate in Nyeri town where Mama Ngina cut her dreadlocks.
"My main concern is whether the National Museums of Kenya was involved in this event because those dreadlocks need to be secured as part of the Mau Mau legacy," says Prof John Mwaruvie, the coordinator of the Mau Mau Centre at the Karatina University in Nyeri.
Prof Mwaruvie claims he had previously tried to convince her to donate the hair to the university's Mau Mau Museum alongside a liberator's forest gab that could be among the few remaining in the country.
"To my previous request during one of our interviews, the Field Marshall had neither consented or declined but was non committal. But my view is that the NMK should move with haste to secure those materials for the sake of posterity," Prof Mwaruvie said.
Kept his dreadlocks
Former Subukia MP Koigi wa Wamwere who kept his dreadlocks for over 13 years in the 1990s following his detention, this week told a media outlet that Muthoni's shave sent a message that Kenya was yet to achieve democracy.
"You know, Muthoni wa Kirima was a high-ranking Field Marshal. If we were democratic, no one would be asking her to cut her hair. We would be asking her to keep them as something for the youth. A symbol of the struggle for freedom," Koigi said.
Muthoni has insisted in later interviews that she was not coerced to cut her hair. She has said that she indeed invited Mama Ngina to conduct the ritual. Still doubts persist.
Former Nyeri Town MP Wanyiri Kihoro who is also a long term activist draws a parallel to an infamous incident in the 1980s when a former District Commissioner at Kiambu ordered a bearded school teacher to be shaved without water and soap.
But Prof Mwaruvie reckoned that Muthoni shaving may be symbolic of her attempt to break from a past of bitterness and humiliation harboured by many Mau Mau veterans in order to focus on her new Muthoni Kirima Foundation. Run by her grandson, it focuses on enlightenment about the freedom struggle and empowerment of the girl child.
The history scholar said it was also symbolic that the role of shaving that hair had been given to Mama Ngina, herself a former Mau Mau detainee at Kamiti Prison alongside Mukami Kimathi, widow of Mau Mau hero Field Marshal Dedan Kimathi.
"Mama Ngina was obviously one of the veterans who benefited immensely from the liberation struggle and this (shaving of hair) appears to be a message that the country has since moved on," said Prof Mwaruvie, calling it a sort of handshake between two disconnected Mau Mau.
But he recommends that the government addresses historical grievances by thousands of families, some of whom are descendants of freedom fighters, which live in small plots inside many colonial villages in Nyeri and Nyandarua.
Muthoni, who lives in the respectable Pembe Tatu Estate in Nyeri town has a deeper connection with the Kenyattas. In a past interview, she said she was once in a delegation that visited President Mzee Jomo Kenyatta and made a successful request that would catapult her to the league of economic stability.
"I told Mzee that as we fought the liberation struggle we had collected tonnes of elephant tusks and hid them in the Mt Kenya and Aberdare forests. I requested for a game trophy dealer license and Mzee granted it," Muthoni had revealed.
And that is the small bit of information that has leaked about how she made her fortunes in the independence days. She was also, in 1990, nominated as a councillor in the Nyeri Municipal Council.