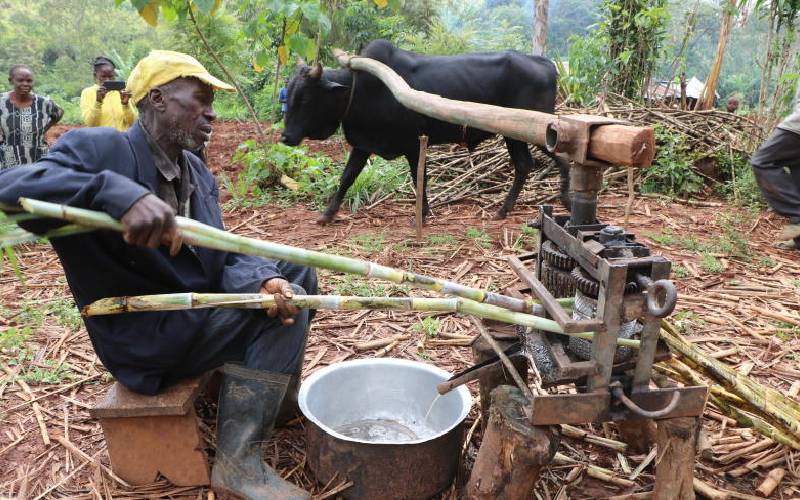 Mathias Machika uses a giant bull tied to a wooden plank to help move a sugarcane crusher while walking in a circular motion.
Machika, the owner has been using the bull to grind cane since he started making jaggery about 10 years ago at his Imamune village home in Ikolomani sub-countty.
He turned to making jaggery using the tedious traditional method in order to make ends meet.
Machika,70, was wearing overalls, blue jeans, gumboots and a tattered yellow cap and was busy pushing the cane into two circular aluminium cylinders mounted on a metallic frame when the Standard visited him.
Two shafts at the bottom of the two-cylinder rollers make them function efficiently and move faster while grinding sugarcane.
According to Machika, the business earns him anything between Sh10,000 and Sh15,000 every day.
"I have employed seven people whom I pay at least Sh300 every day to assist me in making jaggery. Two of them cut cane on the farm and transport it to the grinding site, one helps rotate the bulls and another collects the crushed cane. Others place the cane into the grinder and two others heat the collected juice and scoop it into small metallic containers to form jaggery after undergoing the cooling process."
Juice from the cane is collected in a huge aluminium sufuria placed strategically under the cane grinder.
"We collect the juice in the sufuria and the sugarcane waste is dried in the sun and used as firewood," said Machika.
Sometimes, Machika opts to use three bulls at ago to crush cane "especially when people place large orders for jaggery."
The father of seven says he turned to making jaggery after local sugar factories started experiencing challenges.
"Like many residents of Kakamega, I used to grow sugarcane but it was not possible to sell my crop after sugar factories started experiencing problems, so I was forced to invent ways of eking a living," Machika told The Standard.
"Instead of seeing my sugarcane crop rotting on the farm, I started crushing it in small quantities and people would come to buy jaggery some from as far as Navakholo, Malava and even Lugari sub-counties."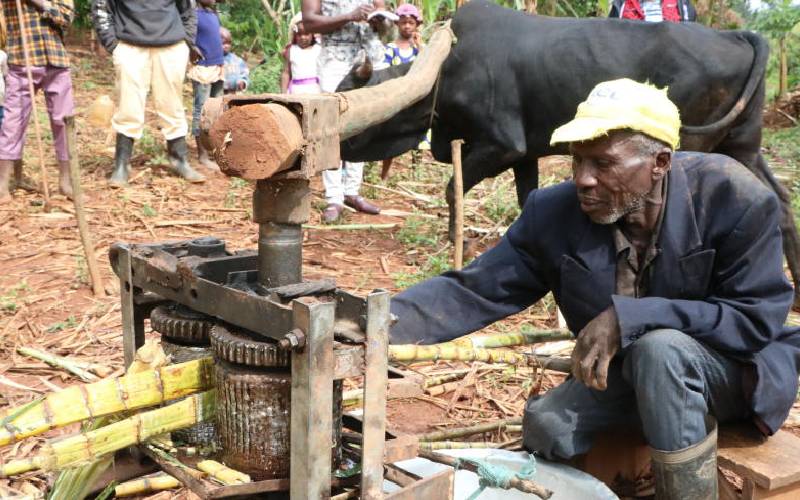 Production process
But how does Machine make jaggery from cane juice?
According to Machika, after extracting the juice, it is poured into a metal container and some water before heating for 30 minutes.
The concentrated liquid is then left to cool for at least 10 minutes and placed in small containers to form a solid bar. At that stage, one can pack the jaggery and start selling it.
Machika says the venture has helped him pay school fees for his children and take care of many other expenses.
"I have no regrets embracing this venture, it helps me fend for my family despite my advanced age, I also pay my workers and repair my manual grinder regularly to remain afloat."
Challenges
But like many other businesses, the jaggery making venture has many challenges including scarcity of raw materials.
He is compelled to source raw materials from far flank areas leading to high production costs.
"Sometimes, the raw material comes with very low sucrose content and leaves me counting more losses."
Machika says some farmers demand Sh30, 000 or more for less than one acre of mature sugarcane.
On a good day, Machika is able to extract at least 24 jerricans of cane juice.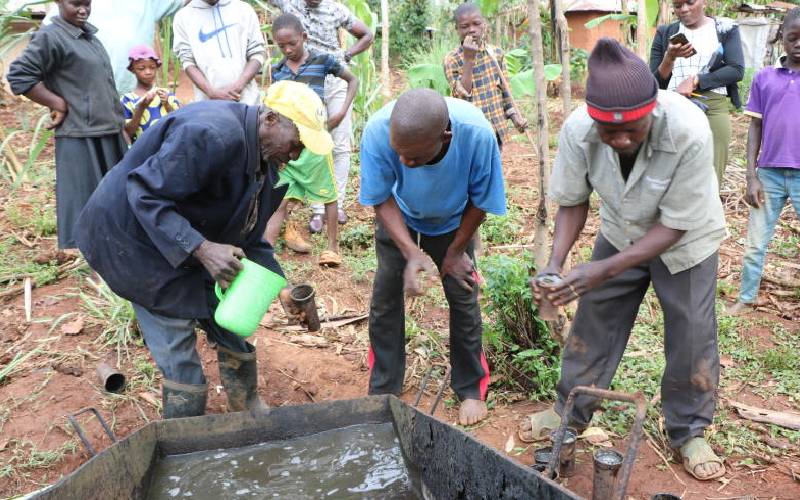 "Each one of the jerricans weighs 20 litres and gives me seven stones of jaggery with one bar selling at Sh50."
Every day, he is able to churn out 200 jaggery stones translating to Sh10,000 in every day.
Sometimes, Machika hires out his manual cane grinder to individuals who wish to make their own jaggery for Sh700 every day.
"I hire out the grinder at Sh500 and the bull at Sh200. My workers earn Sh20 for every 20 litres of juice extracted."
Machika said sometimes he lands a contract to make jaggery for clients.
"Those hiring the machine have to do the work on my farm because I cannot uproot the cane grinder," he said.
Machika sells his jaggery in Kakamega and Kisumu counties. According to him, some people prefer jaggery due to its medicinal value and other benefits.
"Some people use it as a sweetener while others use it in making different types of brews...it is healthy and makes one energetic because there are no chemicals used in its production."
Josphat Ingosi,57, one of the employees says demand for jaggery keeps him and his colleagues hopeful.
Joseph Shitsama says he opted to work for Machika after he was rendered jobless.
"I used to do packaging at Mumias company but after it collapsed I decided to work at this place."