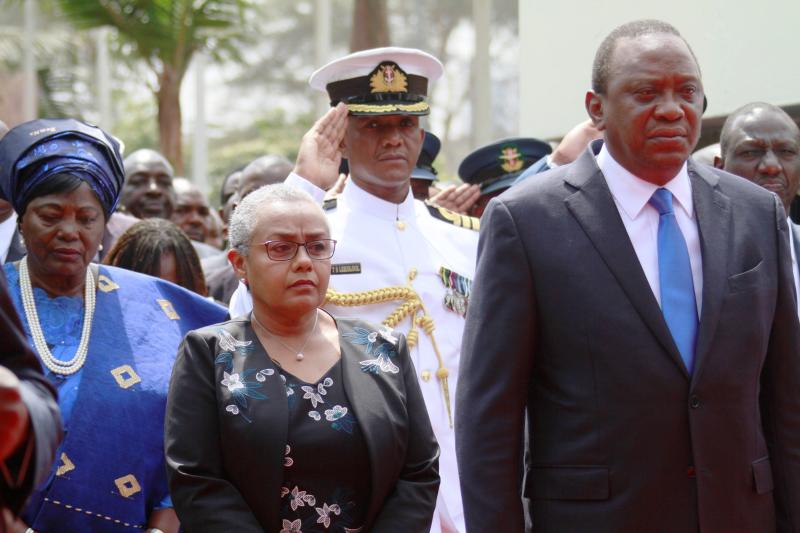 The world over, motherhood is revered. It is held in such high esteem that reference is made to it in many instances. A patriot refers to the motherland. Mother earth is the source of all living beings and natural features. Alumni of a beloved school call it their alma mater, translated as "a kind and nourishing mother."
Nature endows a mother with protective instincts. A lioness is fiercest when her cubs are in danger. And so it is with human beings; that they protect their offspring at all costs. Mothers believe the best of their children. Kenyans are all too aware of the lamentations of a mother whose son has been gunned down by the police. While neighbours attest to the criminality of the victim, the mother will swear that her son was a model citizen inadvertently killed by "rogue elements".
The Kenyatta family matriarch's defence of the President last week was revelatory. It was an instruction on maternal love and how it nurtures its own, protecting and instilling values that are lifelong. Reacting to alleged attacks against the person of the President, Mama Ngina upbraided his detractors and raised questions on the quality of their upbringing.
But in a nation that has recalibrated its mores and conventions, what does being "well brought up" constitute? What does it mean in a society where debauchery is elevated to an art form? What does it stand for when those who violate the ethos of the nation are celebrated; when they suborn their way into elective offices after stealing public funds?
Mama Ngina, like every mother, believes the best of her son. No one can begrudge her the right to come to his defence against perceived slights. And if the trappings of power that she enjoys and the improved vicissitudes of the family fortunes are anything to go by, the son has done well by his mother.
However, not everyone shares the same joie de vivre. Not all are sanguine about the performance of President Kenyatta, whose final term comes to an end in the next few months. In a truth bomb to the venerable matriarch, she may be surprised to learn that President Kenyatta has, in fact, presided over the worst economic run in independent Kenya's history. Having inherited an economy that was growing at near double digit levels, he now departs when, for the first time, there is every danger of sovereign debt default.
The Kenyatta administration has been characterised by such profligate borrowing for infrastructure projects that the end outstrips the means. Take the Standard Gauge Railway, for instance. The Auditor General's report on Kenya Railways says the SGR's assets constitute over 98 per cent of the total depreciation at KR.
It seems the flagship of this administration was bargain basement quality procured at an usurious price. Other reports say debt costs will, for the first time in Kenya's history, surpass recurrent expenditure, and is projected at Sh1.34 trillion in the coming year, from the current Sh1.27 trillion.
Which is why it is an uphill task for the Kenyatta matriarch to expect Mt Kenya voters to follow Uhuru's political direction and support his preferred successor. The President, after all, has never fessed up to the fact that current hardships are attributable to his administration. He has never issued a mea culpa over the spectre of failure that looms large over his administration.
More than 50 years after independence, Kenyans still routinely starve to death in sections of the country. Bandits roam around the north, killing with abandon in atavistic cattle-raiding practices. Public transport is so broken down that boda boda operators are a law unto themselves.
There is a time and a place for mother hen tendencies. The Kiswahili saying, "asiyefunzwa na mamaye hufunzwa na ulimwengu" loosely translated as "maternal failures are evident in an unforgiving world," aptly describes the state of the nation. Coming at the tail end of the Kenyatta administration, perhaps it is already too late!
The writer is a public policy analyst