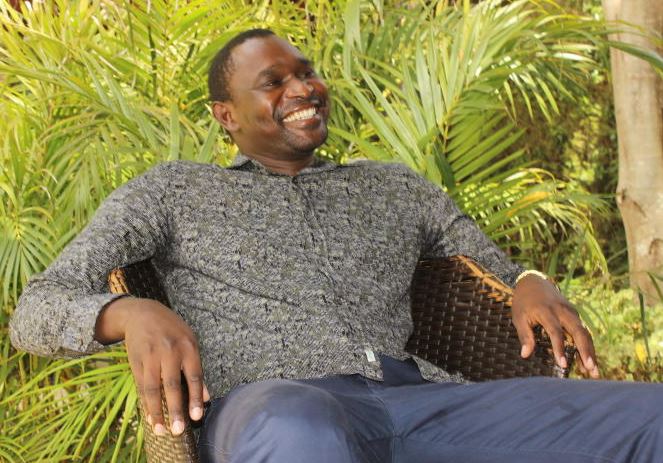 It's a common sight watching Kenya's athletics bigwigs toast the champagne after winning well-heeled races.
Flying the Kenyan flag, hugging coaches and their spouses after winning big races, our stars are absolutely majestic right to the finish line – thanks to their stylish celebratory signs and antics.
From double world champion Vivian Cheruiyot's one-finger salute to two-time Olympic 3,000m steeplechase champion Ezekiel Kemboi's 'crazy dance' in celebration, then 2015 world javelin champion Julius Yego's scream on the pitch; the sporting fraternity is no doubt left in awe.
But a majority of these heroes and heroines left the sporting scene without bidding us bye. Here, the Nairobian shares a ledger of Kenya's track and field big shots who disappeared unceremoniously.
David Rudisha
David Rudisha's brilliance in 800m race clearly shows a steady evolution in Kenyan athletics in the past five decades. Rudisha was the first Kenyan to win the prestigious World Athlete of the Year award in 2010 and has won a record three consecutive Track and Field Athlete of the Year awards as he tied with Carl Lewis.
Rudisha has the world 800m record (1:40.91); Olympic Champion and World Champion titles. He also wore Africa and World Junior crowns.
Rudisha was the first person to run under 1:41.00 for the event, and he holds the three fastest, six of the eight fastest, and half of the 20 fastest times ever run in this event.
His father Daniel Rudisha (deceased) was an athlete, and won Silver at the 1968 Olympic Games in Mexico City in the 4x400m relay team, while his mother Naomi Rudisha is a former 4x400m hurdler.
Born in Kilgoris in Trans Mara, Rudisha attended St Francis Kimuron Secondary School in Keiyo North, where he studied alongside former world Cross-Country Silver medallist Lucas Rotich.
He missed a place at St Patrick's High School Iten that his coach Bro Colm O' Connell initially wanted him to join.
Bro O' Connell, a lay missionary who has been in Iten since 1976, has produced many world beating athletes from St Patrick's High School. They include former World 800m record holder Wilson Kipketer of Denmark.
Rudisha simply utilised O' Connell's inspiration and the result has been world records in 800m.
At the 2012 London Olympic Games, Rudisha led from start to finish to win Gold in what has been dubbed "The Greatest 800 Metre Race Ever."
He has not competed since early 2017 and has put on significant weight.
Ezekiel Kemboi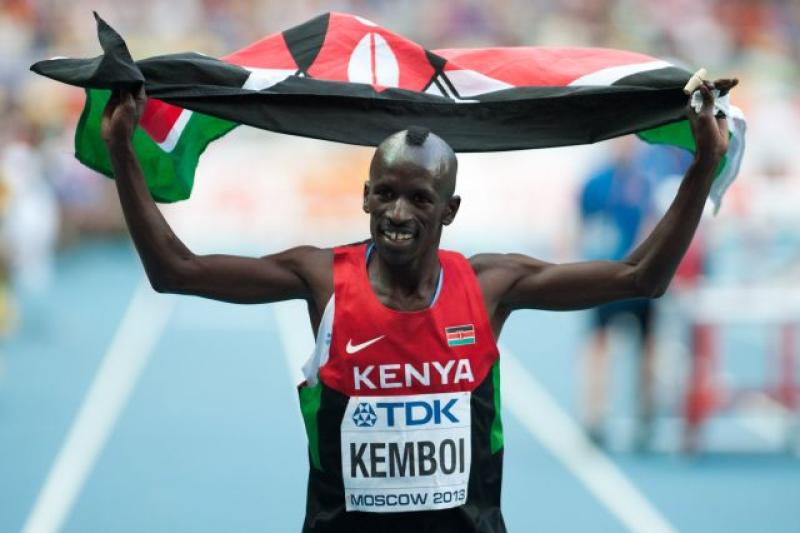 Ezekiel Kemboi's wins at the IAAF World Athletics Championships, Olympic Games and brilliant shows at the Commonwealth Games have seen him enter the pantheon of 3,000m Steeplechase superstars.
With two Olympic titles and four world crowns to his name – and three world Silvers and three medals at the 'Club' as bonus – Kemboi is the world's steeplechaser of all time.
Kemboi won Gold in 2004 (Athens), finished ninth in Beijing (2008) and won gold in London while Kipruto has Silver (2004), Gold in Beijing and was tripped the final lap in London.
When he won Silver in 3,000m steeplechase at the World Championships in 2003 in Paris, two-time world champion Conseslus Kipruto, who won silver behind him in Moscow (2013) and Beijing (2015) was just nine years old. He has not competed since making his 42km debut at the Hamburg Marathon.
Janeth Kepkosgei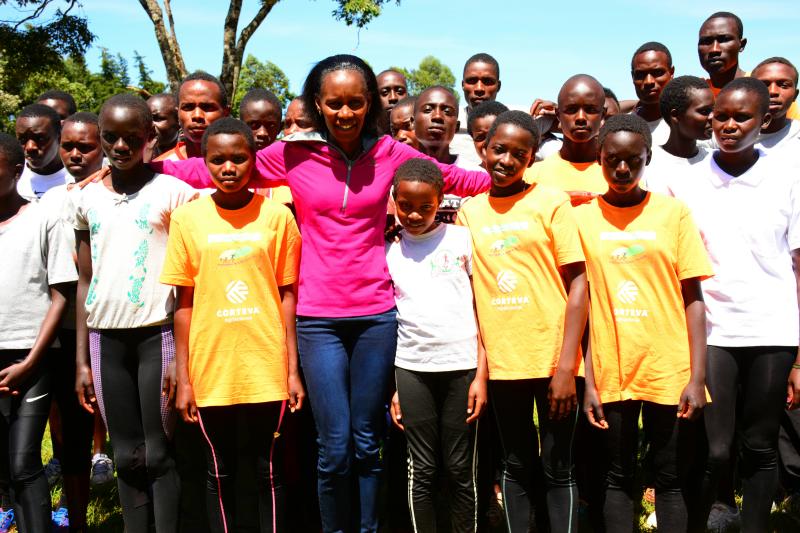 Her smooth running with easy steps, the economical movement of the arms and a text book long distance running style made Janeth Jepkosgei Busienei stand out. Her bobbing ponytail – her hairstyle – has remained part of her for two decades. Standing at five feet, eight-inch, she is a bit of a towering figure.
While a Form Two student at Sing'ore Girls, Elgeyo Marakwet, Jepkosgei earned her nick-name 'Eldoret Express'– the public transport buses plying Western, Rift Valley, Nyanza routes – thanks to her athletic prowess.
But her giant strides to the pinnacle of world distance running began in 1999 when she was part of the national team to World Youth Championships in Bydgoszcz, Poland. From there she did not disappoint.
Watching her sprint on the homestretch, her legs piercing the air with the rhythmic power of a well-oiled engine, Jepkosgei's looks always left packed stadiums in awe.
Jepkosgei is the perfect billboard that would leave any pin-up model gasping in envy. Her full lips sit pretty on her lovely, bright face, emphasising a beauty that the manicured nails crown such great flair. Her track exploits in the past two decades have – and still are well supplemented by her long strides.
She is a prodigious talent, who has earned her place in the genuine pantheon of world's 800m superstars in the 21st century. Mozambique's Maria Mutola, South Africa's Caster Semenya and 2008 Olympic champion Pamela Jelimo rivals her. No one else is on the zip.
She has been named among coaches to team headed for World Indoor Championships in Belgrade, Serbia, between March 18 and 20.
Milcah Chemos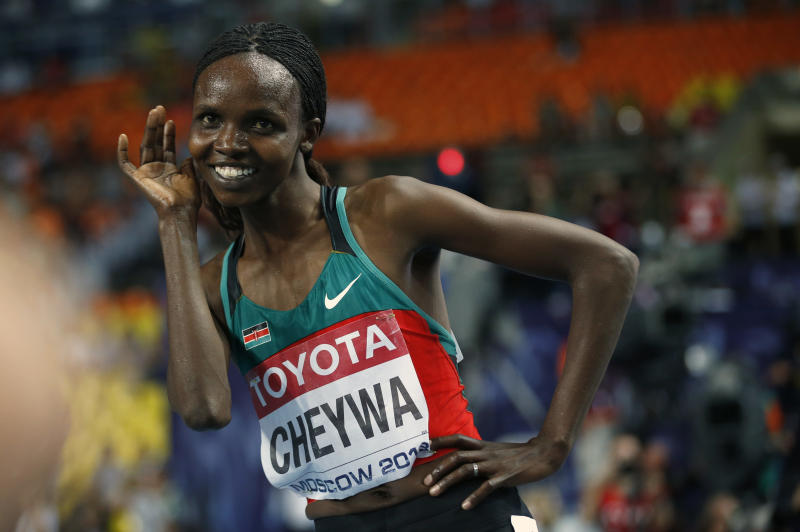 Milcah Chemos, the 2014 Commonwealth Games and 2013 World 3,000m Steeplechase champion, also vanished from the tracks.
Chemos, who started running after she was recruited into the Kenya Police Service, successfully ensured that Kenya breaks away from the traditional Bronze medal spree at major global competitions when she bagged Gold in Moscow in 2013.
Her daredevilry and bravery certainly makes her stand out from other Kenyan athletes.
As a police officer, she is best remembered for arresting and prosecuting a senior politician while serving at a police station in Machakos County.
Nancy Jebet Lagat
She basks in the glory of winning unexpected Gold medal in 1,500m at the 2008 Olympic Games inside the Birds Nest Stadium in Beijing, China. No one, including Athletics Kenya chiefs, expected it. There was not even the Kenyan flag at the finish line.
She had harboured dreams of staging a brilliant show at the 2011 Daegu World Championships, but she did not.
But Jebet, who started running in Standard Seven at Kapletingi Primary School in Keiyo South, disappeared from the track in the same manner she announced her entry into the global stage.
She won Gold at the Beijing Olympic Games to become the second Kenyan woman to win an Olympic Gold. The first was Pamela Jelimo, who won 800m at the championships.
Priscah Jepleting
Priscah Jepleting may have missed out Gold medals and, at times, a podium finish at major athletics championships. But she stood out as a notable sacrificial lamb –pushing team mates and burning out the opposition – except at the 2007 World Championships in Osaka, Japan, when she bagged Bronze in the 5,000m final.
After missing a place in the London Olympic Games team, Jepleting was named in the Africa Senior Athletics squad to Porto-Novo, Benin, where she won Silver in 10,000m, her first medal in the championship in 32.45.73.
And despite her bristling talent and on a three-time ticket to the world's biggest athletics showdown, Jepleting had a huge potential.
The runner, who made it to the national team to 1996 World Junior Championships in Sydney-Australia while a Standard Five pupil at Tamboiyo Primary School in Nandi North, competed against superstars, among them former World 5,000m champion Vivian Cheruiyot, silver medallist Sally Kipyego and 2010 Commonwealth Games marathon winner Irene Jerotich.
She competed against Vivian right from the primary school level and has studied her quite well.
Like many other world beating stars, Jepleting left the sporting stage unceremoniously.