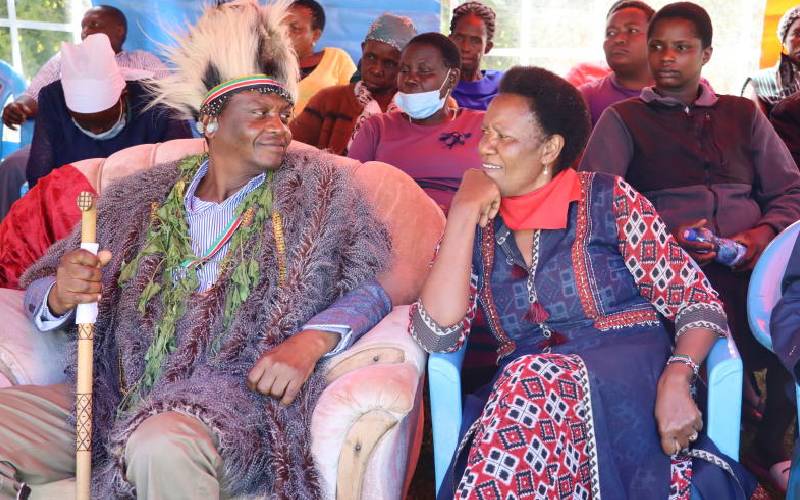 The choice of running mate among top governor candidates in Kisii could determine the winner in the August 9 poll.
Leading aspirants are facing a nightmare in picking running mates with party allegiance. Further, clan attachment is also expected to determine the choice of one's preferred deputy.
Kisii Deputy Governor Mr Joash Maangi has served two terms under retiring Governor James Ongwae.
In an earlier interview, Ongwae said he picked Mr Maangi because he was willing to serve the electorate.
"I wasn't coerced by anybody. I listened to our people. I am now convinced I twice made the right choice."
Mr Maangi represents the Abamachoge clan while Mr Ongwae comes from the expansive Abagetutu clan. One of the ODM aspirants Mr Simba Arati, also Dagoretti North MP, has picked former Nyaribari MP Mr Simon Monda as his running mate.
Mr Monda represents the larger Abanyaribari clan. Mr Arati's move to pick Mr Monda was largely seen as a plot to counter Prof Sam Ongeri, US-based businessman Mr Chweya Matoke, and Nyaribari Masaba MP Mr Ezekiel Machogu who are also hoping they will succeed Mr Ongwae. The three also represent the Abanyaribari clan.
Mr Machogu says being a Seventh Day Adventist he will pick a Catholic as a possible running mate. He will also consider the clan matrix.
He had picked former Kisii Finance executive Mr John Momanyi but insiders within UDA say Mr Machogu could reconsider that decision and pick a running mate from Kitutu Chache North.
Advocate Mr Ogamba Migosi who emerged second in the Kitutu Chache North parliamentary seat in 2017 could be the preferred candidate to deputise Mr Machogu who recently joined UDA.
Prof Ongeri and former Roads Chief Administrative Secretary Mr Chris Obure are also likely to pick their running mates from the Abagetutu clan.
The recent endorsement of former Finance officer Mr William Mbaka by Kisii elders signals his possibility of being Mr Obure's preferred running mate.
Mr Obure has held several political meetings alongside Mr Mbaka and former Bonchari MP Mr Charles Onyancha, who is likely to run for senator.
Mr Mbaka previously served as Head of Finance in various ministries including Energy, Labour, and Housing and at the Office of the President. He also served as Energy Taskforce chairman.
"The first step is to ensure I have been endorsed by the elders. That means I am now fit to govern," Mr Mbaka said.
In 2017, Mr Obure, running on a Jubilee party ticket, settled on Eng Mr Albert Nyaundi as his running mate. Both Mr Maangi and Mr Nyaundi represented the Abamachoge clan during the last election.
Women running mates
Ms Rachel Otundo, who is also interested in the governor seat, called on her male counterparts to consider female aspirants as possible running mates. "We are tired of the male dominance in Kisii politics. It is time to have a keen look at how we conduct our politics. Women should not be ignored."
Kenya National Congress governor aspirant Mr Manson Nyamweya is yet to make a choice. In 2017 he picked Eng Mr Tom Maisiba from Bonchari.
Deputy governors across the 47 counties have been under the mercy of their bosses, with some not allowed to perform some of their duties.
Under the law, in the event of the death of a sitting governor, the deputy governor takes over the office for the rest of the term.
The first five years of devolution were marked with fights and tension between some governors and their deputies.
Some of the conflicts were resolved, while others ended in bitter break-ups.
Chapter 11 of the Constitution says the governor and their deputies are the respective chief executive and deputy chief executive officers of a devolved unit. "When the county governor is absent, the deputy governor shall act as the county governor."