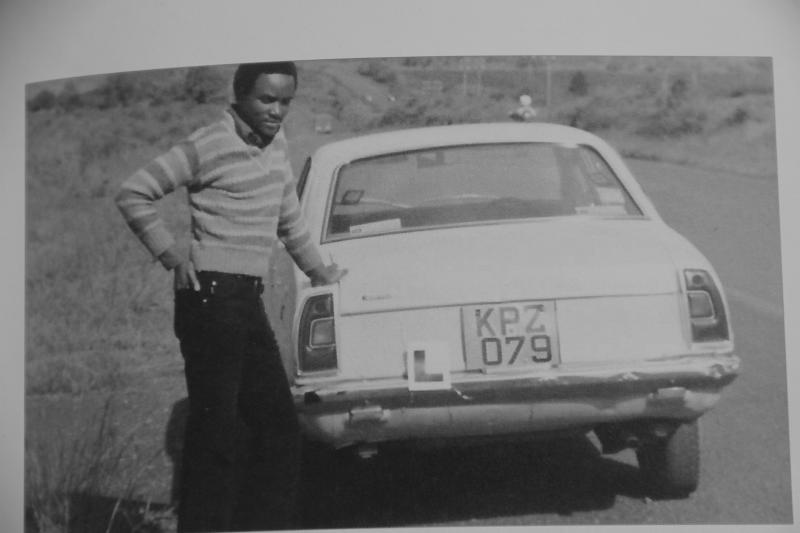 When he was Minister for Education in 1998, striking teachers demonstrated outside his Jogoo House office screaming Mr Baby Face. I don't know why they nicknamed Kalonzo Musyoka 'babyface'. Maybe it had to do with his facial looks at the time, or because of the manner in which he handled their dispute or both.
As for crying, you can trust to have Kalonzo whining about this, that, nothing, and everything. We all watched him on Tuesday complaining about some agreement signed in 2017 regarding an entity called NASA, even as he admitted the entity died a long time ago. So he wanted agreement on a dead formation honoured. Strange logic that!
Anyway, that is Kalonzo for you. He will always have something or somebody to whine about. There always has to be some dark forces against him somewhere, even when most of the time it is his own shadow.
On that, I have three personal experiences with him. Early July 2013, I sought to interview Raila Odinga then leader of the CORD. The country had just come from an election where Cord pair of Raila and Kalonzo lost to Uhuru Kenyatta and William Ruto in Jubilee alliance. I hadn't expected Raila to agree to the interview because at the time I worked for a media house owned by the Kenyatta family. But his spokesman Dennis Onyango who is my neighbour in Langata and friend of many years easily fixed an appointment. The interview took place at Raila's private office in Upper-Hill area.
On the same day, it happened that Independent Electoral and Boundaries Commission (IEBC) had ruled Ms Kethi Kilonzo wouldn't be allowed to contest Makueni senatorial seat left vacant by the sudden death of her father Mutula Kilonzo. Cord leaders had come for an urgent meeting in Raila's office to pick a replacement for Kethi, which turned out to be her brother Mutula Kilonzo (Jnr). Kalonzo was yet to arrive so Raila decided to grant me the interview as those who had arrived waited in the boardroom.
When Kalonzo came and was told Raila was having a media interview in his office, he burst in looking agitated perhaps wondering what is this Raila was telling media in his absence yet the matter concerned Makueni which he considers a personal political turf. He calmed when informed the interview was on Raila as a person and nothing to do with the by-election set for Makueni. He made faces though and abruptly walked out when told I was from a newspaper associated with their common political nemesis at the time, President Uhuru Kenyatta.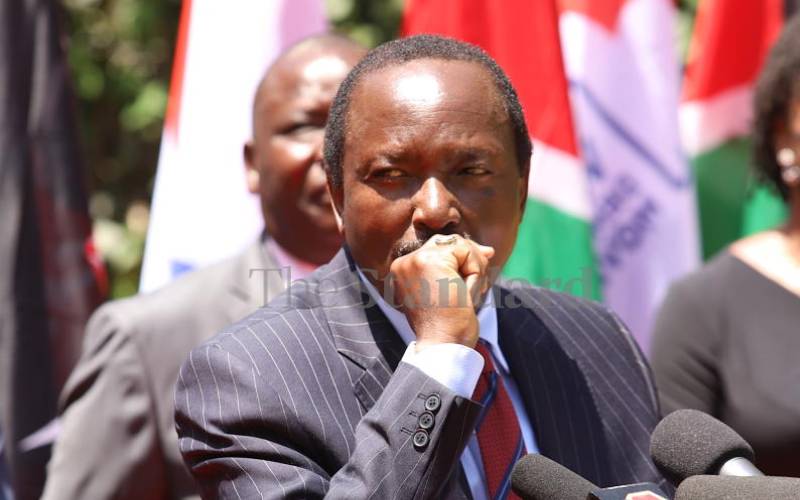 Prickly VIP
Raila requested I quickly conclude the interview so that he doesn't keep colleagues waiting. As his aide saw me off the staircase he whispered in my ear: "Kamau, sorry we'd to interrupt the interview. The man who came in (Kalonzo) is too prickly we don't want to keep him waiting."
The second instance was in December 2002 the day IEBC announced Mwai Kibaki winner of the presidential election contesting on opposition NARC ticket. I was in the group of journalists from different media houses dispatched to his private Muthaiga home to hear what the President-elect had to say.
As we waited for the gate to be opened, Kalonzo who was one of the NARC summit members pulled up at the gate. We rushed in his direction hoping to gain entry as they opened the gate for him. To our surprise, he told us he too wasn't quite sure the gate would be opened for him.
"You people just come and see whether they will open for us. Maybe they are those who don't want to see our faces", he whined. We were dumbfounded that Kalonzo was already imagining cracks on the very first day of NARC victory!
The third incident I remember related to the year 2000 Kenya Union of Journalists awards ceremony at Hotel Intercontinental where President Moi was the invited chief guest but didn't show up. Kalonzo was Minister for Information at the time hence one to receive the Head of State.
When the minister came he told us the President wouldn't be coming but added a curious rider: "Well, maybe some people didn't want the President to be with journalists!" Knowing President Moi, I doubt he'd have declined a friendly interaction with the Fourth Estate. Most likely his diary couldn't accommodate the short notice of the appointment. But Kalonzo imagined a conspiracy somewhere!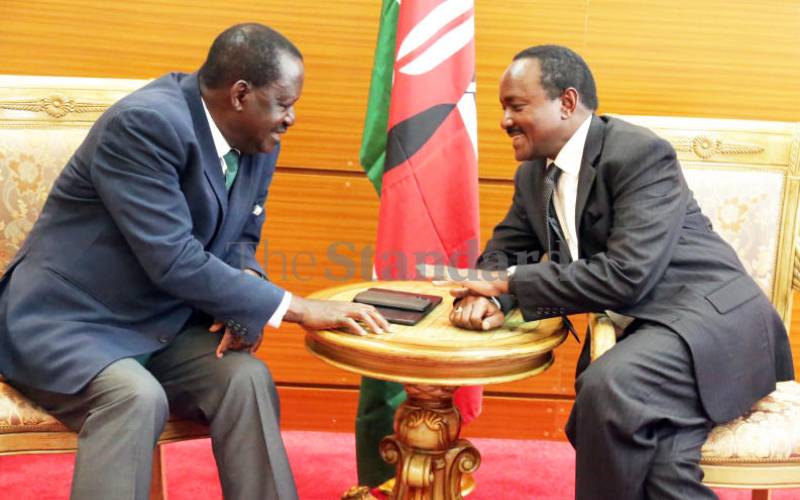 Name betrays you
There are more such incidents to illustrate his delicate sensibilities - and eye for enemies lurking in the shadows. For instance, the well-remembered incident on April 24, 2014, when he declined to take a question from a journalist and instead asked what his name was. Told the name he made a perplexing remark: "Your name betrays you!" and ignored the journalist.
Then there is yet another bizarre incident when as deputy Speaker of the National Assembly on June 29, 1989, Kalonzo made dubious history when he moved a motion that had Nation newspaper indefinitely suspended from covering parliamentary proceedings.
Indeed, he told parliament he would have wanted the newspaper banned altogether but was leaving that to the Executive arm of the government. He had a litany of complaints to justify the draconian act. He whined that the Nation didn't respect the President, didn't respect parliament, and was working with foreigners to sabotage the government. There was no substantiation on any of the allegations. By coincidence or otherwise, it happened at a time when his relative working with the newspaper had a disciplinary issue with the employer.
Pin or kingpin?
The grudge Kalonzo now has with Raila - rather the reason for his whining - is that twice he has been presidential running-mate to him, so now it is time for Raila to reciprocate. What he is not acknowledging is that it is an entirely different set of circumstances that keep bringing them. To him, it is as if the presidency is the exclusive reserve of him and Raila hence between them to decide who to have it on rota!
But what is it that makes Kalonzo so strongly feel owed and entitled? It is because the media has bestowed on him a title in Kenya's political lingo known as kingpin. Reportedly he is the kingpin in the lower eastern part of the country – to be specific in the counties of Machakos, Makueni and Kitui.
The region has slightly over a million votes and Kalonzo - egged on by the media – sees them safely locked in his briefcase. May be, granted that in the 2007 election he bagged 879,903 votes against Raila's 4,352 993 and Mwai Kibaki's 4,584 721 votes.
He put slightly more or less the same number of votes in a joint basket with Raila in the 2013 and 2017 polls. But with so different political dynamics and considerations at play in 2022, will he have the same clout and lock in his briefcase the million-plus votes?
Well, in the last election none of the three elected governors in the region - Alfred Mutua (Machakos), Kivutha Kibwana (Makueni) and Charity Ngilu (Kitui) - politically saw eye to eye with him but were still elected – two for the second term – notwithstanding Kalonzo said kingpin status. Each had their own political outfits and cumulatively garnered the same, if not more, votes than Kalonzo put in Raila's basket.