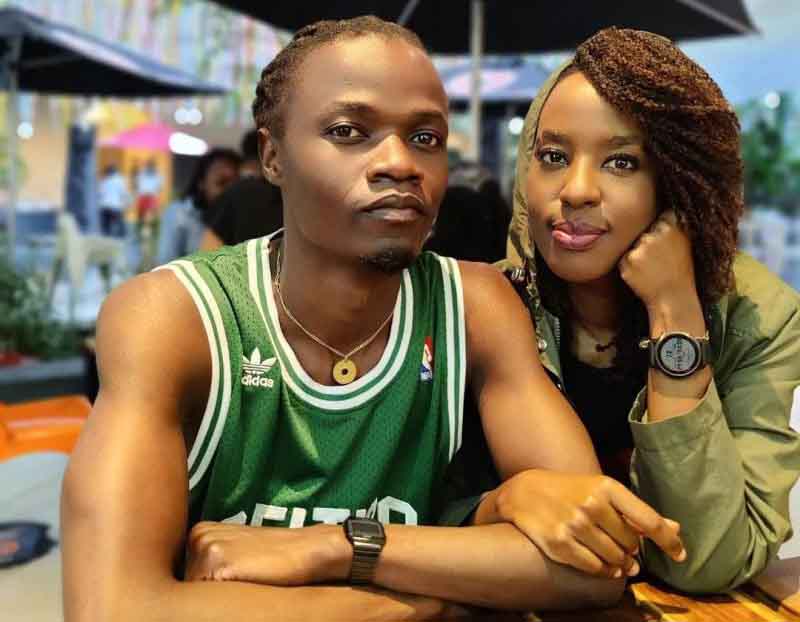 Five months after parting ways with Machakos Governor Alfred Mutua, Lillian Ng'ang'a has tied the knot with her new heartthrob musician Juliani, real name Julius Owino. She had been in a relationship with Mutua for nine years.
The former Machakos County Government first lady and Juliani, a celebrated artiste, wedded in a private ceremony at Evergreen Park in Kiambu Road on Wednesday afternoon.
Even though details remain scanty in what remains a closely guarded secret, sources that were present at the ceremony told The Standard the garden ceremony was attended by less than 50 people.
After the vows, the two had a photoshoot around the spectacular water mass – manmade dam - that makes the venue one of the most popular for private parties and other social events.
In pictures that have been making rounds on social media, Lillian is seen dressed in a baby pink flowing gown and the bridegroom, Juliani in a white T-shirt, dark coloured trousers and white sneakers. They are seen accompanied by groomsmen and bridesmaids, all in a celebratory mood.
"Happy and grateful to be alive to see my favourite #2 looking soooo aligned! ~ 2.2.22 ~" Lillian had captioned earlier on Wednesday, a unique and intriguing message that was accompanied by a picture of a bouquet. "Yes to flowers all month through…" she added.
"Tumeng'ara and the mission is unknown. But for now, we live life. Life is beautiful and music is life," Boniface Mwangi, their known best associate and activist posted on social media.
The bouquet Lilian posted on social media looks like the one she is seen holding during the ceremony. After the wedding ceremony, sources say the new celebrity couple headed to Kentwood Suites, a popular high-end luxury spot in Runda Estate, where the after-party was held.
Untamed, a popular band that performs at K1 Club House with a unique bias to the music of the 70s, provided the entertainment. "Juliani got carried away, he got emotional when the band started playing and decided to surprise his love by singing for her," a source who sought anonymity told The Standard yesterday.
Efforts to get the couple's comment did not bear fruit. When The Standard contacted Mwangi on Wednesday evening as the rumour started, he remained cagy and only said he was somewhere busy.
In videos shared across social media platforms by a variety of sources, Juliani is seen singing as guests enjoy themselves. In the background is a wide screen labelled Kentwood Address.
Juliani and Lillian made their relationship public only days after Lillian and Mutua announced that they had gone separate ways. Since then, they have been appearing together in social places with the grapevine suspecting Lilian is pregnant. Recently, Lillian gushed over what she loved most about Juliani, saying they share common interests and values.
"I like to call myself a thinker but when I met Juliani it was like I found the last piece of a jigsaw puzzle. His value and mine were aligned.
"Just the way he looks at life, what he values, what is important to him are the same things that are important to me and that is very rare," she said.
Lillian added that getting to know the rapper personally confirmed that he was a good person despite people's unkind opinions on their newfound love.
"It is unfortunate to see people say unpleasant things about me and Juliani thinking it was the wrong choice," said Lillian, adding, "I wake up with Juliani and tell him 'Darling, I thank God for a new day with you'."
The two confirmed their relationship in September 2021 when Juliani said they are consenting adults and people should respect their choice.