Juliani; We hijacked a KBS bus
UREPORT
Juliani is celebrating 10 years since releasing his debut album Mtaa Mentality, an album that changed his life and made him the man he is now. With so many memories attached to it, Juliani wants to share as much as possible with his fans during the celebrations.
By Samora Samorai | 4 years ago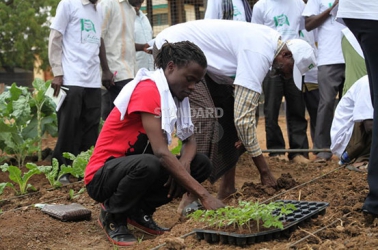 Gold is in the soil. And if you doubt it, ask Juliani
There was a time when farming was considered boring, dirty and uncool. That is why in high school, courses like Agriculture were given a wide berth when it came to selection of subjects.
Nanjinia Wamuswa | 5 years ago
Westgate happened because we tolerate corruption
Life is very slowly but surely going back to normal. Sure, the vivid pictures and, for those who were actually caught up in the Westgate attack, the memories are still a source of jarring, haunting shock. But, as always happens, 'normal' patterns are resuming.
- RUTH LUBEMBE | 7 years ago
Juliani takes drip irrigation, greenhouse training to Garissa youth
Newly appointed Amiran Poverty Eradication Ambassador, musician Julius Owino has embarked on a mission to mobilise and educate the youth on modern agribusiness.
- NANJINIA WAMUSWA | 7 years ago