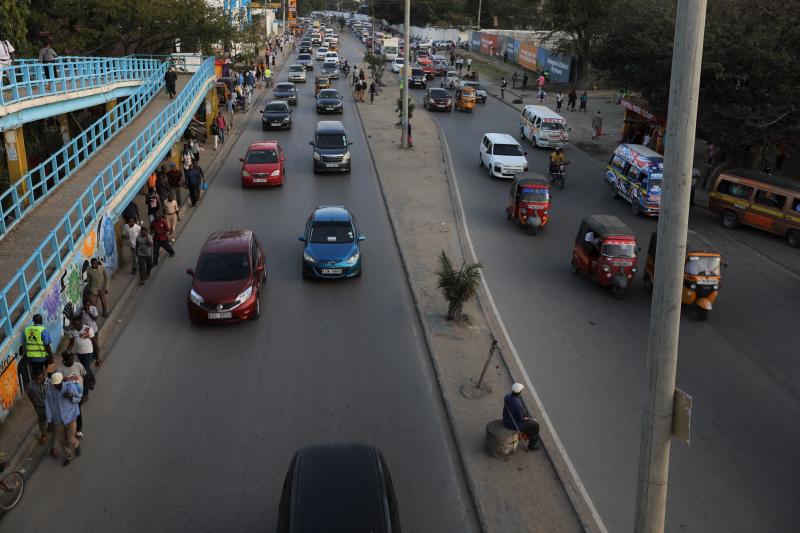 Motorists entering or leaving Mombasa island are today expected to face a major disruption, following implementation of a new traffic flow.
In the new plan, Governor Hassan Joho's team will close traditional routes and open new ones in a move to decongest the island, following a major increase in motorised transport.
The move will affect vehicles entering the island from the north Coast through Nyali Bridge and those from the Central Business District (CBD) to the north Coast and west mainland.
County Executive for Transport and Infrastructure Taufiq Balala said vehicles will flow in a one-way system.
"We have decided to launch the one-way system to ease the flow of traffic coming or leaving the island. There has been a rise in the number of vehicles but it is difficult to expand the roads," he said.
Balala said personal vehicles that pay parking charges daily in the CBD are more than 10,000 and hence the congestion on the roads.
Balala, who was flanked by Coast regional traffic police officer Peter Maina, said the new programme will take effect from 5am today.
Vehicles coming to the CBD from Nyali bridge will be routed to Sheikh Abdulla Farsi Road up to Barclays Marikiti roundabout while those from the CBD to the north Coast will be diverted from Barclays roundabout to Jomo Kenyatta, Saba Saba turn-off, Ronald Ngala Road and Nyali Bridge. The new traffic flow will be effected by county traffic marshals and traffic police officers.
Balala said the CBD will also be out of bounds for lorries during day time.
He said lorries will be allowed to only access godowns in Shimanzi.
He said the system may enable the county government to start the Bus Rapid Transit (BRT), in the future.