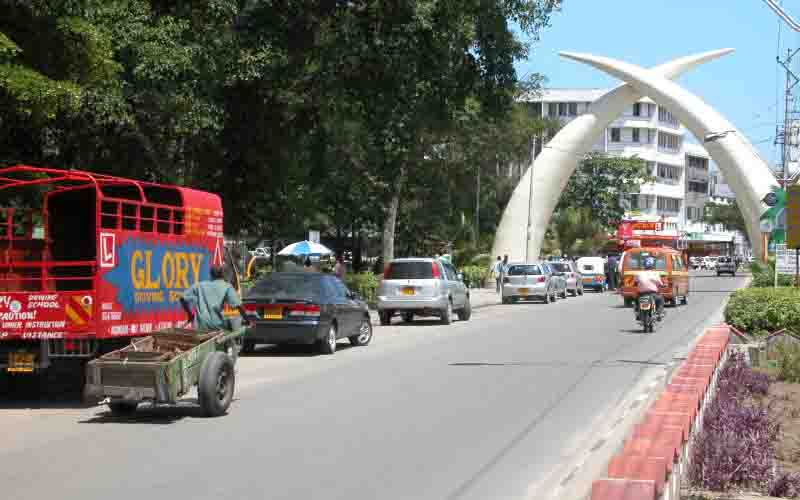 Mombasa County has unique names for estates and villages.
There is Tua Tugawe, a traditional Swahili homestead in Kisauni constituency which is now undergoing a complete makeover with modern buildings coming up.
As the word translates, Tua Tugawe was a no go zone area for first-time visitors as they would lose property to robbers upon setting foot there.
Dunga Unuse is another of the estates with funny names as Kikulacho also in Kisauni.
In the leafy Kizingo area where State House, Mombasa, is located, Kizingo estate was and still remains a preserve for the rich. Kizingo is an enclosure in Kiswahili. It is considered the prime residential area of Mombasa.
The name Mombasa came up during the arrival of the Arabs on the Kenyan Coast. When the locals resisted the invasion of Mombasa island, wars erupted and the locals came up with the rallying call "mambo ni sasa" which was pronounced by the Arab as Mombasa.
Retired National Museums of Kenya (NMK) Education Officer Mwenye Hassani explained that when the Arabs and Portuguese settled in the 13th century, they started calling the place Mombasa.
"The word Mombasa came from "mambo ni sasa" which was a rallying call by the local community during the war between them and the Arabs and Portuguese," Hassani says.
According to Hassani, Kongowea is an estate located in Nyali constituency. It is a Swahili word that originated from the word Kongo among the first settlers in Mombasa, Wangozi or Waswahili came up in the 13th century. It means welcome.
"Kongo is was word used by one of the first settlers in Mombasa meaning karibu or welcome. The Wangozi who came from Shingwaya used to welcome many people to Mombasa. The Arab later called the Wangozi 'Watu wa Kisiwa Hili' which later became Waswahili," he explained.
He said Nyali area used to be a farmland and locals used to call it Wali but the Arab later named it Nyali.
Missionaries' bell
Kengeleni was named after the bell used by the missionaries to alert locals and freed slaves that a ship had docked at the nearby English Point area. Hassani said this sound alerted freed slaves to hide or for everybody to be ready for war, with locals collaborating with the slave traders.
Mvita which is the name of Mombasa's most urban constituency covering the island was derived from the many battles fought.
Coast assistant director in charge of National Museums of Kenya (NMK) Athman Hussein said the Portuguese and Arabs used to fight at Mvita for control of the island in pre-colonial days.
"Mvita is a place where many battles were fought between the Portuguese and Arabs for the control of Mombasa. Mvita which lay next to the port was a battle-ground for several clans engaged in prolonged battles," Hussein said.
King'orani originated from a high-pitch siren near Kilindini that was used to alert port workers of the start of their shifts. Workers would rush to the Labour Compound through the footbridge across the Kenya Railway yard and go to the port to start work.
There is also the Kibokoni area which is part of Old Town and home to the famous World Heritage site, Fort Jesus. Kiboko, the whip, is believed to have been a place where rules were strictly obeyed.
Adjacent to Kibokoni is another predominantly Islamic populated area with mixed user facilities like the Central Police station, General Post Office building and hundreds of residential homes.
Makadara has a high number of descendants of Baluchi soldiers who settled within this area before it developed into a town. The name is derived from the Arabic word Qadr-ur-Rahman meaning fate of God.
Majengo and Makupa are old estates that form part of Mvita constituency.
Majengo stands for structures or buildings in Kiswahili and is believed to be one of the oldest estates where homes were largely built of makuti thatch.
Makupa, located next to the modern Mombasa industrial area next to the Mombasa Port, is a residential area for the middle class.
Iron roofs
It is also undergoing rapid transformation with new high rise buildings replacing the lime and motar and iron-roofed structures.
Apart from local names, there are also old estates that derived their names from Europe like Tudor estate which is divided into two - Tudor Estate for the lower and middle class and Tudor Nora for the rich people.
Tudor estate comprises housing units that have been in existence since the early days of Kenya's independence.
On one side of the estate is a public primary school whose origin is English - MaryCliff Primary School.
On a lower cliff and a few metres from the edge of Tudor Estate lies two slum villages, Kaa Chonjo (be alert) and Muoroto which is one of Mombasa's largest slums right on the beach overlooking the majestic Tudor Creek of the Indian Ocean.
And Mombasa's affluent estate, Nyali estate, has a skyline that's changing fast with the likes of Nyali Golf View Residence, another mixed user facility that attracted the attention of Ugandan President Yoweri Museveni who stayed there during one of his visits to Mombasa.
It is also home to Mombasa's largest golf course - Nyali Golf, dotted with a number of star-rated beach hotels and one of the modern private hospitals- Premier Hospital.
Nyali is also home to Kisumu Ndogo. It is here where a majority of dwellers are people from the Lake region who eke their living from manual jobs. In the same vicinity lies Frere Town- as the name suggests a village where freed slaves were brought in settled there.
They are the dominant Wanyasa from present-day Malawi. Majority born here have adapted and interlinked themselves with the local Mijikendas.
Often regarded as a haven for the down-trodden with its low costing rental houses, Likoni is a lower-class area connected to Mombasa Island by Likoni Ferry and now the Likoni Floating bridge.
Magongo or place of logs is home to another of Kenya's key infrastructure installations - Moi International Airport and was also home to the regions sole oil refinery - Kenya Petroleum Oil Refinery which has now been converted into a storage facility.
Its architecture comprises simple stone, two-storey structures, mud and earth homes fitted with corrugated iron roofs. It is also where the Akamba Handicraft Cooperative Society is located.
Further North is Bamburi, now referred to as a town within a town with is many joints that have stolen the limelight from Mombasa CBD's nightlife.
Most of Kenya's cement is mined at sites located within Bamburi and has the Jomo Kenyatta Public Beach and the scenic Haller Park, a wildlife conservatory.