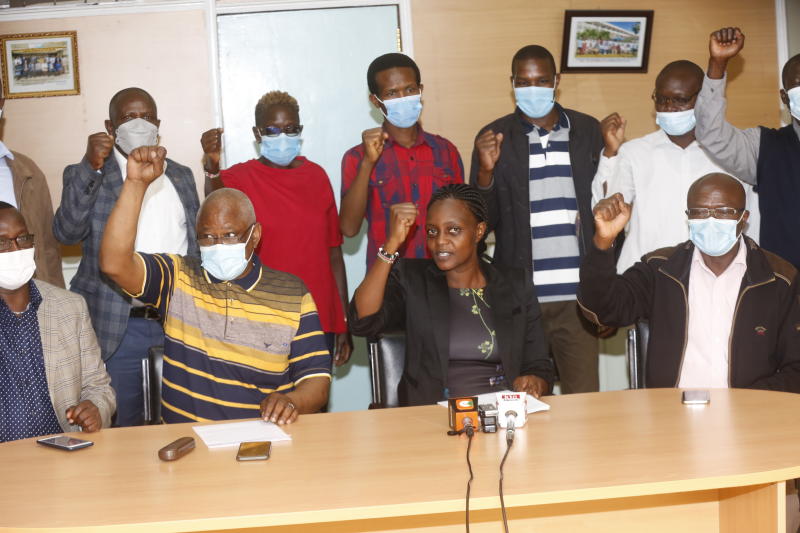 The Employment and Labour Relations Court has barred Egerton University from instituting disciplinary action against union leaders over the ongoing strike.
Grace Kibue, the University Academic Staff Union (Uasu) Egerton chapter secretary, was to appear before the institution's management yesterday for disciplinary proceedings.
The summons followed Dr Kibue's advice to lecturers that they refrain from attending a meeting called by vice-chancellor over the strike which began on November 15, 2021.
However, Kibue moved to court seeking to stop the disciplinary proceedings against her, a matter which Justice David Nderitu certified as urgent.
The court, while issuing the orders, granted Kibue 14 days leave to institute judicial review proceedings against the council and the vice-chancellor.
"The leave granted shall operate as stay of the said disciplinary proceedings," Justice Nderitu ordered.
Egerton lecturers are protesting against failure by the university to honour their 2017/2021 Collective Bargaining Agreement (CBA) and remitting of salary arrears accrued on diverse months of 2020.
Meanwhile, Egerton University wants an application seeking to stop the installation of Prof Isaac Kibwage dismissed.
In a preliminary objection filed by lawyer Cyprian Wekesa before Employment and Labour Relations Court Judge Hellen Wasilwa, the university says the application is overtaken by events.
According to the university, Kibwage was installed as VC on December 17, 2021.
The university says the application dated December 15, 2021 sought temporary orders to block Kibwage's installation which happened two days later.
The court will rule on March 24.