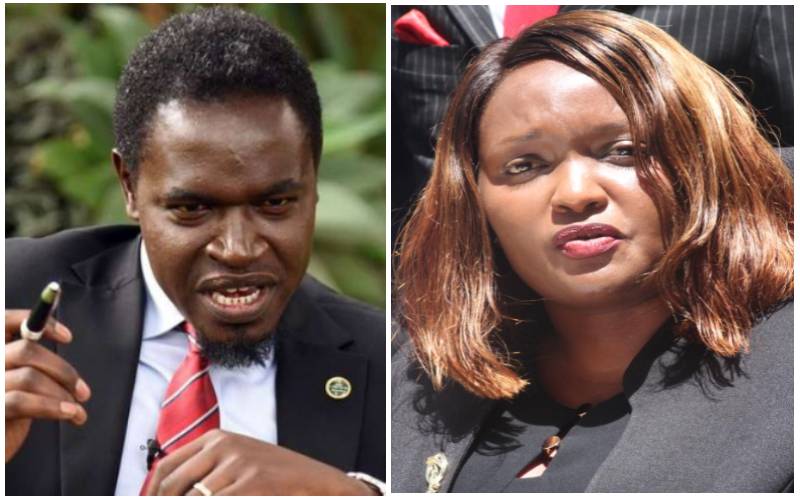 The regional chairpersons of the Law Society of Kenya (LSK) on Thursday, January 13 named Mt. Kenya caucus boss Linda Kiome as the interim president of the LSK.
The branch representatives have taken over the running of operations at the Society as Nelson Havi, the president, heads for politics.
Havi is eyeing the Westlands parliamentary seat in Nairobi on a United Democratic Alliance (UDA) ticket.
Justice Antony Mrima had ruled in December last year that Havi should convene an Annual General Meeting (AGM) for the Society to chart the way forward, failure of which, his leadership, including the entire Council, would be considered to be in office illegally.
On December 20, 2021, the High Court judge ordered Havi to convene the AGM within 21 days.
"In our meeting today (Tuesday, January 11), we received confirmation from the LSK Secretariat that the Council has been unable to convene a meeting in compliance with the court directive.
"In default thereof, and pursuant to the said-decision, the Branch Chairs Caucus has, with effect from January 11, 2022, taken charge of the role of the Council for the remainder of the term," the caucus said in a statement.
Havi's team was to end their two-year term in March this year.
The interim president, Linda Kiome, said in a press conference that her reign, though short, will end on March 23.
"Until then [March 23, 2022], I'll be the spokesperson of the LSK," she said during a press conference in Nairobi on Thursday.
Kiome said the outgoing team has not opposed the take-over by the new leadership.
"We were able to access the [LSK] boardroom [at our headquarters on Gitanga Road, Nairobi], and were able to conduct our meeting peacefully," she said.
Mathew Nyabena of Coast Caucus will serve as the vice-president, while Justus Mutia (South-Eastern), Eric Theuri (Nairobi), Sussy Rauto (West Kenya), Henry Kenei (North Rift), Ochang Ajigo (South Rift) and Wilkins Ochoki (Nyanza) will serve as members.
Havi had tweeted on Wednesday, January 12, that he was planning to exit the LSK before the expiry of his term on March 23.
He said the remarks during the admission of new advocates to the Bar.
"This is my last public appearance as President of the Law Society of Kenya, as I plan to exit office before the end of my tenure on March 23, 2022, to concentrate on national leadership in Westlands," he said.
Havi's two-year tenure, which began on February 27, 2020, has seen intense power struggle mar the Society's operations, as he and the LSK chief executive officer, Mercy Wambua battled it out, in court and even physically, for the LSK mace.