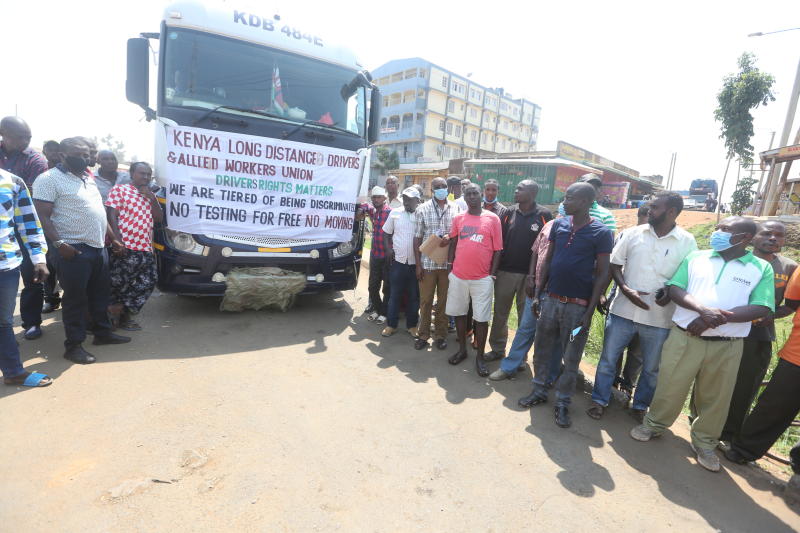 A row between truck drivers and Ugandan authorities has occasioned a boycott by the drivers.
Since January 1, no truck has crossed into Uganda from Kenya at the Malaba crossing point. Inbound trucks from Uganda have, however, not been affected.
Uganda sparked off the row after it introduced mandatory Covid-19 testing for truckers whether or not they possess a valid Covid-19 certificate issued by the Kenyan government.
The drivers are aggrieved that when they cross into Uganda, the authorities claim their Covid-19 certificates are fake and demand fresh testing and a payment of $30 (Sh3,500).
Once the payment is made, the drivers say, Ugandan officials simply stamp the 'fake' Kenyan Covid-19 certificate and allow them in. Once they cross, Ugandan police still demand a Covid-19 certificate.
Another bone of contention is that Uganda has reduced the validity period of the Covid-19 certificate, from 14 to seven days. Truckers who drive through Uganda and spend more than a week are forced to pay again on return.
Valid certificates
"The East African Community (EAC) member states agreed that drivers who have been tested for Covid-19 in any member state be given a certificate whose validity is 14 days, and that those with valid certificates are free to move within the EAC region," Kennedy Osia, Chairman, Skyward Clearing and Forwarding Company said.
"Uganda has betrayed this agreement by unilaterally introducing a mandatory charge of $30 irrespective of whether the truckers have valid certificates or not. Worse, the government of Uganda has reduced the validity period of the certificate," he added.
According to Osia, talks with Ugandan authorities have not borne fruit because immigration and health officials on the Uganda side insist the new government directive must be implemented.
"Our drivers are protesting the new demands and aver they will not be subjected to testing again, unless it is done free of Charge," Osia said.
While trucks whose drivers are on strike stretch more than 50km from Malaba past Kanduyi in Bungoma town, the flow of trucks at the Busia crossing point is normal. The drivers are not subjected to similar demands imposed on their colleagues at Malaba.