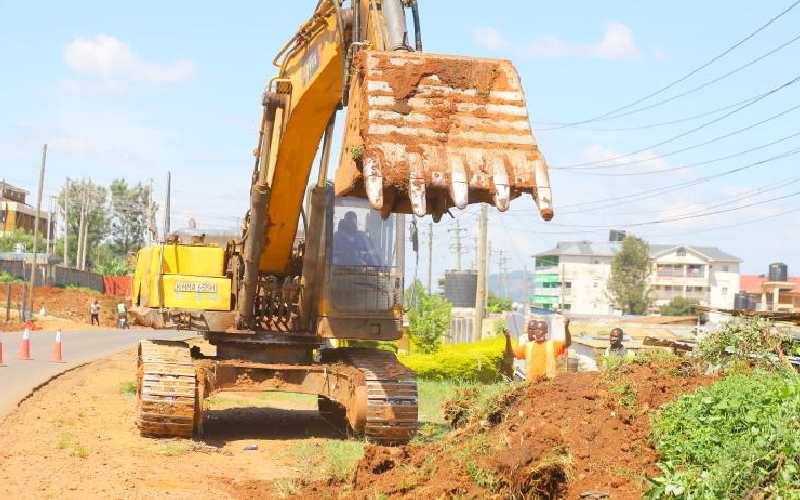 Private developers have been assured their properties will remain intact even as works on the Sh8.6 billion Kisii-Migori road near completion.
Contractors are planning to design a unique underpass and roundabout at the Migori-Kisii road junction. So far, no major structure has been demolished since the construction started more than three years ago. The project is 85 per cent complete.
The China Henan International Cooperation is building the road which is to be completed before the end of year.
The construction of the interchange and expressway is part of President Uhuru Kenyatta's legacy projects.
Project's resident engineer James Mageto said the interchange at the Kisii-Migori border will be unique and the first of its kind in East Africa.
"We will have an underpass and a roundabout on top of it. This region is unique and has the potential for economic growth. We want to build a road that will serve several generations to come," he said.
Mageto said they had constructed several exits and feeder roads as requested by governors James Ongwae (Kisii) and Cyprian Awiti (Homa Bay).
Access roads
He said the Nyamataro-Draja Mbili, Nyambera-Nyatieko, Suneka-Rangwe (18 kilometres) and Nyachenge-Tabaka-Riosiri-Ogembo (15 kilometres) were incorporated into their programme.
"We have completed these access roads as requested by the two governors. Some will have street lights," he said.
According to Mageto, a request by the Kisii County Government to have a dual carriageway from Suneka to Daraja Mbili and Daraja Mbili to Kisii Hotel had been approved by the funding agency.
Daraja Mbili will also have an interchange less than three kilometres from the Kisii-Migori junction underpass.
"There is no doubt that the project will greatly impact the economic growth of towns along the corridor. Kisii will have a new face to support its municipality status," said Mageto.
According to Governor Ongwae, the population of Lake Victoria Basin is over four million, and up to two million people rely on the Isebania-Kisii-Ahero road and the associated feeder roads for transportation.
"The access roads are a game-changer. Kisii is a business hub that requires road expansion programmes," he said.