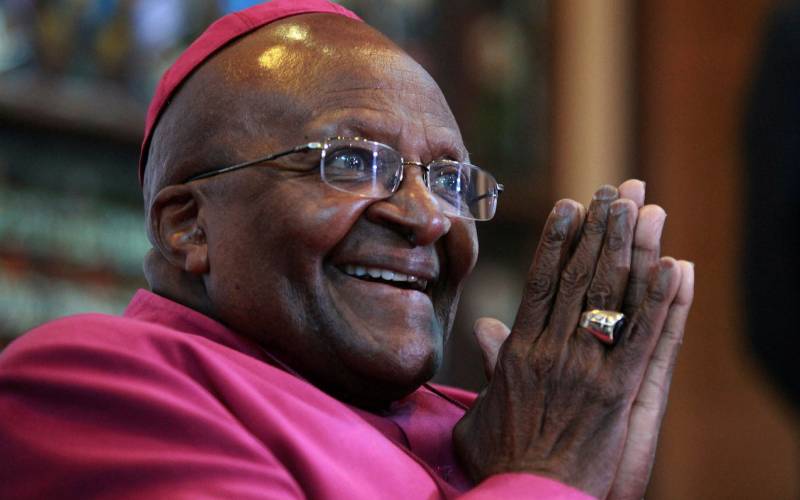 This world bids farewell to one of the world's most remarkable human beings this morning. Arch-Bishop Desmond Tutu made an astonishing transformation from one of the most hated South Africans in the 1980s to an international icon upon his death. What could his transition mean for us?
Globally, leaders and citizens have reacted passionately to his death by calling him the truth-teller, hope-raiser, and justice seeker. Predictably, a new generation has joined an older one to re-read and listen to hundreds of his quotes on a range of issues.
Joining them, I was struck by his moral clarity on racial apartheid, wars in Darfur and Iraq, the climate crisis, Israeli oppression of Palestinians, death penalty abolition and his solidarity with LGBTIQ communities in their demand for same sex marriage.
He also raised his voice against the Kenyan one-party state and the detention of political prisoners in the 1990s. At the invitation of the All-Africa Conference of Churches, he flew to Kenya to counsel Raila Odinga, Mwai Kibaki and other politicians in 2008. As flaring egos and interactable interests appeared to make peace impossible, it was him that gave the earliest signal that a coalition government might be the way out of post-election violence.
Tutu was driven by an unshakable belief that all human beings are created to be free and fully self-expressed. No-one deserves the indignity of discrimination and the danger of abuse and violence. Further, all human beings have a responsibility to protect each other.
He often unleashed his razor-sharp analysis with the most mischievous smile and infectious laughter. He consistently chastised the powerful yet left his focus clear that it was their behaviour, not them that was his target.
With phrases like "I will not worship a homophobic God", "faith without the work is meaningless" and "without forgiveness, there can be no fresh future", we can be pardoned for reflecting too long on his thoughts. The fullest expression of Tutu's legacy does not lie in what he did or said over the 90 years of his remarkable life.
This would leave us with the shallowest of experiences. For his legacy to live on, we must emulate the life-example we now admire so much.
Whether we are Maungu Inspector Job Oyagi who recently collected and then returned Sh450,000 to accident victims or the commanding officers who refused to de-escalate the violence leading to the shooting dead of Mukuru resident Samuel Okoth Otieno on Monday, we all have choices. Tutu skilfully navigated the darkest hours of apartheid South Africa.
He rejected a teaching career under Bantu education. Countless times, he led street protests to face down the formidable Caspirr armoured vehicles and presided over mass funeral services for anti-apartheid activists.
When majority rule arrived in 1994, Tutu continued his national crusade for equality and integrity, ordaining women and gay priests while castigating the ANC Government for rising corruption.
Despite experiencing the very worst of the dehumanising effects of apartheid, Tutu deeply believed in forgiveness and redemption until the very end. While our choices matter, we are not our choices. Choices that cause a negative impact on others, can be reversed. We also can chastise those who assault, steal, or violate others while caring enough to believe that they too, can and must change. That our enemies can be our friends and as they do, we all win. There is power in this for us all as we say goodbye to 2021.
Eulogised by the world, Archbishop Desmond Tutu will be laid to rest in the humblest of coffins. As we bid him goodbye for now, the most powerful lesson we can take from his life is we live in a moral universe. Despite all current evidence to the contrary, evil, injustice, oppression and lies does not have the last word. Each of us must keep pressing on until all are safe.
Condolences Leah Tutu, the family, and the world. What a wonderful human being and an example you have set for us all. Hamba Kahle Askofu Mkuu
Irungu is Amnesty International Kenya Executive Director and writes in his personal capacity. Email: [email protected]