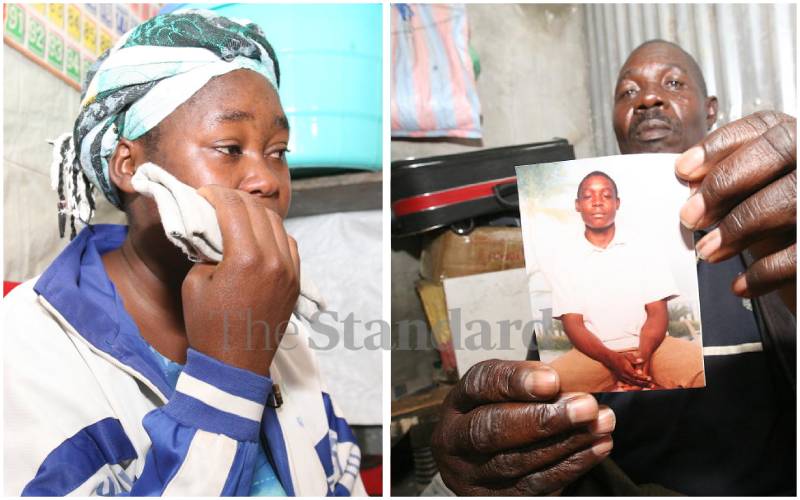 The family of a slain resident of Mukuru Kwa Njenga, Samson Odongo Otieno, who died during the land tussle fracas has recounted his last moments.
They claim that on the fateful day, December 27, Otieno was in high spirits as he finalised plans to travel to his Siaya home for the holidays.
A mason by profession, Otieno, had celebrated Christmas with his wife and their three children in the city and planned to extend the celebrations to the village, where his mother resides.
Otieno's father, also a mason and who resides in Miradi area had requested his son to meet him so that he could take some shopping to his wife, back in the village. But, this never happened.
Not far from where Otieno lives, police were supervising some demarcation of land at the centre of a dispute.
This led to fracas between police and area residents resisting eviction from the 26-acre piece of land, thus police lobbed teargas to disperse the demonstrators.
Everyone scrambled for safety. However, Otieno, was not so lucky after a stray bullet hit his back.
He died as he was been rushed to the hospital.
When The Standard visited the family on Wednesday morning, the deceased's wife, Elizabeth Achieng was still traumatised, trying to come to terms with the happenings.
Tears flowed freely as she shared her last moments with her husband.
"That morning, he woke up as usual and went to buy mandazi for breakfast. After taking his tea, he woke up the children and told them it was getting late, " she recalls.
Achieng added, "He then left, as usual, to hunt for a job because he was a mason who survives on casual jobs."
She said, the previous night they planned how he (Otieno) was to travel upcountry in the evening and she packed his clothes.
"It was an unusual day because around 11 am, I was feeling disturbed. I felt something was amiss, but I couldn't fathom it. At around 1 pm, my father-in-law called me asking me about Otieno's whereabouts, "she recalled.
Adding that, "around the same time, I heard a neighbour talking about fracas between police and residents within the neighbourhood."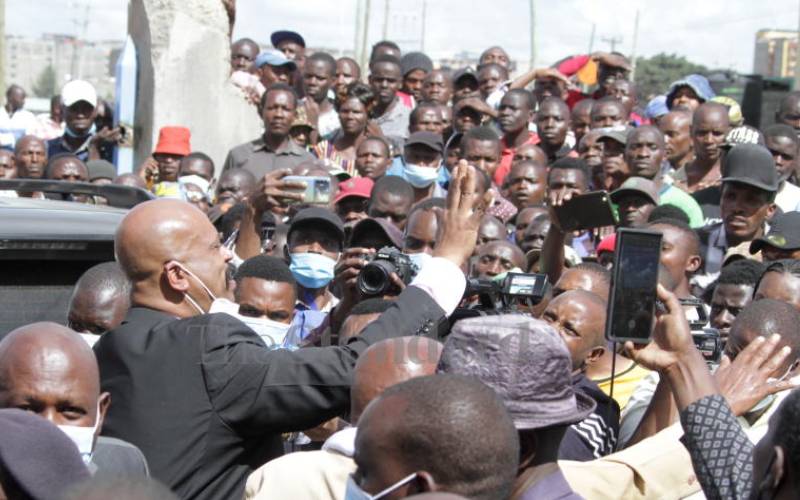 Minutes later, she received a call from Otieno's father that his son had been shot dead during a confrontation with police.
She said when she arrived at Cana hospital, he had been pronounced dead.
"I am heartbroken. My life is shattered. I don't know what the future holds. I only hope our three children will get a good education as we pursue justice. We have recorded statement with the Independent Police Oversight Authority (IPOA)," she said
Otieno's father, Richard Odongo, said he spoke to his son at around 11 am since they were supposed to meet.
He says he was shocked after he received a call from an unidentified man informing him that his son had been shot dead.
"When I arrived at the hospital in the slums, he was already dead…doctors said he was shot and their attempts to resuscitate him were futile. They said police and good Samaritans rushed him there", he said.
The bullet, Odongo said, landed on the back of his son and exited around the chest.
"He is a father of three and his death has dealt a blow to the family because he was my only hope. I'm the one who taught him to be a mason and he was the one taking care of our needs," said the father.
" All we want is justice for our son. He was innocent and he was killed. We have been left with a heavy burden. It is going to be tough since I now have to take care of his young family," he said.
On December 28, Inspector General of Police (IG) Hillary Mutyambai and Nairobi Metropolitan (NMS)boss Mohammed Badi visited Mukuru slums over the shooting incident.
The two promised residents that investigations into the shooting of Otieno and two other residents, who are still admitted at Kenyatta National Hospital (KNH) and Mama Lucy Kibaki hospital, will not go unpunished.