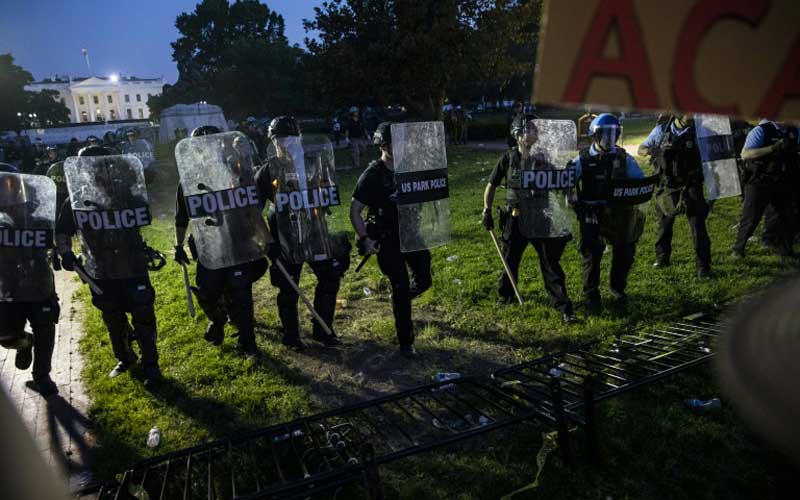 Police fired tear gas outside the White House late Sunday as major US cities were put under curfew to suppress rioting as anti-racism protestors again took to the streets to voice fury at police brutality. With the Trump administration branding instigators of six nights of rioting as domestic terrorists, there were more confrontations between protestors and police and fresh outbreaks of looting. Violent clashes erupted repeatedly in a small park next to the White House, with authorities using tear gas, pepper spray and flash bang grenades to disperse crowds who lit several large fires and damaged property. Local US leaders appealed to citizens to give constructive outlet to their rage over the death of an unarmed black man in Minneapolis, while night-time curfews were imposed in cities including Washington, Los Angeles and Houston.
Stores ransacked
Large-scale violence has rocked many US cities in recent days, and looters ransacked stores in a neighborhood of Philadelphia on Sunday.
'A nation in pain'
Atlanta Mayor Keisha Lance Bottoms said Trump, who has often urged police to use tough tactics, was not helping matters. "We are beyond a tipping point in this country, and his rhetoric only enflames that," she said on CBS. Joe Biden, Trump's likely Democratic opponent in November's presidential election, visited the scene of one anti-racism protest. "We are a nation in pain right now, but we must not allow this pain to destroy us," Biden tweeted, posting a picture of him speaking with an African-American family at the site where protesters had gathered in Delaware late Saturday. Floyd's death has triggered protests beyond the United States, with hundreds rallying outside the US embassy in London in solidarity. "I'm here because I'm tired, I'm fed up with it. When does this stop?" Doreen Pierre told AFP at the protest. In Germany, England football international Jadon Sancho marked one of his three goals for Borussia Dortmund against Paderborn by lifting his jersey to reveal a T-shirt bearing the words "Justice for George Floyd".