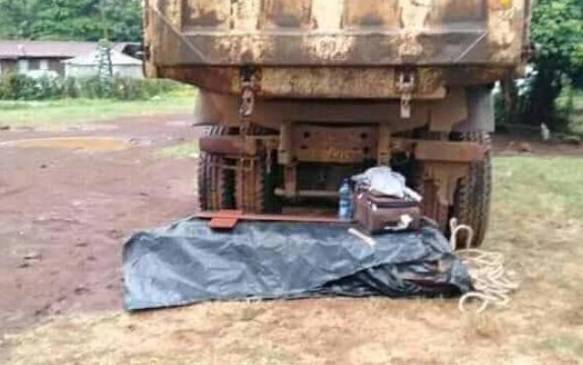 Eastern
Mwende was abandoned there by police officers who had turned back all his relatives including his two children.
For 32-year-old miraa transporter Charles Mwende, losing his wife after a two-year battle with cancer was hard enough. Mwende, who is based in Malindi was all relieved when arrangements costing Sh150,000 were completed for the sendoff of his wife Faith Mwende and all that remained was making it to their Nairiri village in Kianjai, Meru county. In the age of Covid-19 pandemic, it entailed taking permits and undergoing health tests to enable them to travel from a high infection area to upcountry across more than 10 counties. When Mwende and 30 other mourners boarded the Malindi Methodist Church's bus that would take them to Meru County on Wednesday, May 20, little did he know the nightmare that would unfold in the last 40 kilometres to their home.
SEE ALSO: Fewer fans, increased costs 'new normal' for clubs in post COVID-19 world - study
So cruel was it that the widower ended up spending Thursday night alone with his wife's body in a casket on a desolate parking yard of a police station five kilometres from his home village. He was abandoned there by the police officers who had turned back all his relatives including two children orphaned by his wife's death and his own mother. On Friday morning, the Meru County Commissioner Allan Machari called a press conference in his office to break the news that his security team had intercepted a bus from the coast headed to the Kianjai burial. According to Machari, the mourners had been turned back just 40 kilometres from their destination. They had been intercepted at Keeria Market where the Meru County roadblock on the main Nairobi-Meru highway is manned by county government and security officers. But even more shocking, the administration announced that only one of the mourners had been allowed to proceed with the body to its destination while the rest were escorted back and handed over to the Tharaka Nithi County team which was to ensure they turned back towards the coast.
SEE ALSO: 183 new Covid-19 cases as Kagwe issues rallying call
"Our police officers who intercepted the bus offered one Charles Mwende a lift in their land cruiser which accompanied the body to the final resting place," the county commissioner had said in his briefing. According to Machari, security officials were apprehensive that many people are taking advantage of such burials to move out of high infection areas endangering other Kenyans. But he could not say why the security team had not even decided to let the maximum 15 persons accompany the body to the burial. A security official speaking at the sidelines of that press conference said the reason was that the mourners had come from the coast, which has recorded some of the highest Covid-19 infection rates. The mourners had arrived at Keeria some minutes to 11.00 pm and two hours later; Mwende was literary alone with his wife's body in a casket at the Kianjai Police Station. It was raining heavily. "What I saw there was so inhuman. Upon a lengthy discussion, all my family and friends were forced back to Malindi. I was left alone with the casket which was offloaded from the bus and put in a police car, I was threatened that I would be taken to a 14-day quarantine after the burial," added Mwende.
SEE ALSO: Police lob teargas canisters, arrest protestors marking Saba Saba day [Videos]
"I had to travel alone after even my mother and kids were denied to accompany me. I was later dropped it Kianjai Police Post at 2.00 pm, I was confused and didn't even know the way home. The body of my wife was offloaded from the police vehicle and put on the roadside," he added. It turns out that the widower and his wife's body never made home. For some reason, the police van only dropped them at the Tigania Police Station and unloaded the casket despite his pleading on the remaining five kilometres. Without an option, Mwende said he pulled the casket under an old abandoned truck and dozed next to it. "It was the darkest day of my life. I was picked at 6.00 am by a friend who ferried me and the casket home. I think I didn't deserve that," he said for his home where he is in self-quarantine. Machari on Sunday said he would not be drawn to speak about the civility and dignity that Mwende and the other mourners were treated with. "I am not aware of those allegations. I have learnt the same from social media and will investigate with a view of taking appropriate action," said the CC who chairs the Meru Covid-19 Response Committee. To arrive at a balanced conclusion of what happened, the CC said they would look at all sides of the story before giving an "appropriate position."