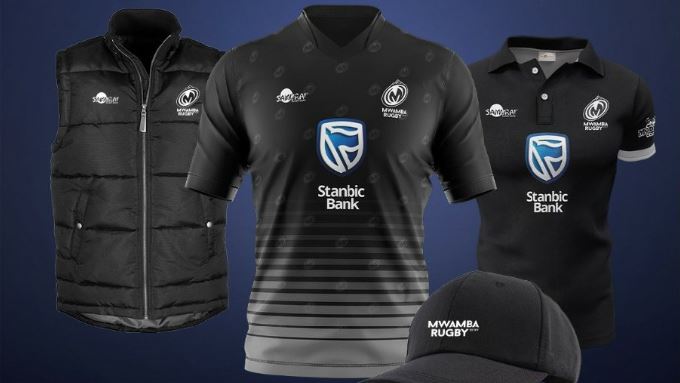 Mwamba Rugby Football Club have announced international kit supplier Samurai Sportswear will be the club's official technical partner for next season (2020/21). Through an announcement made on their official website, Mwamba revealed the deal would see all coaching and technical wear will be courtesy of Samurai, who have also unveiled an array of accessories and leisurewear to accompany the kits.
??????????????????????? Stanbic Mwamba announce kit partnership with @samurai_sports, reveal new designs https://t.co/KudwYS4N9W#KulabuPride https://t.co/889GU5tskh pic.twitter.com/3mrF1wKgJs

— Stanbic Mwamba (@MwambaRFC) May 28, 2020
For the home strip, the legendary black colour remains, with fading white hoops visible from the top. This will be won with black shorts and socks. The away kit design boasts a wide range of colours, with stripes of green, orange and blue artistically covering parts of the sleeves. The whole shirt has a blue background and will be accompanied by blue shorts and black socks. "Working with Samurai is an incredible opportunity for the club to create an amazing identity amongst players, staff and supporters. They are a proven and popular brand amongst teams in the region and around the world, and we're excited about the quality of products that Terry and his team will be able to offer," club president Alvas Onguru said. "Samurai are honoured to have been chosen once again by Stanbic Mwamba for this partnership, and we feel privileged to be involved with a club with Mwamba's playing heritage and history. We look forward to serving both the club professionals and supporters with our matchday, training and leisure kit," said Samurai chief executive Terry Sands.