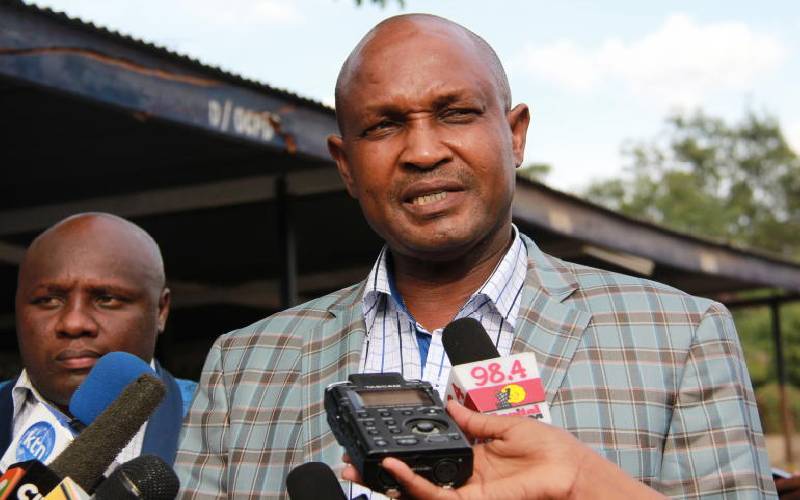 A former MP whose financial firm collapsed with savings of 6,000 members faces bankruptcy proceedings. The court has allowed commencement of the process to declare former Imenti Central MP Gideon Mwiti bankrupt over Sh6.1 million debt. The High Court granted Diamond Trust Bank (DTB) a receiving order for the protection of Mwiti's multi-million shillings estate, so that it can commence bankruptcy proceedings against him. This will see Mwiti forward a list of his assets plus liabilities to the bank and a receiver manager appointed to manage the estate in a bid to claw back the money owed to the bank or have it wound up.
SEE ALSO: Three men to serve 30 years in jail for murder
In case there are other creditors who hold a charge against the politician's estate, repayment priority will be dictated by the level of securities.
Ordered its closure
And if declared bankrupt, Mr Mwiti who had been ordered by the court to pay the money in 2008, will not be allowed to hold public office and cease being a director of any company. Akiba Micro-Finance collapsed in 2005 when Central Bank of Kenya ordered its closure on suspicion of operating a pyramid scheme. High Court Judge Grace Nzioka issued the receiving order in respect of the estate after the bank proved its claim on the standard of balance of probabilities.
SEE ALSO: Why group wants ex-MP, wife sacked from water agency board
The former MP, who was served with the petition touching on his estate in 2015, did not show up in court to adduce evidence in support of an affidavit he had filed in 2015, when the matter was heard. "In the same vein, the petition having been heard unopposed, the evidence produced remains unrebutted," the judge said in her judgement delivered on May 22. Mwiti, who has joined the list of politicians threatened with bankruptcy faces the same fate as former Cabinet minister and Kangundo MP Paul Ngei. DTB had in 2005 sued Mwiti, Gabriel Mugambi and John Ncebere as the owners of Akiba Microfinance over a loan they had failed to settle and the court ruled in favour of the bank in February 2008. When he failed to pay the money, DTB requested for issuance of a bankruptcy notice on April 2015, which was granted by the magistrate's court and served upon the ex-MP.